Beef with Mushrooms and Rice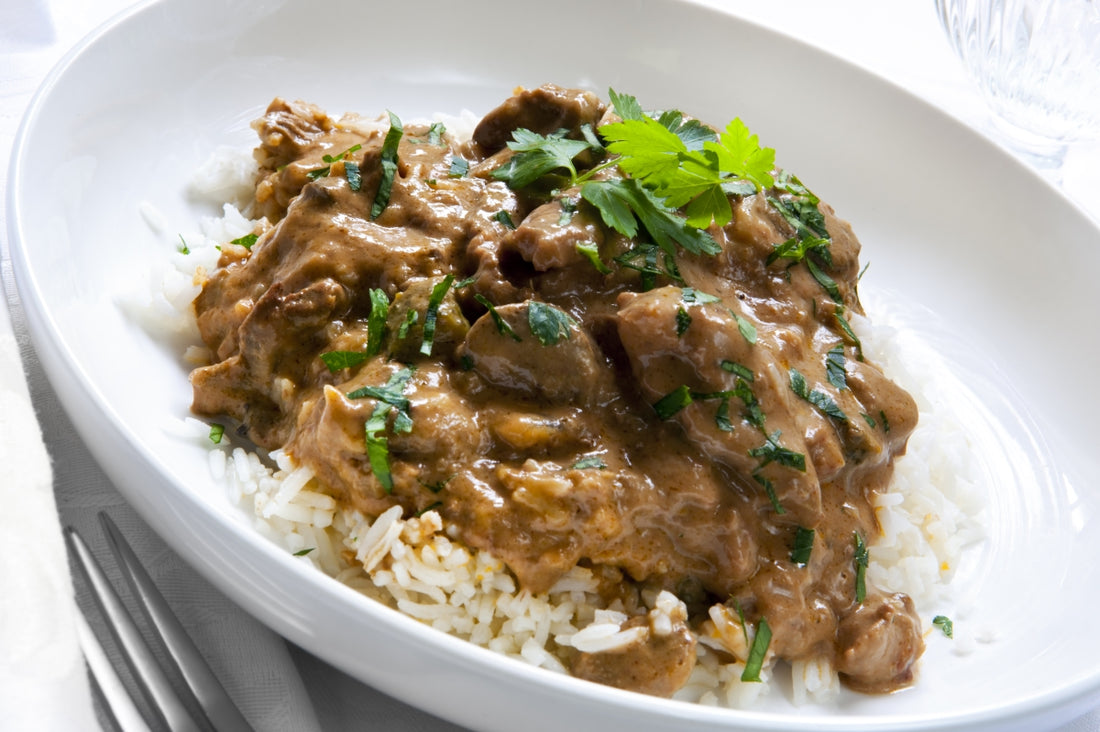 Are you looking for a hearty one-pot dish that's flavorful and easy to make? One-pan dishes like these require way less clean up and are simple to throw together.  They also make stellar leftovers. Check out this recipe for stewed skirt steak with earthy mushrooms and rice and you'll spend way less time cleaning up. 
How to Make Beef with Mushrooms and Rice
This recipe is high in protein and flavor. While we use skirt steak here, you can use flank steak or any other cut that's great for marinating. Just avoid stew meats, as they need a longer cook time to break down the fibers and soften. 
We like to ask the folks and the butcher counter to cut the skirt steak into chunks, which makes it easier to cook and reduces the cook time. If a butcher isn't available to you, you can always cut the skirt steak yourself at home with a sharp knife. Just make sure to clean the cut and remove any excess fat and tissues. 
Ingredients
1lb. beef skirt steak, cut into cubes 

8 oz. uncooked short grain white rice

7 oz. mushrooms, sliced 

1  medium onion, thinly sliced 

Extra-virgin olive oil

Salt

Freshly ground black pepper.

1 teaspoon cumin 

2 Tablespoons soy sauce

2 Tablespoons lemon or lime juice

2 cups water 

Aromatic herbs of choice (parsley, cilantro, basil, etc.)
Preparation 
Place skirt steak in a large bowl and add soy sauce, lemon juice, salt, pepper, and cumin, along with any aromatic herbs of choice. 
Marinate the skirt steak for 3-5 hours in the refrigerator.
Remove the meat from the refrigerator a few hours before cooking so it can come to room temperature. 
Drizzle oil in a large frying pan. Once the pan is hot, add the skirt steak pieces.
Cook until the meat is browned on all sides, and then add in any remaining marinade from the bowl. 
Add the onion to the pan and cook until transparent.
Add the rice to the pan, along with a drizzle of oil (if needed) to prevent the rice from sticking. 
Stir for a few minutes to toast the rice. Then add in the water. You can always add more rice if you prefer a higher rice to meat ratio. Just keep in mind you need to double the amount of water for every portion of rice you add. In other words, for every 1 cup of rice, add 2 cups of water. 
Bring the heat down to low and season with salt and pepper. Cover the pan and cook the rice and meat for about 20 minutes over low heat. The cook time will depend on the brand of rice you are using, as well as how soft you prefer your rice. 
Check every so often to make sure the pan isn't dry. If it is, just pour in a splash of water to keep the rice and meat from burning. 
Halfway through the cook time (at 10 minutes), add in the mushrooms and stir to combine. Taste again for salt. 
Turn off the heat, even if there is a little bit of liquid left in the pan. Keep covered and the rice will continue to absorb water and finish cooking as it cools. 
Remove the lid and serve in individual shallow bowls or plates. ¡Buen provecho! 
What to Accompany Beef with Rice
While this dish is filling enough on its own and works just fine as a complete meal, you can always get creative and serve it additional sides or even add in other ingredients. Try this at home: 
Swap the beef skirt steak for Ibérico pork skirt steak.
Use a variety of seasonal mushrooms or dried shiitake mushrooms.
Try adding in carrots or broccoli for some extra veggies, or serve them on the side.
Serve with sautéed spinach or grilled asparagus 
Serve it with a light green salad for freshness.
Accompany with a nice crusty bread, essential for sopping up the shroomy sauces.