Boneless Beef Strip Steak Recipes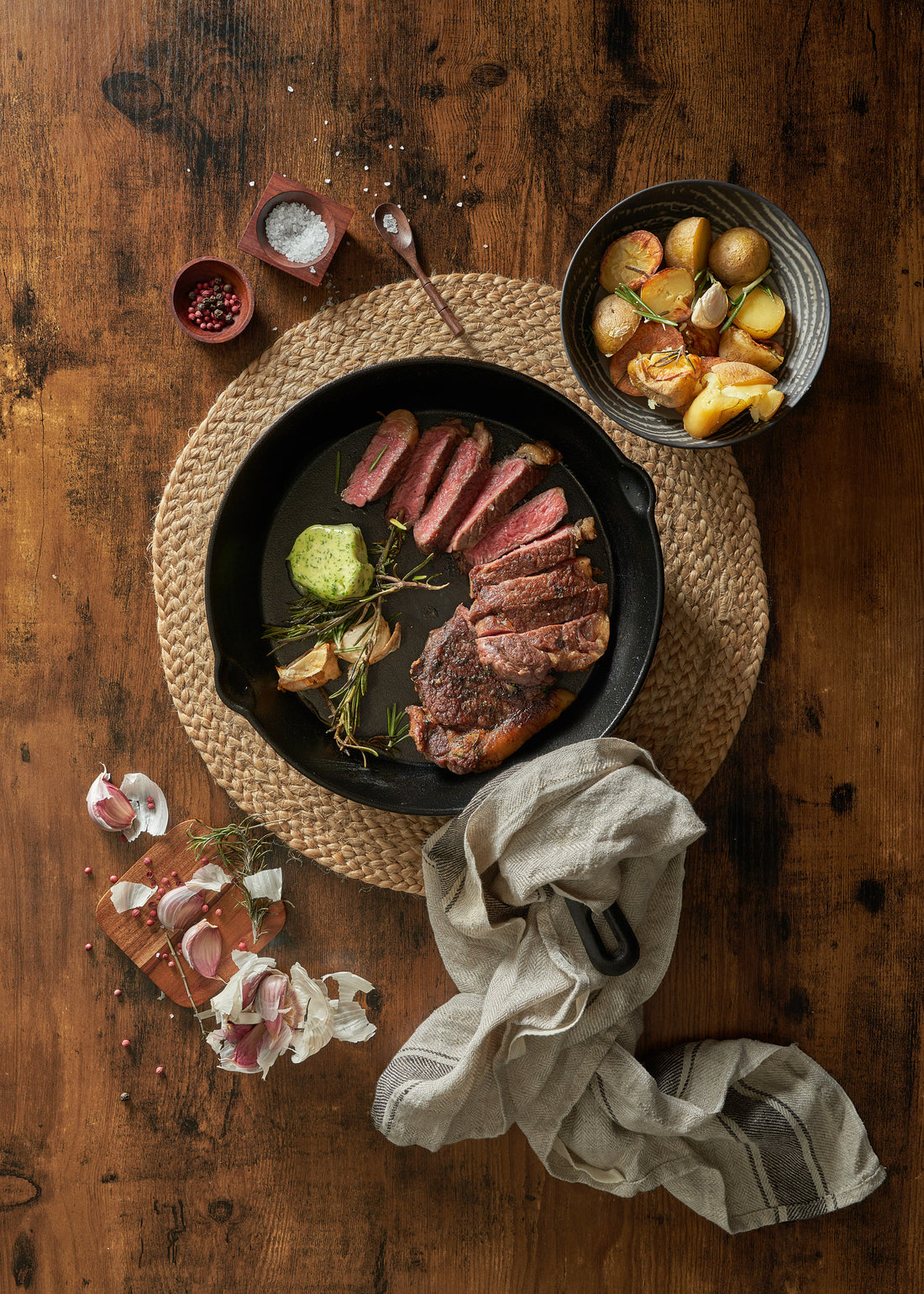 Whatever method you prefer, the steak recipes on this list will walk you through every possible chef's trick for seasoning steaks, tell you how long to cook NY strips per side to reach the desired temperature, and much more.
Pan-Seared Strip Steak
Grass-fed beef tastes beefier, in addition to being more sustainable and nutrient-dense, so if you can, use it. The cooking technique is the second, genius part of this recipe. Allowing the meat to come to room temperature before cooking, and resting it when done allows the steak to cook evenly. For such a lean cut, a butter baste adds a glossy finish while keeping the meat moist.
Ingredients
2 (12-ounce) grass-fed lean New York strip steaks
1 teaspoon kosher salt
3/4 teaspoon black pepper
1 tablespoon olive oil
2 tablespoons butter
2 thyme sprigs
2 garlic cloves, crushed
Instructions
Step 1: Allow the steaks to rest for 30 minutes at room temperature.
Step 2: Season the steaks evenly with salt and pepper. Over high heat, heat a large cast-iron skillet. Stir the oil in the pan to liberally coat it. Cook the steaks for 3 minutes on each side, or until browned. Turn down the heat to medium-low and stir in the butter, thyme, and garlic. Using an oven mitt or a folded dish towel, carefully grasp the panhandle. Cook for 1 1/2 minutes, basting the steaks with butter constantly, tilting the pan toward you. Take the steaks from the heat and tent with foil. Allow to stand for 10 minutes. Set aside the butter mixture.
Step 3: Thinly slice the steak diagonally across the grain. Remove the thyme and garlic, and spoon the reserved butter mixture over the steak.
Boneless Strip Steak with Buttery Pan Sauce
This butter-based simple steak pan sauce recipe has just enough creaminess and flavor to bring out the best in your steak without overpowering it. This pan sauce, made with fresh rosemary, thyme, and garlic for flavor, as well as Worcestershire sauce and beef broth for the perfect consistency and taste, is sure to become a go-to for no-fuss steak dinners.
Ingredients
3 tbsp beef broth
3 tbsp Worcestershire sauce
6 tbsp unsalted butter
2 tsp fresh thyme leaves
2 tsp fresh rosemary
3 cloves minced garlic
1 tsp salt
1 tsp black pepper
2 tbsp extra virgin olive oil
Instructions
Allow the steak to rest for 30 minutes at room temperature before cooking. You can mince the garlic and chop the thyme and rosemary leaves in the meantime.
Pat the steak dry and season with salt and pepper across all edges, rubbing them in with your fingers.
Preheat an oil-splattered skillet over medium-high heat.
Cook for 3-4 minutes on one side, until seared with a golden brown crust; turn and repeat on the other side. Cook one or two steaks at a time in order to achieve the best results. Avoid overcrowding.
Take the steak out of the pan and set on a cutting board. Let the pan cool off enough until you can comfortably wipe out any excess oil with a paper towel, leaving the leftover steak drippings in the pan.
Return the pan to a medium-high heat and add the rosemary, thyme, garlic, and 2 tablespoons butter. Cook, whisking constantly, for 3 minutes, or until fragrant.
Bring the broth, Worcestershire sauce, and remaining butter to a boil in a saucepan. Reduce it to a low heat and allow it to simmer. Continue whisking for 3-4 minutes, or until the mixture is smooth and thickened.
Place the steak on a serving plate and drizzle ¼ of the pan sauce over the steak. Serve immediately.
Perfect new york strip steak
This recipe requires only a few basic ingredients, which consist of the following:
NY Strip Steak
Salt and Pepper
Butter
Instructions
Preheat the oven to 500 degrees Fahrenheit.
Heat a well-seasoned cast iron skillet over high heat for 5-7 minutes, or until smoking hot.
Meanwhile, season the steak on both sides with kosher salt and black pepper.
Place the steak into the hot skillet. Heat for 2 minutes on both sides without moving it. This will result in a nice crust. Then cook the fat strip for 30 seconds more.
Transfer the skillet to the hot oven using oven mitts. Roast for 3-4 minutes until the steak is medium rare or for 4-5 minutes for medium.
Place the steak on a serving plate. Cover it loosely with foil. Allow it to rest for 5 minutes before serving, then top with butter.
If your steak is thin (about 2 inches thick), pan-fry it in a hot cast-iron skillet. Cook it for 2 minutes per side.