Braised veal with wine and olives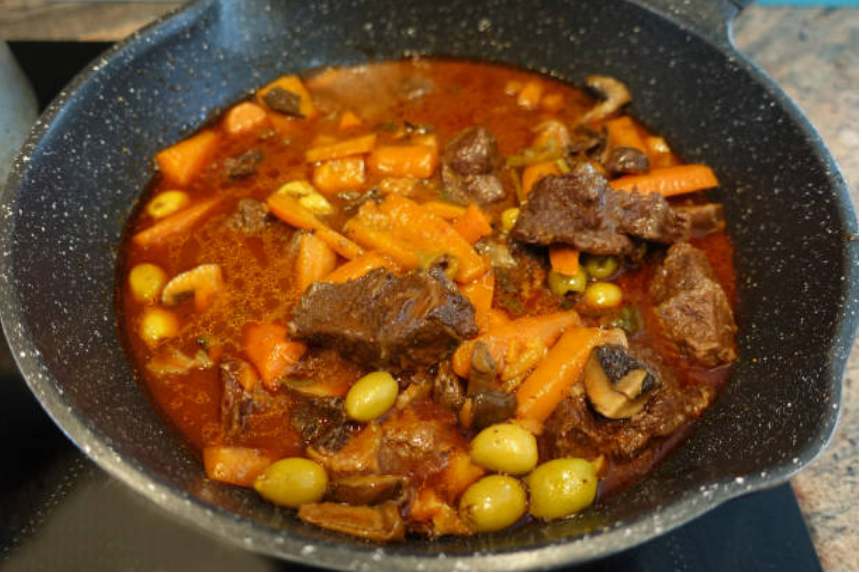 A very traditional Spanish recipe that is hearty, easy, and nutritious, that's veal stew with wine and olives! A sure bet that you can't miss on your table. Find out how to prepare it quickly and easily.
How to make braised veal with wine and olives?
Braised veal with wine and olives is very easy to prepare, but best of all, it is a very satisfying and comforting spoon dish, ideal for colder days. But it also provides excellent health benefits.
In this delicious dish, typical Spanish, you will find a significant contribution of proteins that are taken from the meat; in addition, the veal meat is low in fat, is easily digested, and you will find in it some minerals such as magnesium, calcium, zinc, and iron.
Olives also have a tremendous nutritional contribution because they have a perfect balance of fat. Did you know that olives have monounsaturated oleic acid? This is very good for your health; they also contain fiber, essential fatty acids, and vitamins and minerals.
For this recipe, remember to buy special beef for braising. You can buy it cut up or ask the butcher to cut it up for you; this will save you from having to cut it into pieces of the same size and thickness and from having to clean the meat.
Ingredients
A can of pitted green olives.

Two carrots.

One onion.

A glass of white wine.

Extra virgin olive oil.

Flour.

Fresh parsley in the branch.

Coarse salt and freshly ground black pepper.

Meat stock or a glass of water.
Elaboration
If you have bought the veal in chunks, you will have to cut it into cubes of more or less the same thickness. In addition, you will have to clean the meat and remove the membrane.

It is best if the meat is at room temperature before putting it on fire.

Season the beef with salt and pepper and dredge it in flour before setting it on fire.

Heat a drizzle of extra virgin olive oil in a saucepan.

When the oil is hot, add the meat and brown for a few minutes on all sides.

To handle the meat, use special kitchen tongs.

Remove and set aside.

Peel and cut the onion and carrots.

Poach the onion, and when it becomes transparent, add the carrots. Use for this the same pot where you previously put the meat.

Sauté for a few minutes until the vegetables are soft.

Return the meat to the heat and season with salt and pepper.

Stir for a couple of minutes, and then add the wine.

Add a glass of beef stock. If you don't have any, add water.

Stir and lower the heat to medium.

Add the olives to the pan when the meat begins to be tender.

Cover and cook for approximately 15-20 minutes. Keep the heat low.

Add the chopped fresh parsley.

Season with salt and pepper.

Remove from heat and serve.
Preparation tips for a delicious veal stew
The cooking time of this delicious veal stew with wine and olives may vary depending on the type of meat you have chosen to cook and the size of the pieces of meat. You must watch the meat on fire to check its tenderness.
On the other hand, the stew can be very liquid, for which it will be necessary to dissolve cornstarch in water and add it before removing it from the fire; this will allow it to be consistent. But if it thickens too much, then it will be necessary to add a little water or meat broth.
We also tell you that the stew of stewed veal with wine and olives tastes better if it is eaten from one day to the next or after a few hours of cooking. That is why it is advisable to prepare it the night before or very early in the morning the day you eat it. In this way, you give enough time for the ingredients to settle and enhance the flavor.
And should it be accompanied by something? As it is a very consistent stew, you can serve it with rice as a garnish in case you receive more guests at the table or want to save some for the next day. Of course, remember to serve bread to your guests; the sauce of this stew is so delicious that you will need bread to dip it in.
Finally, we want to tell you that although this is the traditional recipe, it is always prepared differently in each house. This is how you can find a stew of braised veal with wine and olives, accompanied by other vegetables; the undisputed queens, in addition to carrots, are potatoes and leeks. Add your favorite vegetables to this recipe to add more body and, of course, more nutritional value.