Cabracho Cake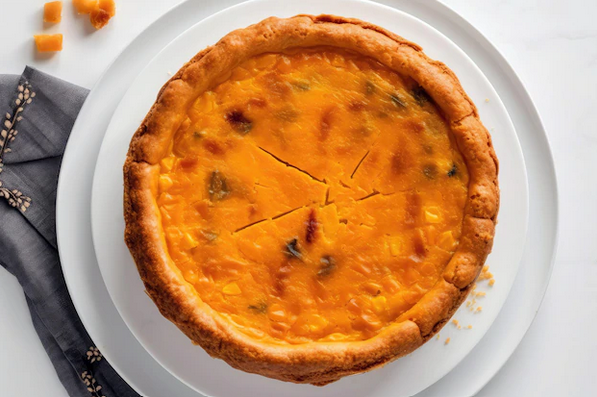 Do you want to surprise your guests with a delicious, healthy, and typical dish of Spanish gastronomy? Then you can't miss this recipe for scorpion fish cake, a type of rock fish characterized by a firm and delicious meat. This preparation is a terrine made with shredded fish, eggs, cream, breadcrumbs, and other ingredients that give it a special touch. It is usually served cold, accompanied by a mayonnaise sauce or vinaigrette. It works as a perfect appetizer for any occasion since it can be prepared in advance and keeps very well in the refrigerator.
The scorpionfish pie is a typical dish of Asturian gastronomy, which dates back to the 19th century when the fishermen of this region used the less noble parts of the fish to make a kind of pâté.
Scorpionfish is a very nutritious fish, rich in proteins of high biological value, B vitamins, and minerals such as phosphorus, potassium, magnesium, iodine, and omega-3 fatty acids, which help prevent cardiovascular diseases and reduce cholesterol. In addition, its low fat and calorie content makes it an ideal food for a balanced diet or calorie deficit.
Ingredients
To make this scorpionfish pie recipe, you will need the following ingredients:
1 scorpion fish or scorpion fish of about 800 g

4 eggs

200 ml of liquid cream

50 g bread crumbs

1 onion

2 cloves garlic

1 bay leaf

Salt and pepper to taste

Extra virgin olive oil

Chopped parsley

Mayonnaise or vinaigrette to accompany
Preparation
To make this dish, you will have to follow the following steps:
Clean the scorpionfish by removing the scales, viscera, and head. Then, put it in a pot with cold water, salt, peeled and quartered onion, whole garlic cloves, and the bay leaf. Bring to a boil and cook the fish for about 20 minutes or until tender.

Drain the fish and reserve the cooking broth. Let it cool, and separate the meat from the bones and skin. Once ready, shred the meat with your hands or a fork and reserve it for the next steps.

Preheat the oven to 180 degrees Celsius and grease a rectangular baking pan with a bit of oil. In a bowl, beat the eggs with the cream, salt, and pepper to taste. Add the breadcrumbs and mix well until everything is well blended.

Incorporate the crumbled fish in a bowl and mix well with the egg mixture prepared in the previous step. Pour the batter into the pan and use a spatula to flatten the surface. Then bake the cake for about 35 minutes or until it is cooked and golden brown on top.

Let cool slightly, and carefully unmold the cake. You can decorate it with a few sprigs of chopped parsley on top. Serve the pie cold or at room temperature, with mayonnaise or vinaigrette to taste.
In addition to the sauces or dressings, this recipe is usually accompanied by options such as toasted bread, a green salad or piquillo peppers. These complements enhance the flavor of the pie and add freshness and good contrast.
Benefits
This scorpionfish pie recipe is simple since its preparation requires only a few ingredients and a mold to shape it, and it is guaranteed to be a hit with your guests. You can adapt it to your preferences by adding other ingredients such as shrimp, mussels, carrots, peppers, or grated cheese. You can also change the accompanying sauce or dressing and opt for a pink sauce, a tartar sauce, or a yogurt sauce, which complements the flavor very well.
In this sense, it is a very versatile dish that can also be served either hot or cold and kept for several days in the refrigerator or frozen for later consumption. 
This kind of terrine is a different and unique way to enjoy a type of fish so popular and appreciated in Spanish cuisine. In addition, this recipe brings you many health benefits because the species used is an excellent source of essential nutrients for the body. So if you are eager to try this dish, do not hesitate any longer and enjoy this taste experience that will make you feel like you were on the Mediterranean coast. The scorpionfish pie is, without a doubt, a delight for the palate and a healthy and practical option for any occasion.