Calories of flank steak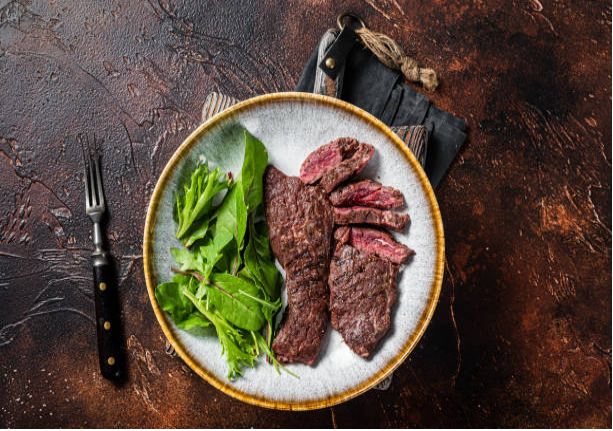 Flank steak is extracted from beef and is a type of meat that has an exquisite flavor, as long as it is properly prepared. This type of cut requires a very specific cooking and pre-cooking treatment; otherwise, the meat would be tasteless and tough.
How many calories does a flank steak have?
Flank steak is one of the favorite cuts for athletes, as it is a meat that has a high protein content. In addition, it has very few calories, if compared to other cuts of beef or pork. In 100 grams of flank steak you will find 194 calories, approximately. In only 10 grams of this meat you will find 19 calories.
This makes flank steak perfect if you are following a specific diet, as it has no carbohydrates and contains 21.22 grams of protein (100 grams). This is more than the 40% daily requirement of these nutrients. However, it is a cut that lacks fiber.
What is flank steak?
The flank steak is not really a filet, since it is extracted from the muscles of the animal's abdomen. This makes it a coarse-grained cut with a large amount of muscle fibers that must be broken during cooking or beforehand. Because of the area from which it is extracted, flank steak has almost no fat, which makes it a very lean cut.
One of the disadvantages of this type of meat is that it is very tough and the results may not be as desired if the meat is not properly prepared. Flank steak is approximately 30 centimeters long and 2.5 centimeters thick. It is usually cooked whole and then cut into small filets that are served to diners.
How to prepare flank steak?
As we have already mentioned, flank steak is a tough cut in itself and requires special treatment so that the cooking results in a truly delicious meal. The first thing to do is to tenderize it; in this way not only will the meat be softer, but also thinner and you will reduce the cooking time by a few minutes.
To tenderize a flank steak you can use a mallet to pound the meat (highly recommended); a specific tenderizing product or a long marinade. Depending on the recipe you are going to prepare, flank steak may need up to 12 hours of marinating. The citrus-based marinade, such as orange and even with milk, allows the muscle fibers to be broken down and the meat to be tender. The longer you leave the flank steak to marinate, the softer the meat will be and the more delicious it will taste.
Flank steak can be baked or grilled, either way is perfect! The cut is ideal to prepare fajitas, also to make sautéed and even to serve in small filets accompanied by the most varied garnishes. It is important, after cooking, to let the steak rest for at least five minutes. Then you can serve the meat and always cut parallel to the grain of the meat.
The best marinade for flank steak
If you want to get excellent results, it is important to marinate the meat properly. The marinade plays a key role for flank steak when it is grilled or baked. So what is the best marinade for flank steak? Take note of some ingredients you can use to tenderize the meat and give it good flavor:
Citrus fruits such as pineapple or orange juice.

Soy, Worcestershire or Perrins sauces.

Wine, milk and yogurt.

Mustard.
Preparation of flank steak
It is such a versatile cut that you can even pan-fry it. However, the most advisable way is to grill it, as this way you can take advantage of a smokier flavor. The first thing to do is to marinate the meat; if you can, do it the night before cooking. This way the meat will be softer and will have been impregnated with the flavors of the marinade.
Remove the meat from the refrigerator two hours before cooking. This way, the flank steak will be at room temperature at the time of cooking; this will prevent the meat from being cold inside after cooking.
Preheat the grill or barbecue and place the grate about 15 centimeters away from the coals. When it is very hot, place the flank steak and cover. The cooking time will depend on the doneness of the meat you like. Keep in mind that this cut can be done, at low heat, for half an hour easily.
When ready, remove and cover with aluminum foil for five to 10 minutes before serving. Serve with fried or mashed potatoes; sautéed vegetables, salads, rice, etc.