Cannelloni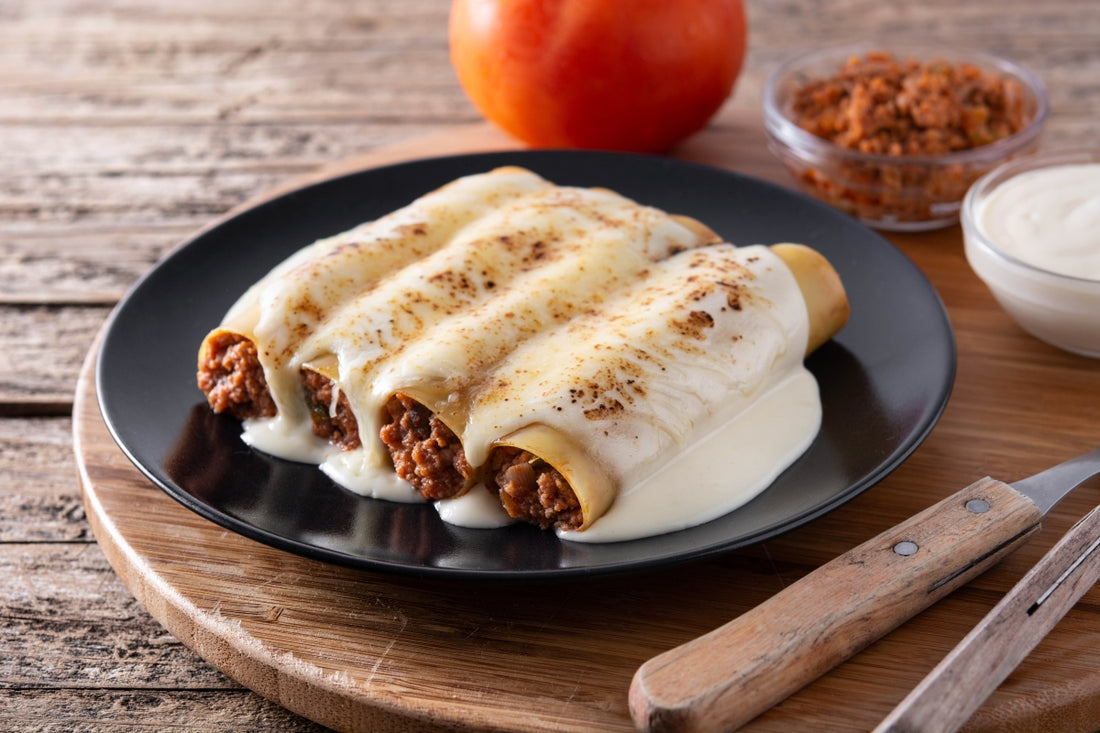 If you have reached this site it is because you are surely passionate about pasta dishes or at least have a great interest in them. For this reason, today, wewillo learn how to make delicious and nutritious cannelloni. This is a typical Spanish food recipe, consisting of pasta tubes filled with minced meat and covered with bechamel sauce and grated cheese. In addition, we will tell you about the benefits of this dish for your health.
Cannelloni is a dish that originated in Catalonia, known as cannelloni, and is usually eaten on St. Stephen's Day, December 26. However, it has also spread to other parts of Spain and the world and can be enjoyed any occasion. This is a very versatile preparation, as it can be made with different ingredients, such as vegetables, cheese, fish, or chicken. But the classic and most prevalent version is the one with minced meat, which you will learn about below.
Ingredients
To make cannelloni, you need the following ingredients:
16 plates or tubes of cannelloni pasta

300 g of veal minced meat

300 g pork minced meat

1 onion

2 cloves of garlic

2 carrots

1 tomato

Olive oil

Salt

Pepper

Nutmeg

Chopped parsley

50 g butter

50 g flour

500 ml milk

100 g grated cheese
Preparation
To prepare the cannelloni, you must follow the following steps:
First, cook the pasta tubes in a pot with boiling water and salt for the time indicated on the package. Then, drain them and set them aside on a clean kitchen towel. You can also use fresh pasta placed directly in the dish or lightly cooked in hot water to make it more pliable.

The next step is the filling. To do this, chop the onions, garlic, carrots, and tomatoes into small pieces. In a pan with oil, sauté the onion and garlic until transparent. Then add the carrots and tomatoes and cook for a few more minutes. Add the minced meat, season to taste, and mix well. Cook over medium heat until the meat is done. Finally, sprinkle some nutmeg and chopped parsley and turn off the heat.

Next, prepare the béchamel sauce. To do this, melt the butter in a saucepan over low heat. Then add the flour and stir with a whisk to avoid lumps. Then, add the milk, stirring constantly until you obtain a smooth and homogeneous sauce mixture. Season to taste, and add a pinch of nutmeg.

Once the previous steps have been completed, proceed to assemble the cannelloni. To do this, pour a spoonful of the meat mixture on each pasta plate and distribute it along the length of the piece. For this step, you can also use a piping bag. Place the filled tubes in a lightly greased or buttered ovenproof dish. Cover the cannelloni with béchamel sauce and sprinkle with grated cheese.

The last step is to bake the cannelloni. To do this, preheat the oven to 180°C and place the dish in the oven for about 15 minutes or until the cheese gratinates.
And now everything is ready, you can enjoy your homemade cannelloni in the company of your family or friends. We recommend serving with a green salad or steamed vegetables to balance the flavors, texture, and properties, or you can prepare a pea and basil pesto, an original alternative to enhance the taste of the dish in which you can combine cooked peas, fresh basil, garlic, pine nuts, Parmesan cheese, olive oil, salt, and pepper, for a sauce or base that perfectly complements this dish.
Advantages
The benefits of cannelloni are varied. On the one hand, it is a source of complex carbohydrates that provide energy and satiety. On the other hand, it contains high-quality proteins from meat and cheese, which help you maintain muscle mass and your immune system.
It also contains vitamins and minerals necessary for health, such as calcium, iron, phosphorus, potassium, magnesium, zinc, copper, selenium, folic acid, vitamin A, B12, vitamin C and E. In turn, if that is not enough, it also contains fiber, which helps to promote your intestinal transit and prevent constipation.
In short, cannelloni is a very complete and delicious dish you can make at home quickly and easily. Please try it and share how you like it. If you liked this recipe, don't hesitate to share it with your friends. Enjoy!