Catalan Cream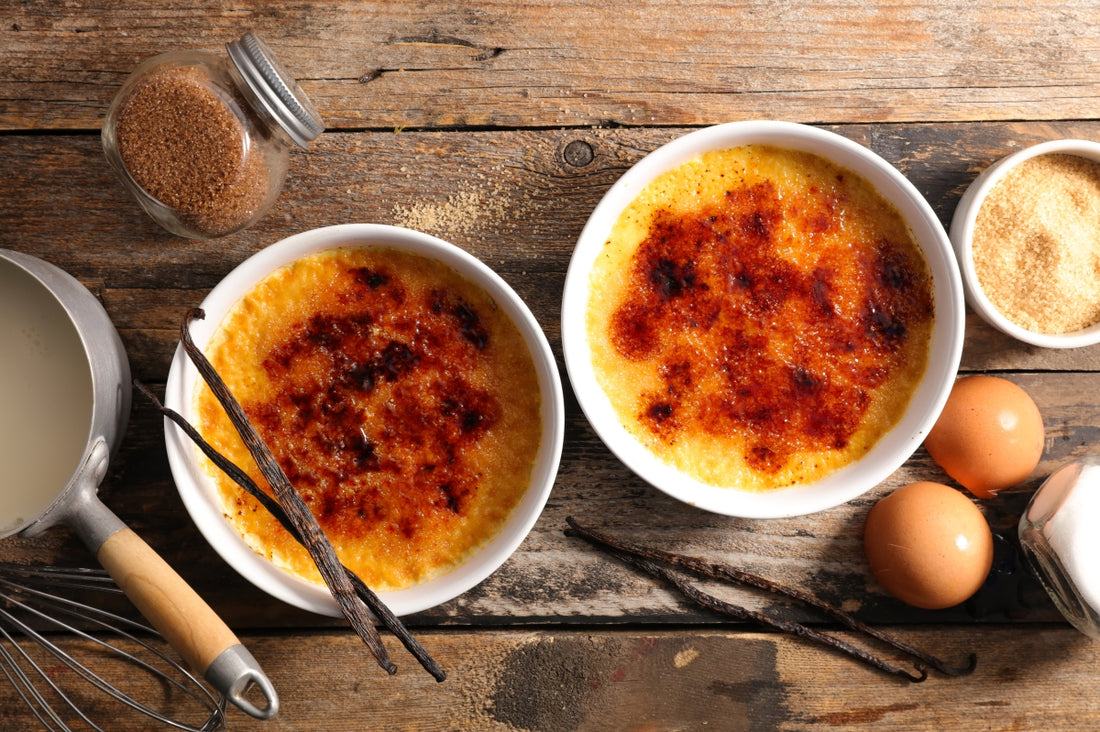 The crema Catalana is one of Spanish cuisine's most typical and delicious desserts. This pastry cream is flavored with cinnamon and lemon and covered with a layer of caramelized sugar that gives it a crunchy and sweet sensation. Its origin dates back to medieval times and is considered one of the oldest desserts in Europe. Some sources claim that it was invented by Catalan nuns who wanted to serve a flan to the bishop, but it was not set, and they covered it with burnt sugar.
This is a very popular dessert in Catalonia and the rest of Spain, as well as having spread to other countries such as France, Portugal, Italy, and England, where it is known by similar names such as crème brûlée, creme caramel, crème bruciata or burnt cream.
If you want to learn how to prepare it at home and discover all its benefits, keep reading because in the following lines, we will tell you all about it.
Ingredients
The Catalan cream recipe is very simple, and you only need a few ingredients that you must have in your kitchen. These are the following:
1 liter of whole milk

8 egg yolks

150 grams of sugar

40 grams of cornstarch

The peel of a lemon

A cinnamon stick

Brown sugar for caramelization
Preparation
The preparation of this delicious dessert consists of the following steps: 
The first thing to do is to mix the milk with the lemon peel and cinnamon. To do this, put the milk in a saucepan over medium heat and add the well-washed lemon peel and the cinnamon stick. Let it boil for a few minutes, then turn off the heat and let it rest.

Meanwhile, in a bowl, beat the egg yolks with the sugar until creamy and white. Add the cornstarch and mix well until it dissolves.

Then, filter the milk to remove the lemon peel and cinnamon, and heat it again. When it starts to boil, reduce the heat and gradually add the egg yolk mixture. Stir constantly with a whisk to prevent lumps from forming.

Continue cooking the cream over low heat, stirring constantly until the cream thickens and has a creamy consistency. Be careful not to overcook the mixture, or the cream will split.

When the cream is ready, pour it into terracotta or glass molds and let it cool at room temperature. Then, put these containers in the refrigerator until they are well chilled.

The last step is to caramelize the brown sugar in each cream. You can use a kitchen blowtorch or place the pans under the broiler in the oven to do this. The secret is to sprinkle brown sugar over the surface of the dessert and heat it until the sugar browns and forms a crunchy layer.
And there you have it! A homemade crème brûlée ready to enjoy whenever you want. We recommend serving it with red fruit, mint leaves, liqueur, ice cream, whipped cream, or almond cookies; either way it will be a delight!
In turn, it can fill other sweets such as ensaimadas, cocas, torteles, susos, palos, or crestas. Some examples of recipes that include crema catalana are crema catalana semifreddo with banana mousse and caramelized fruits, crema catalana and apple tart, or chocolate and crema catalana tart.
Benefits
Besides being an exquisite dessert, in case you didn't know it, crema catalana also has certain health benefits. Some of these are:
It is a source of calcium thanks to milk and egg yolks, which helps to strengthen bones and teeth.

Provides proteins of high biological value, contributing to the maintenance and repair of muscle tissue.

Contains vitamin A, which supports vision, immune system, and skin health.

It contains vitamin B12, which participates in the formation of red blood cells and prevents anemia.

It includes natural antioxidants, such as cinnamon and lemon, which help protect cells from oxidative stress and premature aging.
However, remember to consume this preparation in moderation, as it is high in sugar and calories. It is best used for special occasions or as an occasional treat.
In short, crema catalana is a delicious and simple dessert that is part of Catalan cuisine and has crossed borders. Its historical roots and its versatility make it a very popular dish among lovers of pastries and Spanish cuisine in general.
If you liked this recipe and want to know more about Spanish cuisine, we invite you to see our other posts, where you will find more content like this one. You can also share this preparation with your friends and receive their comments or suggestions. We will be delighted if you can show it off to your guests.