Chicken in Mediterranean Herb Marinade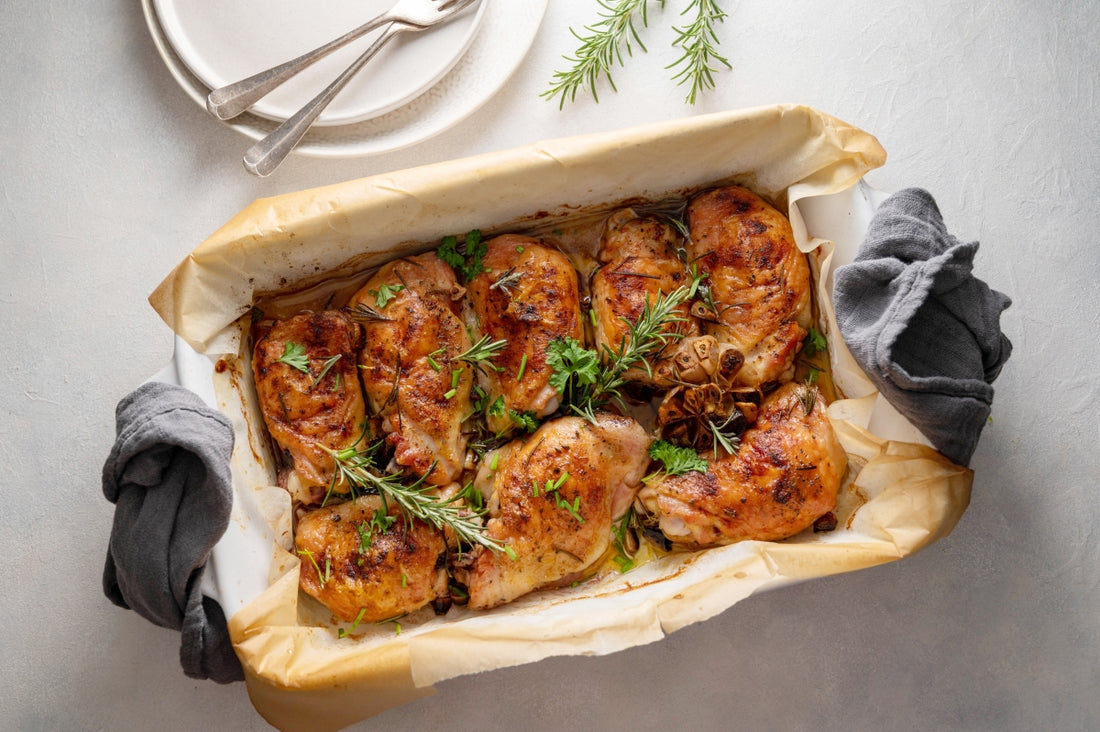 Suppose you love chicken and want a different and delicious touch. In that case, we offer you a recipe for chicken in Mediterranean herb marinade, a simple and healthy way of preparing it to transform this versatile meat. The marinade is a mixture of ingredients used to season and preserve chicken, giving it flavor and juiciness.
Chicken in Mediterranean herb marinade is a recipe that originated in Spanish cuisine but has been adapted and varied in different countries and regions.
Mediterranean herbs, such as rosemary, thyme, oregano, bay leaf, and parsley, are aromatic plants widely used in Spanish cuisine. These herbs give the chicken a characteristic aroma and flavor and have beneficial health properties.
Ingredients
To make this recipe, you will need the following ingredients:
1 whole or chopped chicken

4 cloves of garlic

1 teaspoon sweet paprika

1 teaspoon hot paprika (optional)

1 teaspoon salt

1/2 teaspoon black pepper

1/4 cup white wine vinegar

1/4 cup olive oil

2 bay leaves

2 sprigs of rosemary

2 sprigs of thyme

2 sprigs of oregano leaves

2 sprigs of parsley
Preparation
The steps to prepare this recipe are as follows:
First, you must wash and dry the chicken well. Cut the whole animal into small or medium-sized pieces if you buy it. Remove excess fat and skin if desired if you bought it in pieces.

Then peel and crush the garlic cloves in a mortar or with a garlic press. Add the sweet paprika, hot paprika if used, salt and pepper. Mix well until you get a thick mixture.

Then add vinegar and oil and mix again until everything is combined.

Once the marinade is prepared, place the chicken on a plate or in a large plastic bag. Pour the marinade over the chicken and rub it evenly until completely covered. Add the bay leaves and whole or chopped herb sprigs. Cover the dish with foil or seal the bag and marinate in the refrigerator for at least 4 hours or overnight.

Then preheat the oven to 200°C and place the chicken on a baking sheet with the marinade and herbs. Let it cook for about 45 minutes or until the chicken is golden brown, turning it halfway through and basting it with the juices.

Finally, serve hot.
Chicken in Mediterranean herb marinade is a delicious and aromatic recipe that can be accompanied by various side dishes, depending on taste and occasion. Some of the most popular and simple side dishes are:
Potatoes are a classic side dish that goes well with chicken. They can be prepared in various ways, such as baked, fried, mashed, steamed, or in salads.

Vegetables are a light and nutritious option that adds color and flavor to dishes. You can choose seasonal vegetables and roast them in the oven, sauté them, or steam them. 

Salads are a fresh and versatile way to accompany marinated chicken. They can be prepared with various ingredients, such as green leafy vegetables, fruits, nuts, cheese, or legumes.

Rice: it is a grain that can be cooked in many ways and used to complement dishes. You can make white rice, brown rice, pilaf, rice with vegetables, or fried rice.
Preparation
This recipe is ideal for enjoying a delicious and nutritious dish because chicken is a lean meat that provides protein, vitamin B, and minerals such as iron, zinc, or phosphorus. In addition, cooking in the oven will avoid excess fat and better preserve its properties.
Mediterranean herbs are also beneficial to health because they are rich in antioxidant, anti-inflammatory, antibacterial, and digestive properties. Some examples are:
 Rosemary: helps improve memory, blood circulation, liver health, and digestion.

Thyme: helps to fight against respiratory infections, bacteria, fungi and parasites.

Oregano: helps reduce menstrual cramps, inflammation, cramps, and allergies.

Bay laurel: helps regulate menstruation, blood pressure, blood sugar, and cholesterol.

Parsley: helps to purify the blood, kidneys, and liver, prevent anemia, and strengthen the immune system.
As you may have noticed, this recipe for chicken in Mediterranean herb marinade is a way to enjoy the best of Spanish cuisine and, best of all, without neglecting your health. Its history is very interesting and diverse, as it is a recipe that has been able to travel around the world and adapt to the tastes and needs of each place. We encourage you to try it and let us know what you think. Enjoy!