Chilindrón Chicken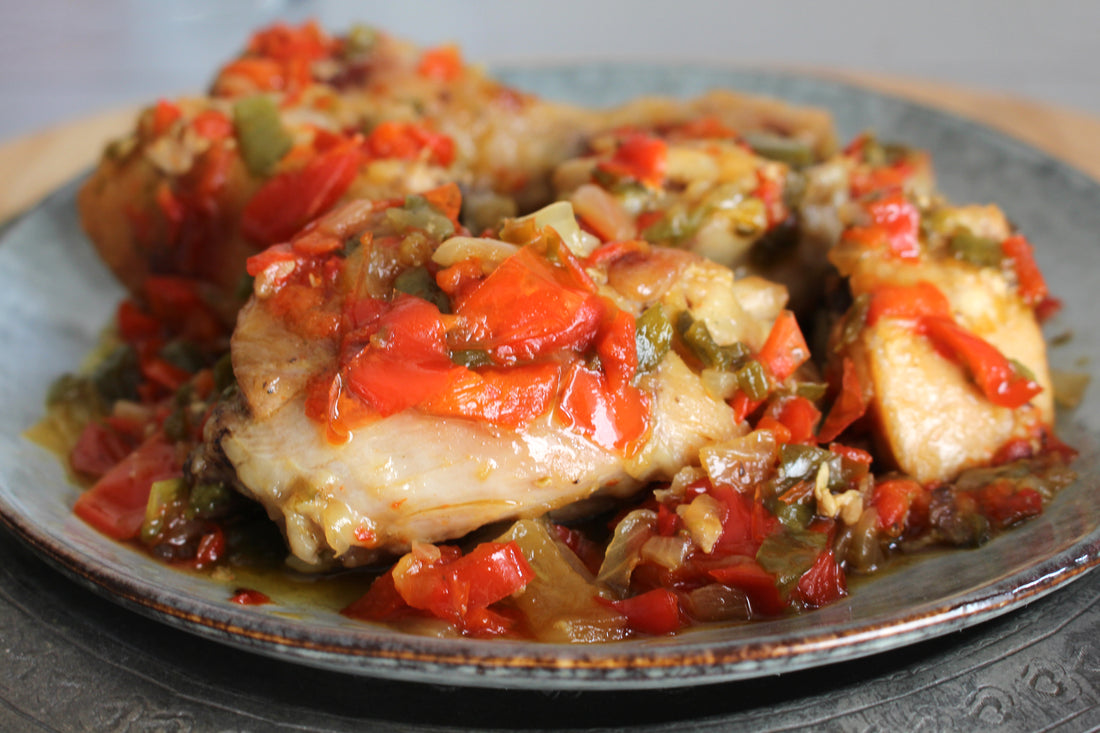 "Loser pays for the meal!" It's hard to believe the origin of this traditional dish came from such a saying, but it's true! Chilindrón is a card game played in the old taverns of the Aragón region of Spain, and legend has that the loser was forced to cover the meal. And the meal was this succulent chicken, pepper, and white wine stew. 
Many years ago, this recipe was cooked primarily at the end of spring and in the summertime, following the calendar of seasonal ingredients like peppers and tomatoes. While the dish definitely works in all seasons, its best served when the ingredients are at their peak. 
Today this dish is known as a symbol of Spanish flavors and is a worthy representation of the country's gastronomy. Chicken chilindrón is rather common, but you can also find it made with lamb or veal. The sauce is the true star. 
Here's how to prepare this Aragonés summer stew: 
How to Prepare Chicken in Chilindrón Sauce
Quality ingredients like organic veggies, Campo Grande Ibérico Paleta Shoulder Ham, and a pasture-raised chicken make all the difference in this dish. 
Ingredients
1 whole chicken, skinned and butchered into individual cuts 

4 ripe tomatoes, chopped 

4 cloves garlic, peeled

1 large onion, julienned 

1 large red bell pepper, cut into strips

1 large green bell pepper, cut into strips  

4 oz. Campo Grande Ibérico Paleta Shoulder Ham slices, chopped  

1 cup white wine

Extra-virgin olive oil

Salt
Preparation
Season the prepared chicken cuts with salt and set aside. 

Heat a drizzle of oil in a large frying pan and add 2 of the garlic cloves. 

Let the cloves brown and remove before they get too dark. The idea is to add garlicky flavor to the oil. 
Add the chicken to the remaining garlic oil and let it brown on all sides. You may have to work in batches. Once browned, set aside. 
Chop the remaining garlic cloves and add to the pan, along with the onions. Let them cook until soft but don't let them get too brown. 
Once cooked and beginning to brown, add the peppers and cook for a few minutes, keeping them a little al dente. 
Add in the tomato and ham and sauté for a few minutes. 
Let the vegetables cook for about 6 minutes over medium heat, stirring every so often to prevent them from sticking to the bottom of the pan. 
Once the veggies have cooked down, add the chicken and white wine and cook over low heat for about 10 minutes, or until the chicken is cooked all the way through and the sauce has reduced a bit. 
Serve the chicken and sauce with sides of your choice. ¡Buen provecho! 
Tips for a Delicious Chicken with Chilindrón Sauce
For a thicker sauce, mix a cup of warm water together with a little corn starch. Wait for it to dissolve and then add it to the sauce while it's cooking. This is a quick way to add thickness without having to wait for the sauce to reduce. The corn starch is flavorless and won't alter the taste of the sauce. 

Make sure to taste the sauce before serving and adjust for salt once it's reduced. 

Feel free to add some water to the stew if the sauce is too thick or the chicken is getting too dry.

For more herbal flavors, add a bay leaf, rosemary, or thyme to the dish as it cooks. 

Serve the chicken with potatoes of any kind. Fried, mashed, and boiled are all perfect accompaniments. A side of good quality bread is also common and is perfect for sopping up all those juices. And if you want a little freshness and extra nutrients, a big green salad is another great side.