Cocido Montañés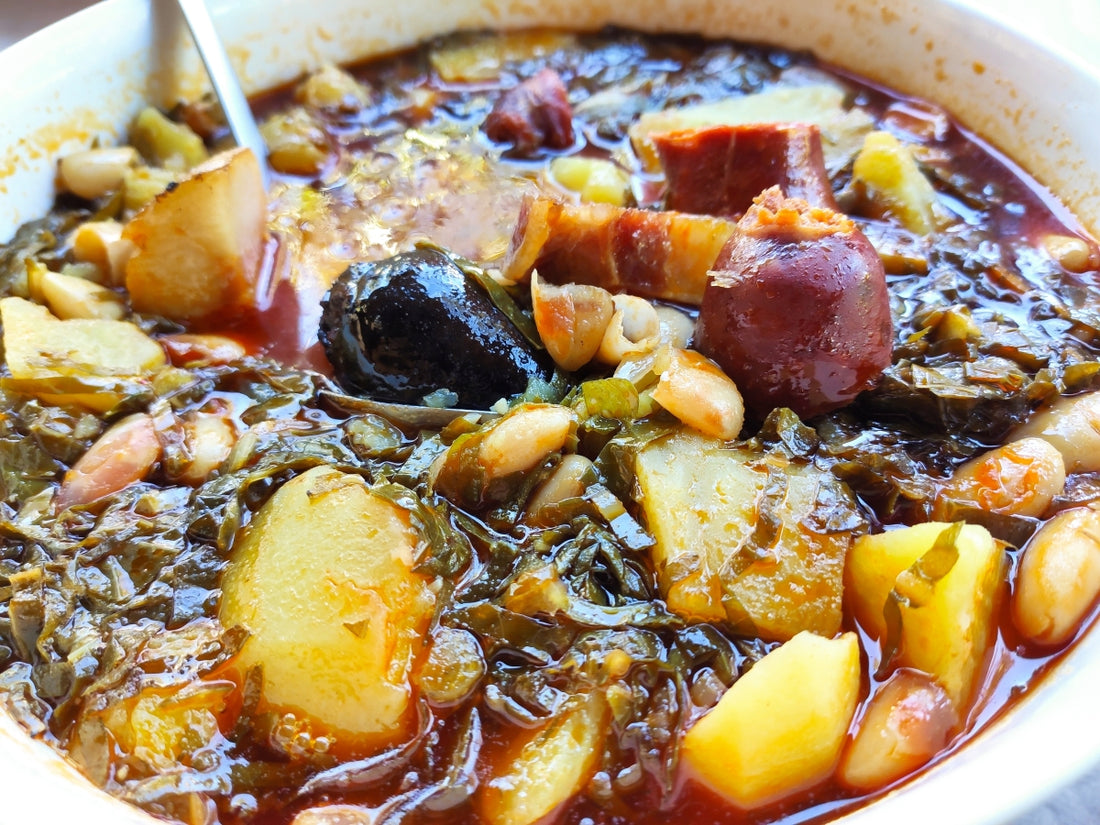 Do you like traditional, rich, and nutritious food? Do you want to know one of the most representative recipes of Spanish cuisine? Then do not miss this article in which we will show you how to make a delicious cocido montañés, a stew of beans, vegetables, and meat that will make you feel the taste of the mountains.
The cocido montañés is a dish from Cantabria, a region in northern Spain characterized by a cold and humid climate, green landscapes, and quality products. This dish is a way of making the most of local ingredients, such as white beans, cabbage (a variety of cabbage), carrots, potatoes, chorizo, black pudding, bacon, and pork or beef. It is believed that its origins date back to the 17th century when the inhabitants of mountainous areas prepared it to combat the cold and hunger with the ingredients they had at hand.
Features
This popular preparation is simmered for several hours until all the flavors combine and create a thick, aromatic broth. It is usually consumed more in winter, as it is a very caloric and comforting dish. However, it can also be enjoyed all year round, especially in rural restaurants that offer it as a specialty.
Unlike other Spanish stews, the cocido montañés does not have chickpeas but beans and is served in the same dish without separating the broth from the rest. Even so, in some regions, it is served in two parts: first, the broth with noodles or rice, and then the legumes, vegetables, and meat.
It can also be served with cheese or bread, especially village bread, red wine, or cider. For dessert, you can taste typical handmade sweets from Cantabria, such as sobaos pasiegos, quesadas, corbatas de Unquera, or polkas de Torrelavega.
Advantages 
The preparation of this dish results in a very complete and balanced food, providing proteins, carbohydrates, fiber, vitamins, minerals and healthy fats. In addition, it also has several health benefits, such as those listed below:
Improves digestion and prevents constipation, thanks to the fiber in legumes and vegetables.

Strengthens the immune system and helps fight infections due to the action of vitamin C found in cabbage and carrots.

Thanks to the carbohydrates found in legumes and potatoes, it provides energy and vitality.

It favors the formation of muscle and bone, thanks to the proteins and calcium present in meat and cheese.

It regulates cholesterol and blood pressure due to unsaturated fats in chorizo and bacon.
Ingredients
To prepare a cocido montañés you need the following ingredients:
500 g white beans

1 cabbage

2 carrots

2 potatoes

1 chorizo sausage

1 blood sausage

100 g of bacon or pork belly

500 g pork or veal meat

Salt, pepper, bay leaf and paprika

Water
Preparation
The method of preparation of the Cocido Montañés is as follows:
Soak the white beans in cold water with salt the day before.

The next day, drain the beans and pour them into a large pot with cold water the next day. Add the chorizo, the blood sausage, the bacon, and the meat. Season with salt, pepper, bay leaf, and paprika. Bring to a boil and then reduce heat. Let cook for about two hours or until the beans are tender and soft.

Meanwhile, wash and chop the cabbage, carrots and potatoes. Add these vegetables to the pot about 30 minutes before the end of cooking time. Adjust seasoning if necessary.

When the stew is ready, you can choose to serve all the ingredients in the same dish and thus comply with the Cantabrian tradition, or, if you prefer, you can separate the broth from the solids. Place the clatter's caslatter noodles or rice in a deep dish and place the legumes, vegetables, and meat in another container. You can enjoy this warm, comforting, and nutritionally balanced dish.
This recipe is enough for 4 to 6 people. As a garnish, you can use country bread cheese and accompany it with red wine or cider and a typical dessert of the region to live the traditional experience completely.
As you can see, the cocido montañés is an easy recipe that only requires time and patience. This is a traditional dish that is part of the Cantabrian culture and identity, so it is a way to taste the best of Spanish gastronomy and take care of your health at the same time. What are you waiting for to try it?