Cordovan Salmorejo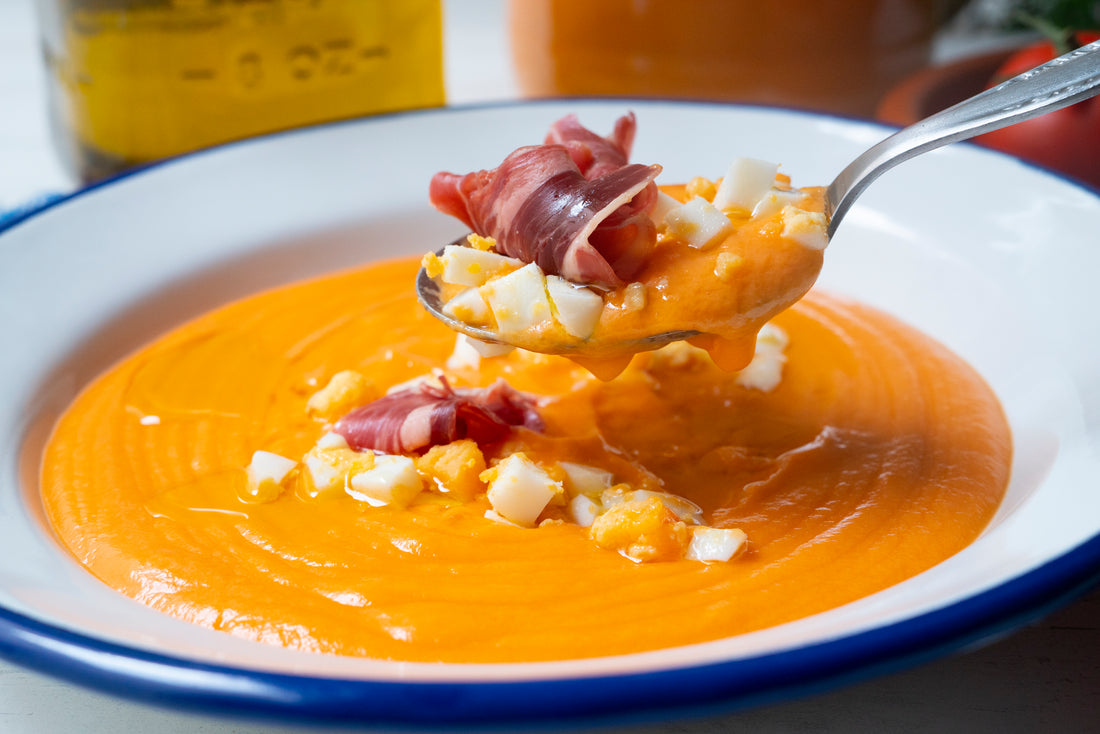 Fancy a fresh, delicious, and healthy dish? Then don't miss this salmorejo cordobés recipe, one of the jewels of Spanish gastronomy. Salmorejo is a cold cream made with tomatoes, bread, garlic, olive oil, and vinegar, often served with hard-boiled eggs and chopped ham as garnish. This is a typical dish from Cordoba, but it has spread throughout Spain and the world thanks to its flavor and ease of preparation. In addition, it also has many health benefits because it is rich in vitamins, antioxidants, fiber, and healthy fats.
Although its origin is not very clear, it is believed that the Cordovan salmorejo has Roman and Arab influences. One of the curiosities is that it did not have tomatoes until the 19th century when the vegetable became popular in Spain after the discovery of America. It was previously made with water, vinegar, salt, and oil, and it was called aliño or mazamorra. This option is thicker than gazpacho and has only tomato and garlic as vegetables.
Ingredients
The ingredients for a preparation for 4 people are as follows:
1 kilo of ripe tomatoes

200 g day-old bread

2 cloves garlic

100ml of pure olive oil

2 tablespoons sherry vinegar

Salt to taste

2 hard-boiled eggs

100 g of Iberian ham
Preparation
If you want to know how to do it, follow the steps below:
Wash the tomatoes and cut them into chunks, then place them in a mixing or large bowl if you go with a hand blender.

Peel the garlic and remove the pathogens. Then, add them to the bowl along with the tomatoes.

Chop the bread and soak it in a bit of water, drain well, and then add it to the bowl with the tomatoes and garlic.

Mix everything in a blender until you get a smooth and homogeneous cream. If it is too thick, you can add a little more water.

Add the olive oil, vinegar, and salt to taste. Then mix well and taste to adjust acidity or salt, if necessary.

Once beaten or blended, pass the salmorejo through a fine strainer to remove the skin or seeds from the tomatoes. Afterwards, keep in the refrigerator until very cold.

Boil the eggs in boiling water for 10 minutes. Let them cool, peel, and cut into small pieces.

Cut the ham into cubes or thin strips.

Finally, serve the salmorejo in deep plates or individual bowls. Add the chopped eggs and the chopped ham on top. Drizzle with a bit of olive oil and enjoy!
Benefits
Salmorejo cordobés is a very satiating and nutritious dish that provides energy, hydration, and health. These are some of its advantages:
It is a source of lycopene, an antioxidant that helps protect cells from oxidative damage and prevent diseases such as cancer and cardiovascular disease. Lycopene is found in tomatoes, especially when ripe and cooked, and is better absorbed by fats, such as olive oil.

It is rich in vitamin C, which helps strengthen the immune system, promotes wound healing, aids collagen formation, and improves iron absorption. Vitamin C is also found in tomatoes and is best preserved if not overcooked.

It provides fiber, regulates intestinal transit, prevents constipation, reduces cholesterol, and controls blood sugar. Fiber is found in both tomatoes and bread, especially if it is whole wheat.

It contains monounsaturated fats, which are beneficial for the heart, reduce inflammation, and maintain the elasticity of the arteries. These fats are found in olive oil, which is also rich in vitamin E, another antioxidant that helps protect skin and hair. 

It provides proteins of high biological value, necessary for the formation and repair of tissues, the production of hormones and enzymes, and the activity of the nervous system. Proteins are found in eggs and ham, supplying iron, zinc, and vitamin B.
Salmorejo cordobés is a healthy dish you can easily include in your diet. In addition, it is very versatile, and you can change the ingredients or toppings according to your preferences or what you have in the fridge. For example, you can use cherry tomatoes, gluten-free bread, apple cider vinegar, flavored olive oil, mashed hard-boiled eggs, canned tuna, cream cheese, fresh cheese, avocado, cucumber, bell pepper, onion, basil or mint, among other ingredients. The possibilities are endless!