Cuttlefish meatballs in ink sauce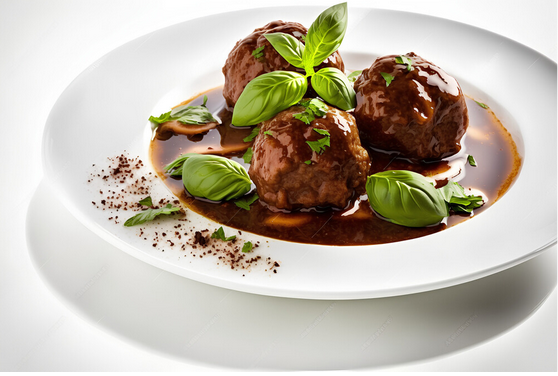 When you don't know what to cook or what to take to work, one of the most practical dishes you can resort to is meatballs. Making them will take little time, and their success is guaranteed because they please adults and children. Besides, they last very well from one day to the next.
Benefits of eating cuttlefish
Cuttlefish is a food that can be cooked in many ways: grilled with garlic and parsley; in stews; as a substitute for meat in pasta and rice dishes; in the form of meatballs and hamburgers, etc.
Like the rest of cephalopod mollusks, cuttlefish has highly beneficial properties for health, thanks to its vitamin and mineral content. Some micronutrients are vitamins A and E, calcium, zinc, iron, and potassium. However, the most notable are the B vitamins, selenium, and iodine. These are responsible for strengthening the immune system, improving the function of the circulatory system, and ensuring proper child development and the proper functioning of cells. It also accelerates metabolism, which means it helps burn fat. So it is a food to take into account in slimming diets.
Why use cuttlefish ink in cooking?
Although it is not an ingredient in most cuisines, the ink of this mollusk has been used for years in the Mediterranean area to give a different touch to pasta and rice dishes. One of the best-known recipes is black rice.
It is a natural product extracted from cuttlefish, squid, and octopus. Nowadays, we can find ink already packaged and ready to use in supermarkets. It is mainly characterized by dyeing any preparation black and enhancing its sea flavor. But some research also points to its benefits for our health. For example, it is believed to have antibacterial and antioxidant properties, slowing the appearance of dental plaque, chronic diseases, and cellular aging.
How to prepare cuttlefish meatballs in ink sauce
There are wide varieties of meatballs, which are so versatile that they can be eaten alone or accompanied by different types of sauces. They accept any meat: pork, beef, chicken, or fish. There are even some with bacon, vegetables, and legumes.
Today's proposal, made with cuttlefish, is a traditional recipe from southern Spain (where cuttlefish is also known as "choco") and is ideal for those who do not usually eat fish, as in the case of children.
Ingredients:
4 cuttlefish

1 onion

1 glass of white wine

1 red bell pepper

1 liter of fish stock

2 cloves of garlic

1/2 glass of rice

Breadcrumbs

Parsley

Cuttlefish ink

Olive oil

1 beaten egg

Salt and pepper to taste
Preparation of cuttlefish meatballs:
Clean the cuttlefish and cut the body into small pieces, as small as possible. You can save the heads and legs to prepare recipes like fish soup or rice marinara.

Chop the garlic and parsley and mix them with the cuttlefish.

Place the preparation in the blender and add 1/2 glass of wine. Add the egg, salt, and pepper and blend until a compact mass is formed. If necessary, add more breadcrumbs to give it the right consistency.

Take portions of dough and form the meatballs. Set aside.

To make the sauce, chop the onion and bell pepper. Sauté them in a frying pan with a bit of oil.

When they are golden brown, add the fish stock and the rest of the wine.

Let the alcohol evaporate, and add the cuttlefish ink. Add salt to taste and cook for 15 minutes. If you prefer a thinner sauce, pass it through a strainer or blender.

Meanwhile, fry the meatballs until they are golden brown. Then, place them on absorbent paper to remove the excess oil.

Add the meatballs to the sauce, heat everything together, and serve.
Tips for preparing cuttlefish meatballs
As we have seen, meatballs admit all kinds of variations. And, in this case, too. For example, to increase the seafood flavor, you can add shrimp, prawns, or surimi to the recipe.
And if the ink sauce does not convince you, you can always choose to accompany the meatballs with tomato sauce, green sauce, Spanish sauce, almond sauce, or other more daring ones such as sweet and sour sauce or salsa brava. The possibilities are almost endless.