Deer stew with chestnuts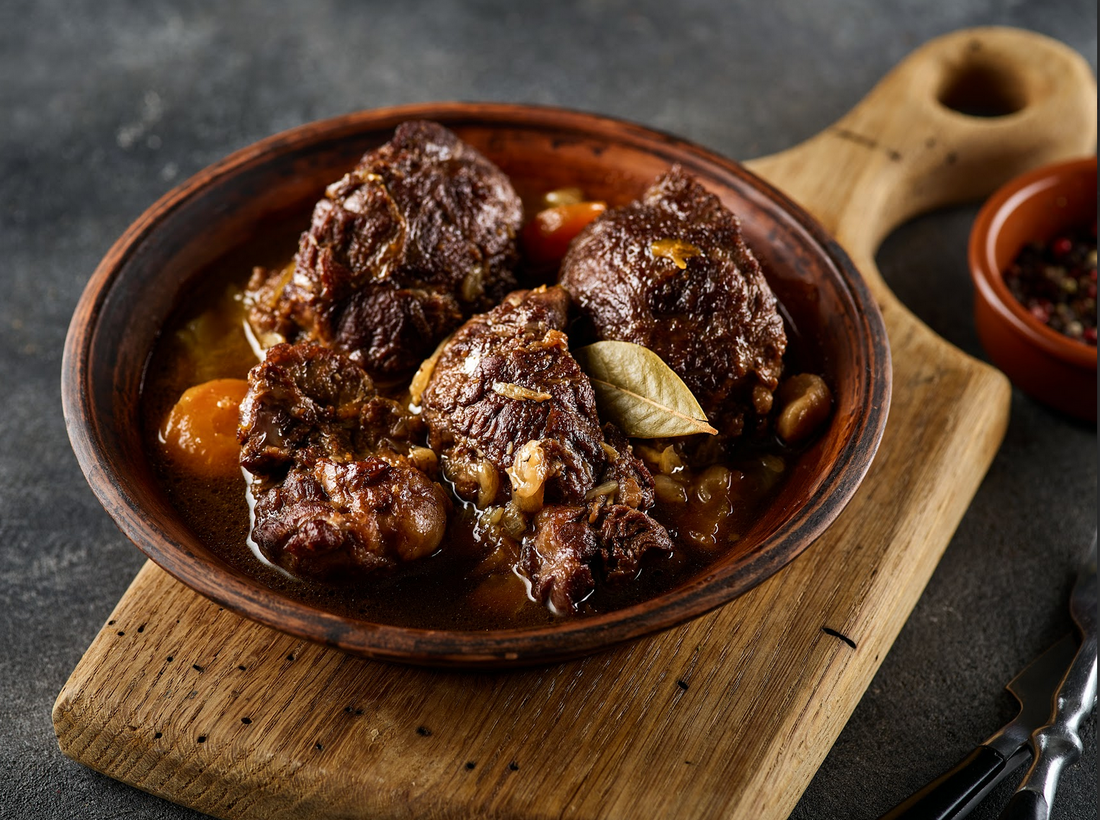 One of the meats that have gained popularity in recent years is deer or venison. Dozens of restaurants serve dishes prepared with this delicacy, which tastes similar to veal and attracts diners due to its high protein content and almost non-existent fat.
Another advantage of deer is that being free-ranging, it feeds on natural pastures, and its meat contains no traces of antibiotics, hormones, or drugs.
Nutritional properties of deer meat and chestnuts
In addition to the scarcity of fat, deer meat stands out as a source of vitamins and minerals. It contains iron, which reduces fatigue and combats anemia; zinc, necessary for healthy hair and nails; phosphorus, which maintains strong bones; copper, an antioxidant that prevents cellular aging; and vitamins B2, B3, and B12, which intervene in the metabolism and nervous system, reduce fatigue and strengthen the immune system, respectively.
As for chestnuts, they are the autumn nut par excellence and an ingredient that has accompanied game dishes since immemorial. It is a food with many health benefits. Chestnuts are rich mainly in carbohydrates, but unlike other nuts, they contain water, which counteracts the high caloric intake.
They are also a source of fiber, minerals, and vitamins, including magnesium, potassium, phosphorus, and some B vitamins. Therefore, chestnuts strengthen the bone system, can delay the onset of osteoporosis, stimulate the functioning of the nervous system, protect the heart, and promote digestive health. In addition, they are well tolerated by diabetics and coeliacs, as they do not contain gluten.
Despite their benefits, chestnuts should not be abused or eaten raw because the presence of tannins can cause stomach problems such as indigestion.
How to cook venison stew with chestnuts
The recipe we propose is one of the most representative stews of the central provinces of Spain, such as Toledo and Segovia. It is served with chestnuts, so it is a dish to enjoy in the autumn and winter.
Ingredients:
600 g deer meat

500 g chestnuts

1 onion

1 clove

2 cloves of garlic

1 sprig of aromatic herbs

1 teaspoon of juniper

75 ml red wine

200 ml vegetable stock

1 teaspoon olive oil

20 g butter

10 g flour

2 tablespoons red currant jam

3 bunches of red currants

Salt
Preparation:
Cut the meat into pieces and place them in a bowl. Add the onion pricked with the cloves, the peeled garlic, the juniper, the aromatic herbs, and the wine. Mix well, cover, and set aside for 12 hours in the refrigerator.

Peel the chestnuts and cook them over high heat for 5 minutes.

Take the meat out of the refrigerator and dry it. Then fry in a pan with some oil until golden brown. Sprinkle with flour and mix well.

Add the marinade and broth and bring to a boil.

Season to taste with salt and pepper and simmer for 1 hour and 30 minutes.

Heat the butter in a frying pan, add the chestnuts, and brown them for about 5 minutes, stirring. Season with salt and pepper.

When the meat is cooked, strain the sauce and thicken it with the currant jam.

Divide the meat among the plates with the sauce, add the chestnuts, and decorate with redcurrant clusters. Serve hot.
Tips for preparing the recipe
The loin and tenderloin of deer can be found in the market packaged and ready to cook. But if the piece comes from a recent hunt, the meat will have a more intense and acidic flavor. For this reason, it is recommended that before cooking, it is left to rest for about three days and then frozen. This process will soften the meat's flavor and help it tenderize during cooking. If, in addition, it is left to marinate in the refrigerator in a mixture of red wine and herbs for a day, the meat will acquire a more aromatic taste.

Deer meat must be cooked quickly, ensuring it is pink or undercooked on the inside. It would dry out if left on the fire any longer due to its low-fat content. The usual procedure is to season the meat with salt and pepper, brown the outside, and finish cooking in the oven for 5 minutes.

You can use the juices from the roast to make a sauce. You only need to peel off the remains left on the plate and dissolve them in a little red wine. Then sprinkle the meat with it or serve it in a separate sauce dish.