3 Easy Spanish Monkfish Recipes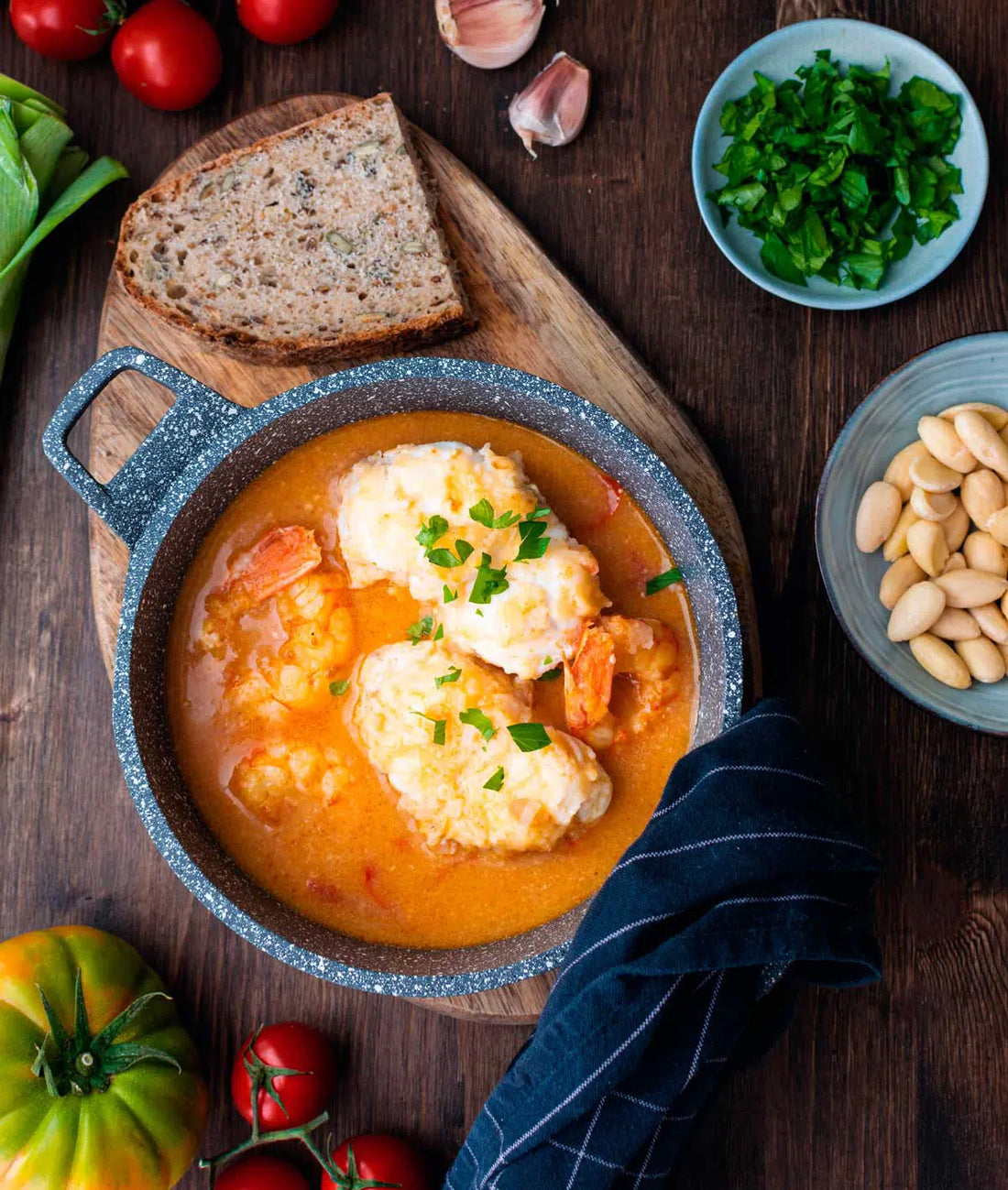 Spanish monkfish, despite being a terrifying looking fish (like a giant, flattened, shark-like version of a piranha) is actually a highly sought-after variety in Spain. It's texture and mild flavor make it a favorite even for the pickiest eaters, kids included. And there are loads of recipes—from fried filets to hearty stews—that lend well to the fish. 
What is monkfish? 
Monkfish is prominently harvested in the North Atlantic coast. It's taken on a number of names throughout the world, like the "poor man's lobster" or "the tenderloin of the sea," because of its firm and barely-sweet flesh. Julia Child even called it the "cook's delight because it's so adaptable." And if it's good enough for Julia, it's good enough for all of us. 
The edible part of the monkfish actually comes from the tail, as its broad, flat head takes up most of its body (you'll also find the cheeks and liver for sale at fish markets). The tail filets are often butchered to be completely boneless, which is makes it easy to eat. Low in fat and high in proteins and amino acids, it is considered a healthy addition the lauded Mediterranean diet. 
Monkfish has a thick but lean "snowy-white" flesh (according to Julia) with a soft flavor that's just begging to be dressed up in all sorts of sauces and preparations. It shines with fresh and light recipes and holds its own with rich, buttery flavors too.
Three Easy Monkfish Recipes
Beer-Fried Monkfish 
Ingredients
250 grams of chopped monkfish

1 teaspoon of baking powder

Coarse salt

100 millilitres of beer

100 grams of flour

1 egg, or 2 if they are medium-sized

Extra-virgin olive oil
Preparation
In a good-sized bowl, mix the yeast, flour, egg, beer and salt. 

Whisk these ingredients together vigorously. You can use a fork, but it is advisable to use a blender so that the ingredients are fully integrated.

The fish should be cleaned properly. Remove the guts and skin. Then wash and leave it to drain, you can use kitchen paper to remove excess water.

Cut the monkfish into small pieces, such as cubes. These pieces should preferably be bite-sized.

Dredge the monkfish in the mixture you previously made.

Heat plenty of olive oil in a frying pan and add the monkfish cubes. If you want the consistency of the frying to be different, then use sunflower oil instead of olive oil.

When the cubes start to brown, remove them using a skimmer.

Place the monkfish morsels on a plate. This plate should be covered with kitchen paper to absorb the fat released by the fish.

This dish can be served with salads, rice, and cold soups such as salmorejo or gazpacho. Serve with mayonnaise for dipping.
Monkfish Seafood Meatballs 
Ingredients
1 kilo of monkfish tails

1/2 kilo of prawns

3 tablespoons of breadcrumbs for breading

1 egg

2 cloves of garlic

1 sprig of parsley

Flour

Coarse salt

Extra-virgin olive oil
Preparation
Clean the monkfish tails by cutting with a knife close to the spine of the fish. It will be very easy to remove this bone. You should also remove the skin of the monkfish, which is like a dark cloth. You just need to slide the knife over it, although without penetrating the flesh. You can also ask the fishmonger to do this for you depending on your ability.

Peel the prawns and cut them into pieces.

Cut the monkfish tails into pieces.

Put the monkfish and prawns in a food processor.

Once the mixture is ready, place it in a bowl.

Peel and finely slice the garlic and add it to the bowl with the fish.

Add the egg and breadcrumbs to the bowl.

Chop the parsley and add it to the bowl.

Add a pinch of salt. 

Stir until the mixture is well blended. If you want more consistency, add a few more breadcrumbs.

Shape the meatballs with your hands. You will know they are ready to fry when the meatballs do not stick to your hands.

In a frying pan, heat plenty of olive oil. You can use sunflower oil.

Fry the meatballs over a medium heat.

Set aside on a plate covered with kitchen paper.

You can serve it with different sauces, including tomato sauce and, of course, rice. 
Monkfish Shrimp Salad 
Ingredients
1 large monkfish tail

400 grams of peeled king prawns

5 boiled eggs

1 red onion. You can substitute two spring onions depending on your preference

1/2 green pepper

1/2 red pepper

Chopped fresh parsley

100 milliliters apple cider vinegar

175 milliliters extra virgin olive oil

Coarse salt

Freshly ground black pepper
Preparation
Cut the monkfish into slices and cook for seven or eight minutes. Put plenty of water in a saucepan and add salt.

Be careful not to overcook it, as the fish may fall apart.

Peel and clean the prawns and cook them for two or three minutes. You can also buy cooked prawns from the fishmonger.

In a bowl, mix the oil and vinegar. Mix well to emulsify the vinaigrette. Gradually add the finely chopped fresh parsley. Keep stirring.

Cut the boiled eggs, peppers and onion into small cubes. 

Place these ingredients in a bowl.

Chop the prawns into three and add them to the bowl with the eggs and vegetables.

Crumble the monkfish when it is cold and pour it into the bowl.

Stir well so that all the ingredients are mixed together. Preferably use your hands.

Add the vinaigrette and keep stirring so that everything soaks up the liquid.

Pour the mixture onto a platter and serve.