Duck Magret with Pears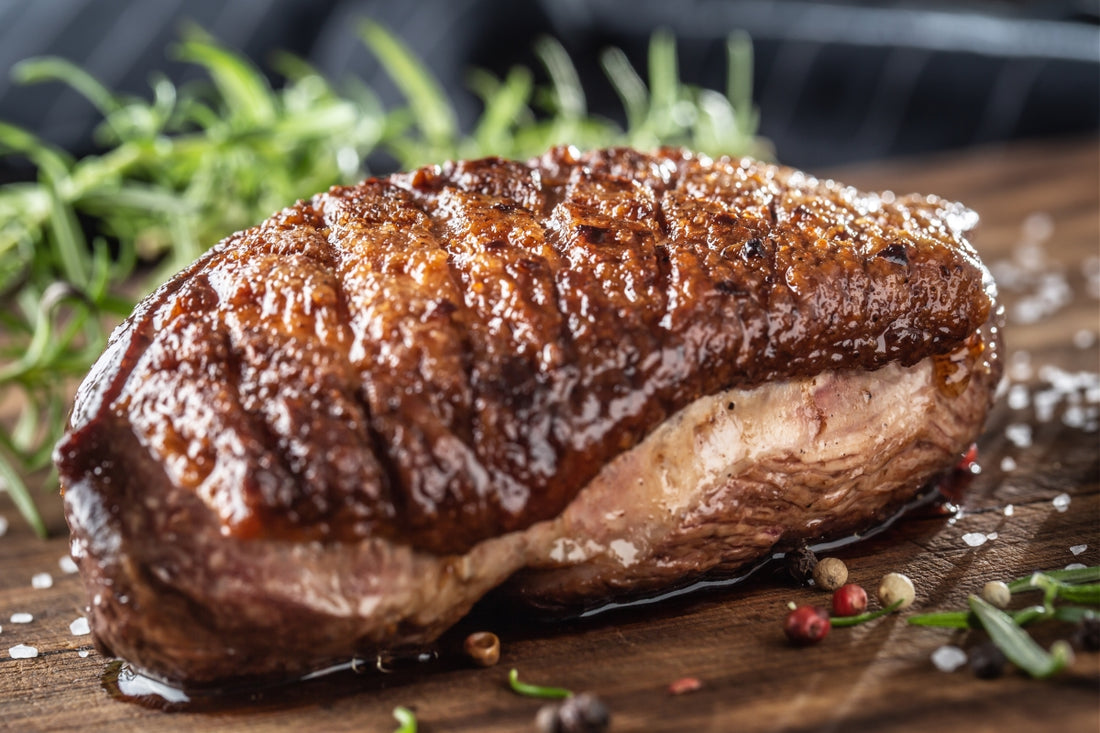 Duck magret with pears is a delicious recipe that combines the succulent red meat of the duck with the sweetness and texture of pears, creating a contrast of flavors and aromas that will please the most demanding palates. This is a typical dish of French cuisine, especially from the Gascony region, where ducks are raised for their foie gras.
The magret is a fillet obtained from the breast of a fattened or fattened duck and is distinguished from the normal breast by its greater thickness and layer of fat. The duck breast is roasted or baked, leaving the meat rare and the skin crispy, to be served in thin slices with sauce and a garnish.
The invention of the magret is attributed to André Daguin, a famous restaurateur from Auch, who in 1959 had the idea of serving duck breast as if it were a veal fillet, considering duck as a red meat and not necessarily as a white meat, as it was done until then. The dish's presentation caused a great stir among gourmets, accustomed to seeing duck breast preserved or cooked for long periods.
The pear is a fruit that combines well with duck breast because it provides a sweet and refreshing sensation, balancing the rich and fatty flavor of the animal. In addition, pears have many health-promoting properties, such as high levels of fiber, vitamins, antioxidants, and water. Pears can be cooked in red wine, grilled, microwaved, or steamed, and seasoned with spices such as cinnamon, cloves, or vanilla.
Ingredients
To prepare this dish, we need the following ingredients for four people:
2 duck breasts

4 ripe but firm pears

150 ml of red wine

50 g sugar

30 ml of sherry vinegar

1 cinnamon stick

Salt and pepper to taste
Preparation
Here are the steps to follow for the preparation of this delicious recipe:
The first thing we have to do is to clean the duck magrets, removing excess fat and any feathers they may have. Then we make some diamond-shaped cuts in the skin, without reaching the meat, and season them with salt and pepper to taste.

Put a frying pan over high heat without oil and place the magnets on the skin side. We leave them for a few minutes until they release the fat and brown. Then we turn them over and cook them on the other side until they are done to what we like. Remove them from the fire and cover them with aluminum foil so they do not cool down.

While the duck magrets are cooking, peel the pears, remove the core, and cut into quarters. Bring the red wine, sugar, vinegar, and cinnamon to a boil in a small saucepan. Add the pears and cook over medium heat for about 15 minutes or until they are soft but whole. Remove them with a skimmer and set aside.

Filter the pear cooking water and return it to the fire. Let it reduce until it has a syrupy consistency.

To serve, cut the duck breast into thin slices and place them on a platter or individual plates. Serve with the cooked pears and drizzle with wine sauce. We can decorate with some fresh mint leaves if we wish.
Benefits
This duck magret with pears recipe is a delicious dish that can be enjoyed any occasion. It is a dish rich in protein, iron, zinc, and vitamin B, which provides energy and strengthens our immune system. In addition, pears also provide fiber, potassium, vitamin C, and antioxidants, which help regulate intestinal transit, blood pressure, and cholesterol. The only drawback is that it is a high-calorie dish, so it should be consumed in moderation and accompanied by a green salad or sautéed vegetables to complete the menu.
If you like duck meat and want to try other recipes, there are variations, such as duck with oranges, duck confit, or even rice with duck breast and mushrooms. With this stuffing, you can also prepare your own foie gras or delicious croquettes. The meat of this bird is very special, and its combinations are usually very diverse and exquisite.
We hope you enjoy this duck magret with pears recipe and share it with your family and friends. Don't forget that you can find more popular recipes in Spanish gastronomy on our website.