Duelos y quebrantos, the history of this dish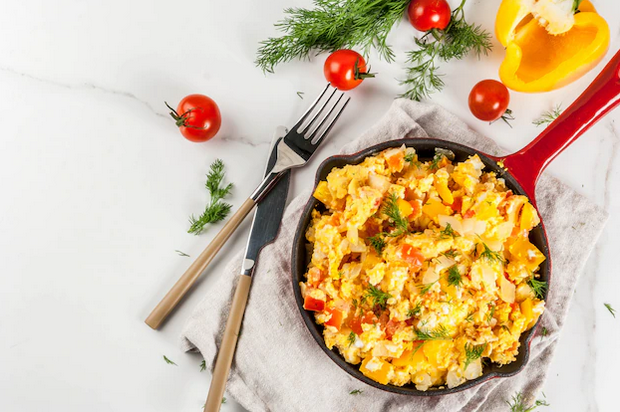 Did you know that the dish duelos y quebrantos is among the oldest traditional preparations of Spanish gastronomy? Specifically, this is a stew of eggs, chorizo, bacon, and black pudding, usually served with bread and wine. Its origins date back to the 16th century, when shepherds used to prepare it in clay pots with the products they had at hand.
Its name refers to the pain and suffering endured by ancient Christians during the time of the Inquisition when they were forbidden to eat meat on Fridays and vigil days. The dish was considered a sign of distinction between old Christians and converts since the latter had to demonstrate their adherence to the new religion by eating foods forbidden by Judaism and Islam.
This dish became famous thanks to Don Quixote de la Mancha by Miguel de Cervantes, where it is mentioned many times as a regular breakfast for the main characters. In Chapter I, it is said that "a pot of something more cow than mutton, salpicón on most nights, duelos y quebrantos on Saturdays, lantejas on Fridays, some extra palomino on Sundays, consumed the three parts of his estate." Chapter II describes how delighted Sancho Panza was with the dish the innkeeper invited him to. Chapter XI also tells how Don Quixote and Sancho Panza share the preparation with some muleteers.
As a curious fact, this preparation was offered to Queen Mariana of Austria, widow of Philip IV, when she visited La Roda in 1669. The queen was so pleased with the feast that she named the town "very noble and very loyal."
Ingredients
The recipe is simple and can be adapted to each person's taste. The essential ingredients are:
4 eggs

100 g chorizo sausage

100 g bacon

100 g black pudding

Olive oil

Salt
Preparation
The procedure to prepare this traditional dish is as follows:
First, cut the chorizos, bacon, and black pudding into small pieces.

Then, you should fry all the cuts with oil until they are golden brown and crispy.

Then, beat the eggs in a bowl and add salt to taste.

Add the eggs to the pan and stir well to combine with the rest of the ingredients.

Cook over medium heat until the eggs are well cooked, but do not let them dry out.

Serve hot with bread and wine.
This dish is usually eaten on Saturdays, according to Manchegan tradition. This may be because the Jewish people celebrate Shabbat, a day of rest and prayer, during which it is forbidden to cook or make fire, and by consuming this dish, the converts showed their disobedience to Jewish law.
To go with the duels and quebrantos, you can choose other typical dishes of Spanish cuisine such as gazpacho, which is a cold soup made of tomato, bell pepper, garlic, and other ingredients, very refreshing and healthy; patatas bravas, which are fried potatoes with spicy sauce, very popular as a tapa or appetizer; paella, a rice dish with meat, fish, seafood or vegetables, also originally from the Valencian Community and one of the most representative dishes in Spain; or a potato omelet, with or without onion, depending on taste, which is a popular and very easy to prepare option.
Advantages
Dueling has many benefits, as it is a very energizing and nutritious dish. Eggs provide high-quality proteins, iron, zinc, phosphorus, selenium, and vitamins A, D, E, and B12. Chorizo, bacon, and black pudding are good sources of unsaturated fats, which help reduce bad cholesterol and prevent heart disease. They also contain iron, zinc, calcium, magnesium and vitamins B1, B2, B3, B6, and B12. Olive oil is rich in monounsaturated fatty acids, antioxidants, and vitamin E. Bread and wine are good sources of complex carbohydrates, fiber, polyphenols, and B vitamins.
On the other hand, duels and quebrantos have a high caloric value because they contain animal fats and proteins. It is believed that this dish is suitable for farmers who need a lot of energy to do their work, and it is also said to be an aphrodisiac because of its cholesterol and testosterone content.
This dish is a delight for the palate and a way to enjoy Spanish history and culture. You can enjoy it at any time of the year, but especially in winter, when you feel like something warm and comforting. It is ideal to share with family or friends, accompanied by a pleasant conversation. If you want to taste the best Spanish food, don't hesitate to prepare this simple and delicious dish; you'll love it!