European Hake: What Is It and How Can I Cook It?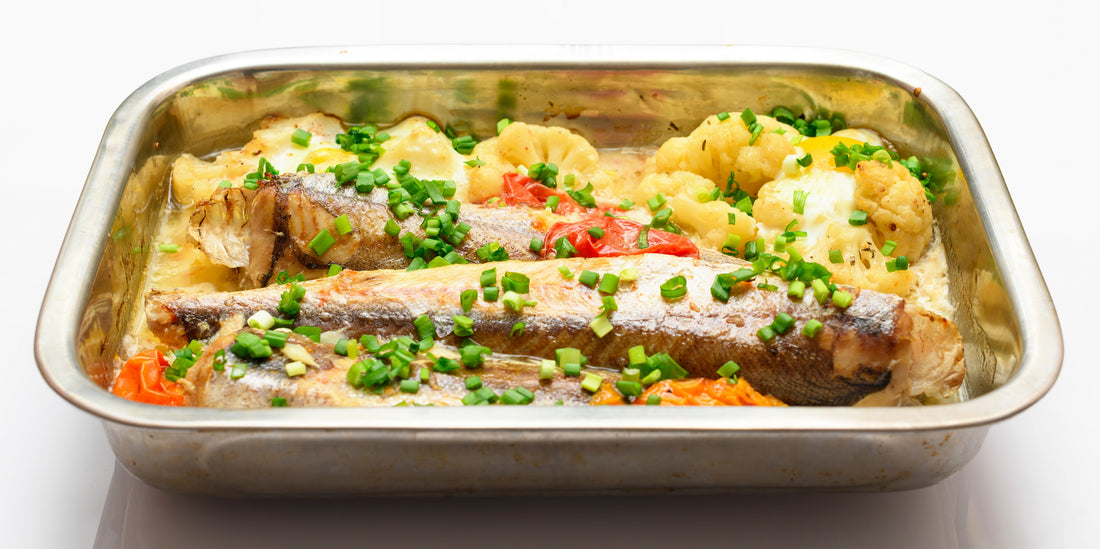 European Hake is an aggressive-looking fish when it's alive and still in the ocean. Some people compare the silver appearance to Cod, but Hake is very different in terms of appearance and flavor. Hake flesh is more flaky and pale than Cod but still has firm features. It also has a much more subtle flavor. 
Hake is a very popular fish in Europe, but it's still consumed in some parts of North America and other parts of the world. You can often buy it fresh, or frozen depending on where you live. In some places, you can find it smoked and salted. 
What to Look for When Buying Hake 
When buying fish, you want to make sure it's fresh. The flesh of fresh Hake should be firm and white. There should be no discoloration, bruising, or blemishes of any kind. Hake will be of better quality in some locations compared to others. 
Some Hake suppliers also practice better sustainability practices than others. Make sure to research where you are buying your Hake from and see if they are a sustainable choice. You might also want to avoid buying Hake during breeding season because the stocks are often depleted and older during this time. The breeding season is from February to July. 
Cooking Hake 
If you have found a perfect Hake fish or fillet, you might be wondering how you can cook it. Cooking fish can be intimidating at first because you want to make sure you are giving it a good flavor. Hake can also be expensive in some markets, so you want to make sure your money is not going to waste. 
Here are some simple tips for cooking whole Hake and Hake fillets:
| | |
| --- | --- |
| Cooking Whole Hake  | Before cooking a whole fish, you need to make sure that it has been gutted and that the gills have been removed. The best way to cook a whole Hake is by roasting it. Make sure to cover it with a tight-fitting lid or wrap it in foil so that it retains all its flavor. Make sure to add some seasoning or marinade to the hake so that it soaks up the flavor when it's being roasted.  |
| Cooking Hake Fillets  | The most common way to cook fillets is to pan-fry them with a small amount of melon juice and butter. You can also add some herbs.  |
| Other Ways to Cook Hake Fillets  | If you don't want to roast or pan-fry the fillet, there are some options you can try. Poaching is a good choice if you know how. Just make sure you use fish stock, wine, and lemon juice. You can also steam it. If you have more time on your hands, you can even cure the Hake. You will need to add sugar, salt, and citrus and let it sit for 1 to 2 hours.  |
Once you have the Hake cooked, you will need to make sure it is fully done before you take it off the heat and serve it. Make sure the flesh is firm to the touch and opaque. 
What Can I Serve with Hake? 
Hake has a subtle and sweet flavor. It's also very mild, so you can basically serve it with anything you want. Hake is a type of white fish, so it goes well with other seafood or even heavier meats like bacon. 
In some countries, Hake is added into a curry with many different spices and coconut milk or coconut cream. You can also deep fry to make a fish and chip dish. 
In Spain, Hake is cooked and served a little differently. They often grill it or bake it and then add chorizo and paprika. You can definitely try this choice if you want to have a spicier dish with stronger flavors. 
If you want to add in some more seafood, you can add clams or mussels. It also makes an excellent stew with potatoes, tomatoes, and onions. 
As you can see, Hake can be cooked and served in a large variety of ways. You can also feel free to get creative and make your own recipes and styles. 
Final Thoughts 
Hake is a white flesh fish with a simple subtle flavor that makes it easy to throw into dishes for some extra nutrition. It's also easy to cook because you can pan-fry it, bake it, roast it, or grill it. Make sure you are always buying fresh Hake that is firm and does not have any bruising or discoloration.