Everything you need to know before eating Iberian pork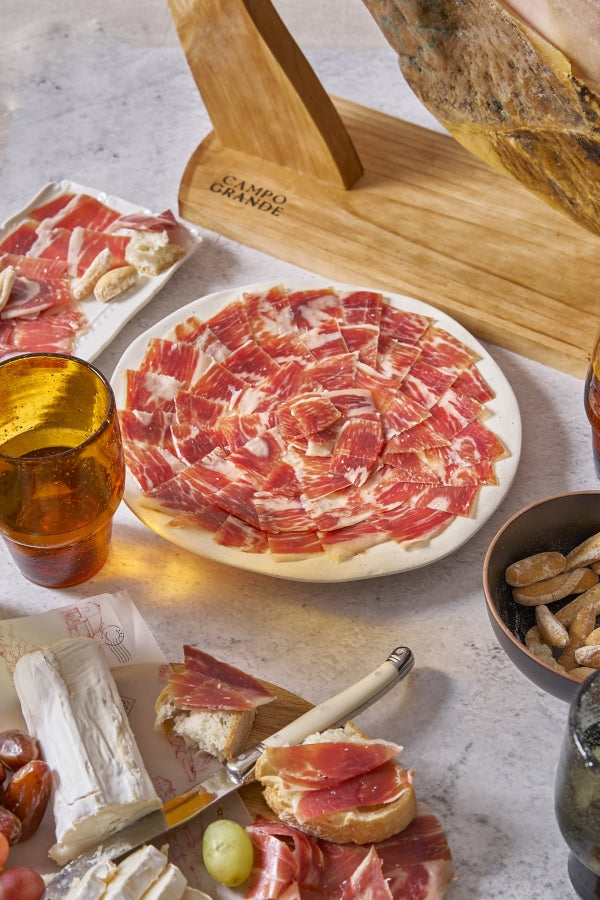 Iberian pork is one of the best delicacies in Spanish gastronomy, known for its exquisiteness and unparalleled flavor. Before tasting this culinary delight, one must know some critical aspects about the Iberian pig and its breeding, feeding, and elaboration process.
Origin and breeding of the Iberian pig
The Iberian pig is a breed native to the Iberian Peninsula, raised in extensive pastures, a privileged environment composed of natural fields, holm oaks, and cork oaks. This free-range rearing, in contact with nature, is one of the characteristics that distinguish the Iberian pig and contributes to its unique quality in terms of nutrition and flavor.
During their lifetime, Iberian pigs feed mainly on acorns and natural grasses in the Dehesa. This diet rich in acorns gives the meat of the Iberian pig exceptional nuances and flavors and a fat infiltration that provides juiciness and tenderness.
Iberian pork quality categories
The Iberian pig is classified into different quality categories depending on its racial purity and the type of breeding. Thus, the most recognized categories are:
Acorn-fed Iberian ham or 100% Iberian: These pigs are of pure Iberian breed and have been fed exclusively on acorns and pasture in the Dehesa during the montanera, the last phase of their life. This category guarantees the highest quality and flavor in the meat of the Iberian pig. It is the best option for gourmet food lovers, the most demanding palates, and the most expensive.

Recebo or 75% Iberian: These pigs also feed on acorns and pasture in the pasture, but their diet is supplemented with feed and other foods. Although their quality is excellent, they do not reach the purity and flavor characteristic of 100% Iberian acorn-fed pigs. However, they are still highly appreciated.

Cebo de campo or 50% Iberian: These pigs are raised in extensive farms, where they have access to open-air spaces and feed mainly on natural feed and pasture. Although their quality is remarkable, they do not have the same fat infiltration and flavor characteristic as acorn-fed pigs.
Nutritional benefits of Iberian pork
Iberian pork, particularly 100% Iberian pork, offers significant nutritional benefits that are an essential contrast to conventional pigs. To begin with, its meat is rich in monounsaturated fatty acids, such as oleic acid, similar to the healthy fat content in olive oil. These fatty acids contribute to maintaining healthy cholesterol levels and protecting the cardiovascular system.
In addition, Iberian pork is a source of high-quality protein, B vitamins, iron, and zinc. These nutrients are essential for the proper functioning of the body and contribute to maintaining a balanced and healthy diet.
Therefore, this meat does not enjoy the lousy reputation of meat from conventional pigs, which is associated with a higher risk of developing diseases related to high cholesterol levels. This does not imply that it is a good idea to overeat Iberian pork, but it does mean that it is a healthier food from a nutritional perspective.
Preparation and enjoyment of Iberian pork
Iberian pork can be used as an ingredient for culinary preparations, from roasts to fillets or thin slices to make sausages and Iberian hams. Its intense and juicy flavor is appreciated in all kinds of dishes, both in traditional recipes and in more modern creations.
When tasting Iberian pork, it is important to remember that its flavor and texture are thoroughly enjoyed when served at room temperature. Allowing the meat to breathe before consumption will enhance its organoleptic qualities and ensure an exceptional gastronomic experience.
On the other hand, when it comes to pairing, Iberian pork has the particularity that it goes well with a wide range of flavors and beverages. Its versatility allows it to be paired with medium to full-bodied red wines, such as young reds or crianzas, complementing its taste and balancing the palate. It can also be enjoyed with craft beers or even with a good cava or champagne, which enhances the juiciness and nuances of its meat.
Likewise, it can be used to prepare many appetizers when served raw, which makes it perfect for giving it a touch of gourmet flavor to liven up any event or meeting without much effort.
In conclusion, the Iberian pig is a gastronomic treasure that deserves to be appreciated in all its magnificence. Its free-range, acorn-fed diet and overall favorable nutritional contribution make Iberian pork a healthy and delicious option.
Just remember that, before enjoying it, it is advisable to know the quality categories, the nutritional benefits, and the different ways of preparation to make the most of this culinary jewel. Enjoy your meal!