Fuet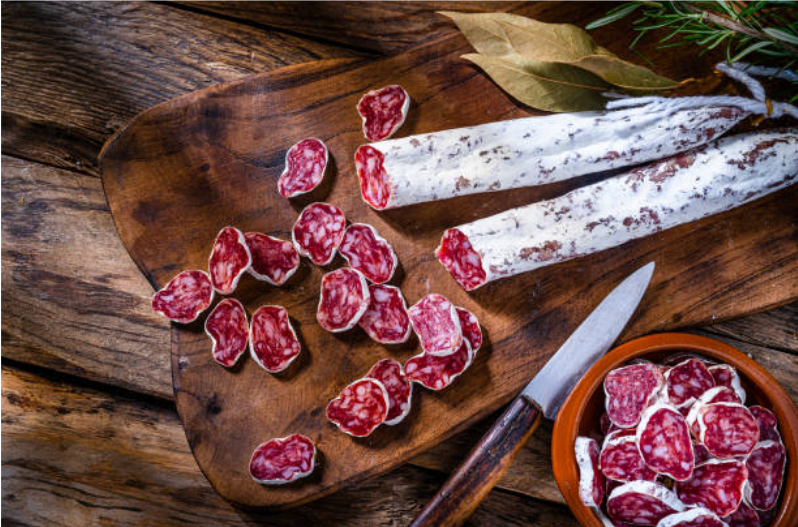 Fuet is a typical sausage from Catalonia and is widely consumed in Spain and other European countries, such as France, Italy, and Greece. It has excellent organoleptic properties, an exquisite flavor, and is so versatile that it can be included in many recipes
Discover the secrets of fuet
Fuet is characterized by its straight, flattened shape and a thickness between one and two fingers. In addition, the outside is covered by a white layer that indicates the presence of fungi that contribute to the maturation of this sausage.
Did you know that fuet in Catalan means whip because of the shape of this delicious sausage? It can be served raw, in tapas, and even incorporated into various recipes. The most common way of consuming fuet is basic and accompanied by other sausages; there is nothing like a board with multiple sausages and cheeses to entertain your guests!
Fuet is made using pork and minced bacon. In addition, it is spiced with black pepper and stuffed into the intestine of the pig's small intestine. To protect the meat and prevent it from developing bacteria harmful to health, fuet includes penicillium Sangiovese bacteria. These fungi, present in the skin of the fuet, can be consumed without any problem.
Best recipes with fuet
Some meats, such as tenderloin, sirloin, turkey, and even chicken, are usually prepared and stuffed on special occasions. A good alternative is to use fuet as a stuffing, accompanied by other ingredients such as olives, vegetables, cheese, a long, etcetera.
It is also a sausage that goes very well with minced meat and as an accompaniment and can even be used as a substitute for Serrano ham in some recipes.
Fuet tartar
Tartar is raw meat; in this case, we propose making it with fuet and cherry tomatoes. For this recipe, you will need the following:
One fuet.

Eight cherry tomatoes.

One spring onion.

One teaspoon of capers.

One teaspoon of old mustard.

Perrins or Worcestershire sauce.

Extra virgin olive oil.

Bread.
Process of elaboration:
Just chop all the ingredients very well and add them to a bowl. Stir with your hand so that all the elements are integrated and take flavor. Once ready, serve on a toast of bread, previously warmed or toasted.
Fuet in canapés
One way to serve fuet to your guests is in canapés. For these, you will only need the following
:
A fuet.

Crushed tomato or tomato sauce.

Canapés or bread.

Grated mozzarella cheese or camembert cheese.
Preparation process:
Spread the bread or canapé with a layer of crushed tomato or tomato sauce - you can even try the delicious tomato jam!

Cut the fuet into small cubes and place them on top.

Sprinkle with grated mozzarella or camembert cheese.

Roast in the oven for 15-20 minutes at 180º C.
Pizzas with fuet
Who doesn't like pizza? If you are a lover of this delicious Italian dish, we invite you to include fuet in your homemade pizzas, and even if you buy pizzas at the supermarket, do not hesitate to add some diced fuet on top.
If you are going to make your pizza at home, then use a pizza base, tomato, and mozzarella cheese; add to your pizza base all the ingredients that you like, which can combine very well with fuet. Include ham, for example, if you want an Iberian pizza. Another option is to add minced meat for the more carnivorous ones.
Macaroni or spaghetti with fuet
Pasta is another culinary delight from Italy and is a straightforward and quick option to prepare if you are in a hurry. Macaroni is usually served with chorizo or tuna, but try it with fuet!
For this recipe, you will need the following:
A package of macaroni or spaghetti.

Tomato sauce.

One fuet.

Mozzarella cheese.

Parmesan cheese (optional).
Process of elaboration:
Heat water in a saucepan, and add the macaroni or spaghetti when it comes to a boil.

Let the pasta cook according to the instructions on the package.

Cut the fuet into small cubes.

When the pasta is ready, add the tomato sauce and the fuet.

You can add the cheese if you like it melted or put the pasta in the oven to gratinate it.

Serve with a sprinkling of Parmesan cheese.
Other ways of eating fuet
The options for eating fuet are highly varied, as it is such a versatile sausage that it easily adapts to any recipe. You can prepare fuet croquettes, substituting the famous Serrano ham, and the flavor changes, and you won't regret it! The preparation process is the same as for ham croquettes.
You can also add the fuet to a typically stuffed potato omelet. Just mix the fuet with the potatoes and the egg! Of course, cut the fuet very thinly. Finally, we advise you to substitute the Serrano ham in the broken eggs "huevos rotos" with fuet. In this case, cutting the fuet in slices or cubes is best.