Galician style chicken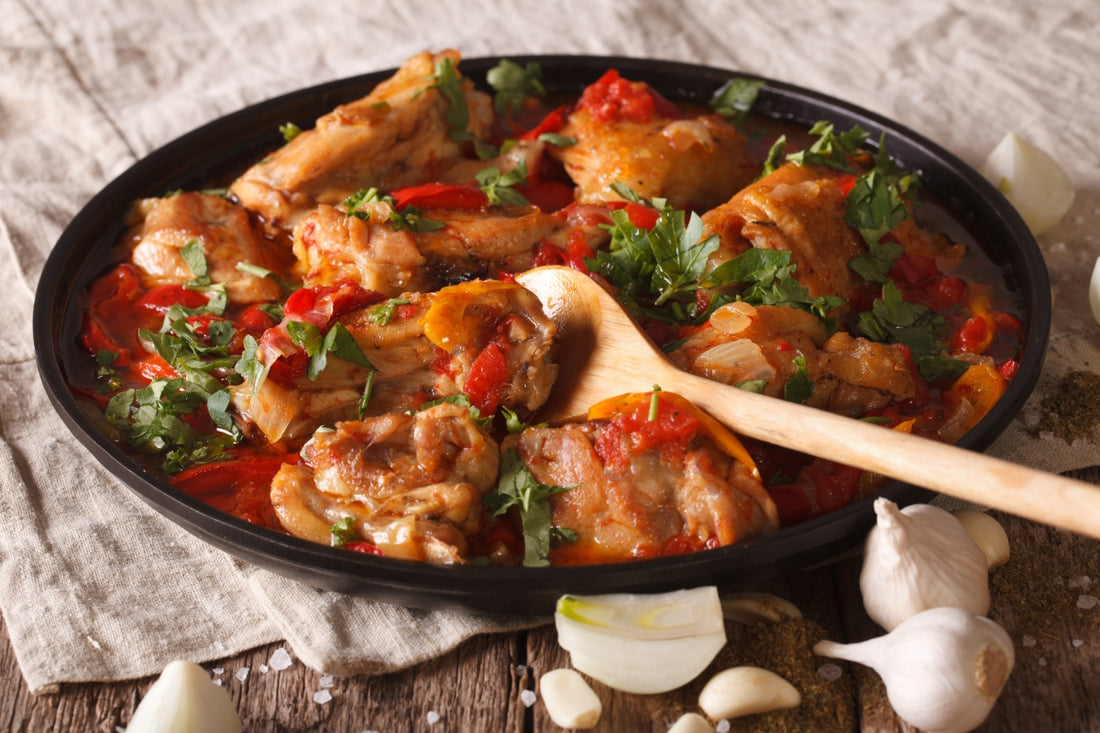 If you ever visit Galicia, you will notice many things. First, the scenery is beautiful; second, the culture and history are very interesting; and finally, the food is plentiful, and any Galician person will insist that you eat and eat a lot.
An essential part of Galician culture is sharing food with others, as this is an act of kindness and good manners; therefore, you can understand why they are so proud of their gastronomy. One of their most recognized dishes in Spain and the rest of the world is the Galician empanada. This versatile food can be a delicious breakfast, lunch, or dinner, and this versatility makes it stand out everywhere, besides its great taste.
One of the most common and famous fillings of Galician empanadas is chicken. This is usually so delicious that many people prepare it without the empanadas to eat it with other garnishes.
This type of chicken preparation stands out for its intense flavor, but the best thing is that it only requires a few ingredients or much time. This recipe can be made in a few minutes and save you on those busy days when you can't cook for a long time but want to eat something tasty.
Take note of this step-by-step we have for you, as it will become your favorite chicken preparation.
How to prepare Galician chicken style?
Unlike many complicated recipes that will have you running from one store to another, this dish can be prepared with ingredients you already have at home. So don't worry, put on your apron and get ready to cook.
Ingredients: (For approximately 4 people)
600 grams of chicken

3 large onions

2 tomatoes

150 grams of green bell pepper

150 grams of red bell pepper

2 cloves of garlic

2 bay leaves

50 ml of white wine

Salt

English sauce

Black pepper

Extra virgin olive oil

Paprika

Turmeric

Cumin
Preparation:
Take a large pot and fill it with water. Bring the water to a boil, and when it reaches the right temperature, add the chicken.
Let the chicken cook for approximately 30 minutes. The meat should already be very tender. Turn off the casserole and remove the chicken, submerging it in cold water to stop the cooking and cool the meat.
When the chicken is lukewarm, remove it and start shredding. Reserve all the chicken strips in a bowl.
Continue by peeling the onions and garlic. Cut the onion and peppers into julienne strips while crushing the garlic. For the latter, you can help yourself with a mortar and pestle, or if you feel it is too much work, you can simply use garlic powder.
Heat plenty of olive oil in a frying pan, and when it is hot, cook the onion, peppers, and garlic over medium heat. Stir until they get a little color.
After about 2 minutes:
Add the chicken and the previously peeled and grated tomatoes.

Add the turmeric, pepper, cumin, and bay leaves.

Cook for about 5 minutes.
Add some chicken broth and salt, pepper, and Worcestershire sauce. Let everything cook for 5 minutes, and pour in the wine. You must cook for about 15 minutes or until everything is reduced.
When the chicken is dry, it is time to serve. You can do it with Galician-style potatoes, if you wish, or with the garnish of your choice. Since this chicken is dry, you can choose a side dish such as a fresh salad with olive oil.
Why is it eaten dry?
The recipe is made to dry the result since this chicken is commonly used to fill empanadas. The empanada dough will weaken if the chicken has a lot of sauce.
However, if you are not using the chicken as a filling, don't be afraid to leave some juice in the pan. Turn off the heat before reducing all the liquid and serve. We assure you that the flavor will be just as delicious.
Tips:
To give more forcefulness to this chicken, many people add mushrooms and raisins. Besides providing an extra flavor and texture, this will make the preparation last much longer.
If there is leftover food, just store it in an airtight container to eat another day. The chicken will be preserved properly and keep its flavor; it may absorb the spices better and have a more intense taste. This way, you can make empanadas the next day to share.
As you can see, making this preparation is not complicated, and you will have enough chicken to eat at least twice in a short time. The best thing is that, as we said before, this protein can be used at any time of the day since it is as delicious at breakfast as at dinner. What are you waiting for to cook it?