Green Asparagus and Goat Cheese Tart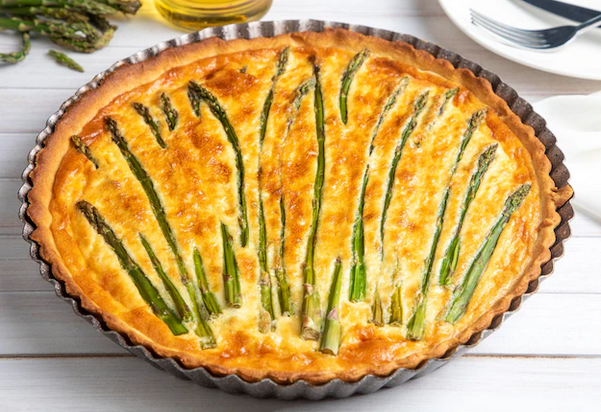 We have good news if you like green asparagus and goat cheese. Here is a recipe for a green asparagus and goat cheese tart designed especially for your discerning palate. It is a delicious, easy-to-make, and very nutritious dish that will satisfy all lovers of Spanish cuisine. In addition, we tell you a little about the origin of this recipe, the most suitable toppings, the dish's preparation method, and the benefits it brings to your health. Will you try it?
Green asparagus is a type of asparagus that grows outdoors and gets its color from chlorophyll. It is believed to have originated in the Mediterranean and has been consumed since Egyptian, Greek, and Roman times. The latter considered them a delicacy and cultivated them in their gardens.
The goat cheese was one of the first cheeses produced in the world because goat's milk is better than that of other animals. It is estimated that its origins date back to 7,000 B.C. when nomads followed goat herds and used goat milk as their main food.
The recipe for green asparagus and goat cheese tart is a variation of the traditional cheesecake, composed of a shortcrust pastry or puff pastry base, a layer of cream cheese, and a jam or fruit filling. In this case, the jam is replaced by fried green asparagus, crumbled goat cheese, and eggs beaten with cream and salt. The result is a tasty and creamy sponge cake with a very special flavor.
Ingredients
To prepare this green asparagus and goat cheese tart recipe, you will need the following ingredients:
1 shortcrust pastry or puff pastry sheet

300 g green asparagus

200 g goat cheese

4 eggs

200ml liquid cream

Salt and pepper to taste

Extra virgin olive oil

Butter to grease the pan
Preparation
The procedure for this dish is very simple:
First, preheat the oven to 180 degrees Celsius and butter a round baking pan.

Then, spread the dough over the mold and cut off the excess. Prick the surface with a fork and cover with aluminum foil. Bake for 15 minutes.

Meanwhile, wash the asparagus and cut them into small pieces. Fry them in a pan with oil for about 10 minutes or until tender.

Next, beat the eggs with the cream in a bowl and season with salt and pepper to taste.

Then, crumble the goat cheese with your hands or a fork.

Next, remove the aluminum foil from the pan and spread the cheese over the dough. Add the asparagus on top, and then pour the egg and cream mixture.

Bake for an additional 25 minutes or until the surface is golden brown.

Finally, let cool slightly before removing and enjoying.
This pie can be eaten hot or cold, according to your preference. You can accompany it with a green salad, toast, or french fries. This is ideal for any occasion, whether breakfast, lunch, snack, or dinner. You will be surprised how delicious and easy it is to prepare.
Benefits
Green asparagus is a characteristic ingredient of Spanish cuisine, especially in the region of Navarra, where it has been cultivated for centuries. They are characterized by their dark green color, smooth texture, and delicate flavor. They are versatile and can be eaten raw, cooked, steamed, grilled, or sautéed. In addition, they are also very beneficial for health because they are rich in fiber, vitamins, minerals, and antioxidants, which help purify the body, prevent constipation, regulate blood pressure, and strengthen the immune system.
Goat cheese is a very popular product of Iberian gastronomy, especially in rural areas, where it is prepared in an artisanal way. It is a white, tender, creamy cheese that can be eaten alone or accompanied by bread, nuts, honey, or jam. It has a slightly acidic flavor and a strong aroma. It is also a very nutritious food, providing protein, calcium, phosphorus, and vitamins and digestion, bone development, dental health, and anemia.
We hope you enjoy this green asparagus and goat cheese tart recipe and that it encourages you to continue innovating in your kitchen. If so, don't forget to share your experience with your family, friends, and guests. If you want more recipes from Spanish cuisine, you will find many delicious and healthy ideas here.