Grilled Monkfish Recipes: Tips and Tricks for Making the Best Grilled Monkfish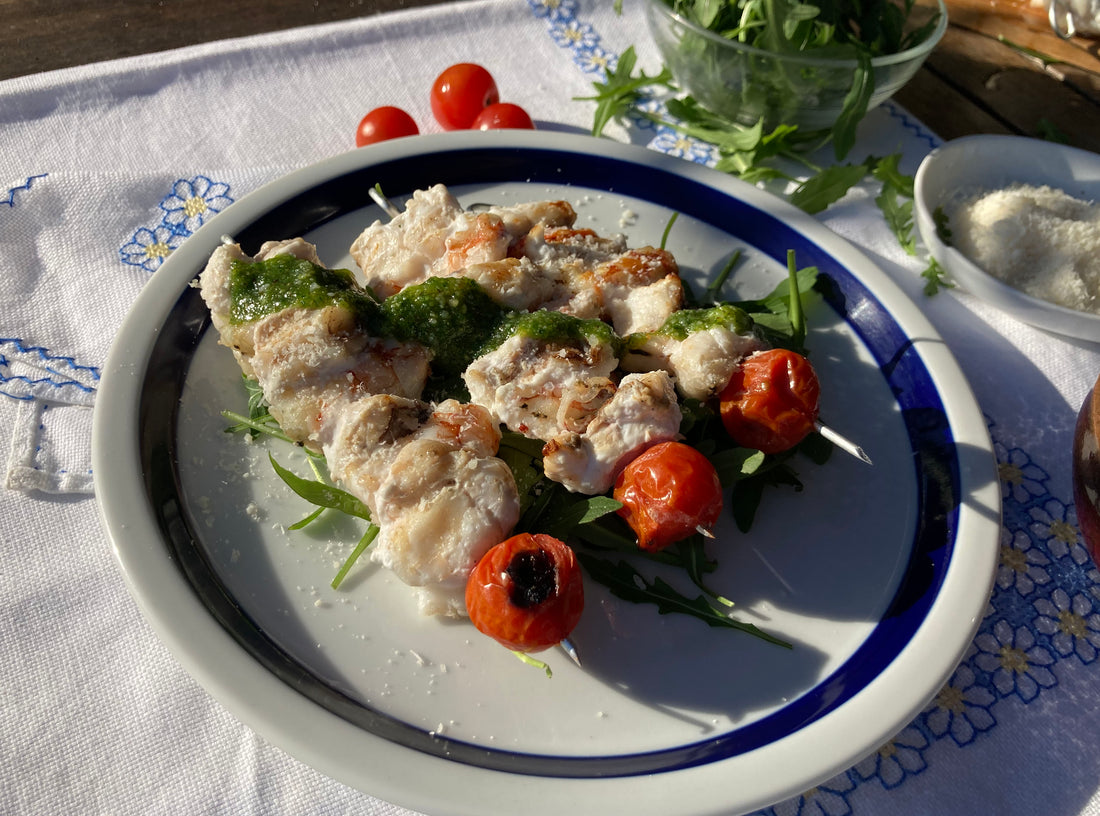 Monkfish is a simple fish with a subtle flavor that is perfect for your next dinner or event with guests. It can also be a great meal to prepare for the family. Although there are many different ways to cook Monkfish, grilling is the best way to prepare it. It's also one of the simplest ways to make sure the fish tastes good and is ready to eat. 
Monkfish is not pretty, as you probably know if you have seen it. Grilling makes it look more appetizing since you can add spices, lemons, and whatever else you might want to make the fish taste good. 
Best Grilled Monkfish Recipe
This article will cover many different Monkfish recipes in greater detail, but here is the number one recipe to try if you have never made Monkfish before. It's simple to make and will give you a restaurant-quality Monkfish to serve to your guests or family. 
Ingredients Needed 
Make sure to gather your ingredients before getting started so you have all of them on hand. 
| | |
| --- | --- |
| Monkfish | 1 pound without the bones and skin |
| Scallions | 2 of them is enough and they need to be finely chopped  |
| Garlic | Get two big cloves and crush or mince them  |
| Lemon | Squeeze the juice from one lemon |
| Olive oil  | 3 ½ tablespoons |
| Parsley  | 2 tablespoons, chopped |
| Bird's eye pepper | One, chopped  |
| Grape or cherry tomatoes  | 6 medium-sized ones, diced  |
| Sea salt  | ½ teaspoon |
| Black pepper  | 1/3 teaspoon  |
Steps to Make the Monkfish
Before starting to grill the Monkfish, you will need to make the marinade. Add all the ingredients listed above into a large bowl except for the fish. Whisk them together until well blended. Then drizzle about 2/3 of the marinade onto the fish. 
Allow the fish to sit under the marinade for about 4 to 5 minutes. You can begin to heat the grill during this time so that it is ready once the Monkfish has finished soaking in the marinade. Make sure to save the other third of the marinade as you will be using it later. 
The grill should be set to 400-450 degrees Fahrenheit. You will need to brush or spray it with a light coat of oil so that the fish will not stick to it. Place the seasoned fish onto the grill. If you have a cast-iron skillet to put over the grill, it will make grilling much easier. 
Close the lid of the grill and cook for 2 to 3 minutes. Flip the fish over and then reclose the lid. You will need a total cooking time of about 6-10 minutes depending on how big the fillets are. You can flip the fish one more time to make sure it is cooking evenly throughout. 
Overcooking the fish is easy and will make it very tough to eat and hard to chew. Make sure you are watching the clock and take it off the grill as soon as it's done. 
Put the Monkfish onto a plate and pour the remaining marinade over it. You can also make the plate fancier with lemon wedges and parsley sprigs. 
Easy Lemon Grilled Monkfish Recipe
If you thought the recipe above was easy, this one is even easier to make. You only need a few ingredients that are most likely already in your kitchen:
4 Monkfish fillets 

1 teaspoon sea salt

1/4 cup olive oil 

2 juiced lemons.
Once you have all the ingredients, place the fish into a shallow bowl and cover with lemon juice. You can also pour on the olive oil and sprinkle it with some salt. Let it marinate for about 20 minutes, but not more. If you leave it in the marinade too long, the lemon juice will cook the outside of the fillets. 
Preheat your grill on a medium-high heat and then pat the marinated fillets dry. Place them on the grill grates and cook for 5 to 7 minutes per side. You can serve them alone or with some vegetables or bread. 
Final Thoughts 
Monkfish is low in fat and high in protein. Grilling instead of frying it can make it a healthy dinner that all your guests or family members will love. Grilling Monkfish is very easy whether you just do it with lemons, or with a simple marinade. You can also serve it alone as it's a filling dinner, or you can add some vegetables or starch to the plate.