Grilled Pork with Garlic and Herbs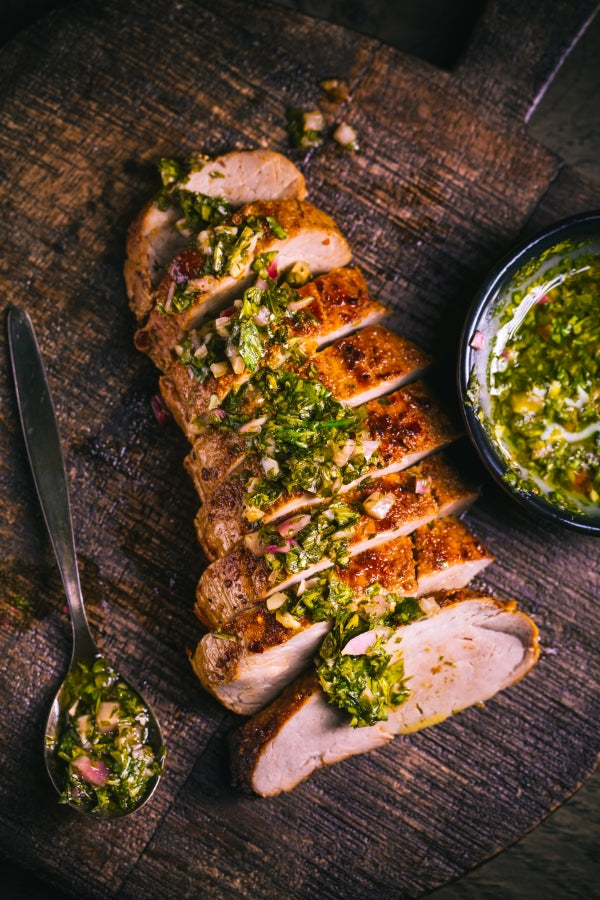 This classic grilled pork tenderloin recipe takes the backyard grill party up a notch with an herby mustard marinade. If you've never grilled a whole tenderloin, this is your moment. Charred, tender, and smoky, it's one of our favorite ways to prepare the cut. From sourcing to sides, here's everything you need to know to prepare this easy and delicious recipe. 
Grilled Pork Recipe with Garlic and Herbs
Pork tenderloin is one of the most delicious cuts of pork out there. But pork is only as good as the pig from which it comes. Which is why when it comes to sourcing your pork tenderloin, you definitely want to go with Ibérico. Iberian pork tenderloin comes from Ibérico pigs, which are a breed to the Iberian peninsula, the area encompassing Spain and Portugal. Due to its breed and diet, this pig has excellent nutritional properties, including some of the same properties as extra-virgin olive oil.
Ibérico pork tenderloin is also the perfect balance of fat and lean meat. It has a very soft texture and an intense flavor. In this recipe we're marinating pork tenderloin with lots of lemon (zest and juice), herbs, mustard, and garlic. It's a classic preparation and flavor combination that never fails: aromatic, punchy, and bright. 
Ingredients
2-4 lemons

4 cloves garlic

1 Tablespoon Dijon mustard

3 tablespoons extra-virgin olive oil

1 tablespoon dried rosemary

1/2 teaspoon coarse salt

1/2 teaspoon freshly ground black pepper
Preparation
Rinse the meat with cold water and pat dry with paper towels. 
Grate the lemons (you'll need about 1 Tablespoon of zest) and then juice them (you'll want about 1/2 cup of juice). 
Place zest, juice, mustard, garlic, olive oil, rosemary, thyme, salt, and pepper in a large, freezer-size ziplock bag. Seal tightly and shake to mix up all the ingredients. 
Place the pork tenderloin in the bag and close tightly. Shake again so the meat is evenly coated in the marinade. 
Place the meat in the refrigerator and let marinate anywhere from 3-5 hours. 
Remove the bag from the refrigerator and allow the pork tenderloin to come up to room temperature before cooking. This will help the meat cook evenly. 
Place a metal tray in your grill to collect any juices that may drip. Fire up the grill and spray the grates or wipe with oil to prevent sticking.
Place the pork tenderloin over direct heat, about 6 inches from the fire. 
Let it cook for 20 minutes total, turning halfway through so the exterior is evenly browned on all sides. 
Remove from heat and let rest a few minutes before carving. 
Once carved, serve the sliced pork tenderloin with those juices from the grill pan. ¡Buen provecho!
If you are in a hurry and don't have time to set up the grill at home, you can also prepare the pork tenderloin on the stove using a grill pan, griddle, or large skillet. You want to make sure the pan is nice and hot before placing the loin into the pan. You will only need about eight minutes to cook the pork on the stove, just remember to flip it halfway through cooking.
You can also bake the pork tenderloin. Place in a baking dish or roasting pan and cook for 15-20 minutes at 150ºF. Feel free to make a little extra sauce to baste as it roasts, or to serve later on the side. 
Garnishes and Sides for Grilled Pork with Garlic and Herbs
This dish is super versatile, so it can be accompanied by all sorts of sides. In Spain, the tenderloin and sirloin steak is always accompanied by fried potatoes, along with with a fresh salad of lettuce, tomato, and onion.
You can also try it with steamed vegetables, rice, or take advantage of the grill and serve it with charred vegetable skewers or grilled asparagus. We love skewers with piquillo peppers, bell peppers, and onions. You can even go wild and weave or wrap bacon around the skewers.