Grilled Veal with Vegetables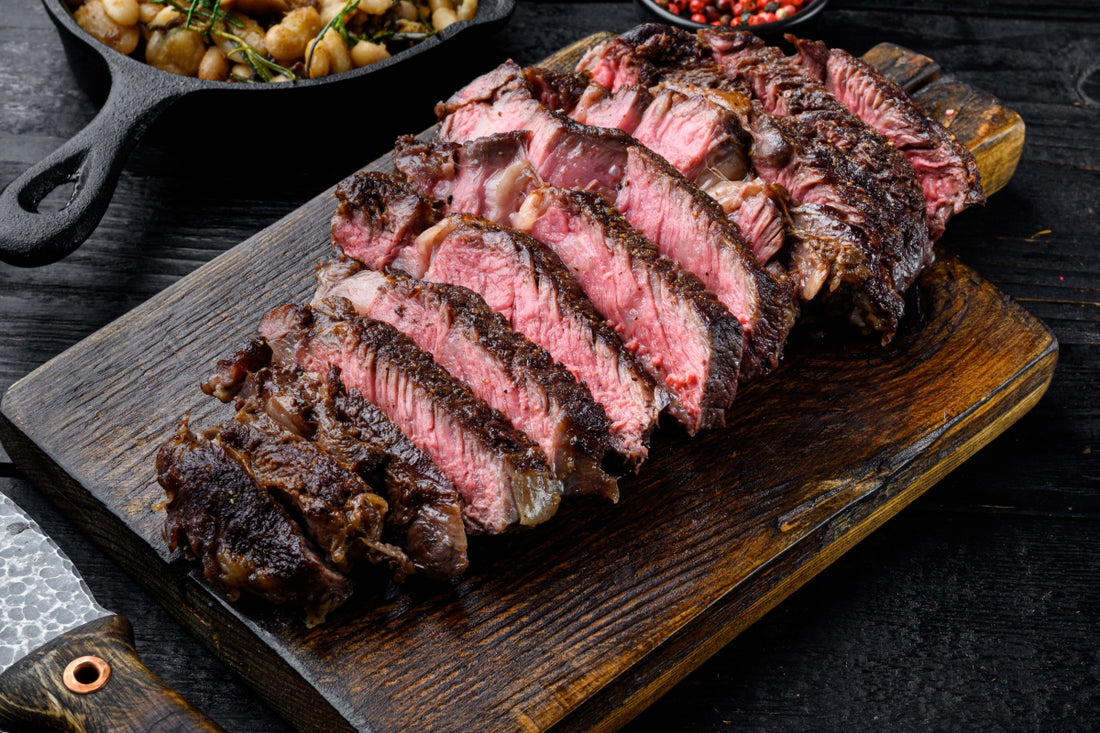 There are few better ways to prepare veal than on the grill. Veal is already so buttery and tender on its own, that a nice char elevates texture (and flavor) and creates a delicious crispy charred crust. If you can't get veal, Ibérico pork cuts work beautifully with this recipe as well. 
How to Make Grilled Veal with Vegetables
This grilled veal with vegetables recipe is perfect for folks on a high-protein, low-carb diet. Veal entrecôte is super flavorful and requires very little prep to cook. Here we use a little garlic powder and black pepper for seasoning. But feel free to use whatever seasonings you fancy or have on hand, like paprika, cumin, or chili flakes. 
Ingredients
1 lb. of veal entrecôte, cut into individual steaks 

1 red onion, cut into rings 

1 medium size eggplant

Milk 

2 zucchini, sliced 

1 jar of piquillo peppers

1 teaspoon garlic powder

1 teaspoon freshly ground black pepper

1/2 teaspoon fresh rosemary 

2 teaspoons of extra virgin olive oil

Coarse salt
Preparation 
Remove the meat from the refrigerator and let come to room temperature before serving. 
Trim the meat and remove any excess fat and tissue. 
Cut the eggplant into slices and soak the slices in a mixture of water, milk, and salt for half an hour. This will remove the bitter taste from the flesh of the vegetable. After 30 minutes remove the eggplant slices from the liquid and pat dry with a paper towel. 
Mix the garlic powder, black pepper, and olive oil in a bowl and rub the mixture all over the veal filets. 
Sprinkle any remaining seasoning over the zucchini, onions, and piquillo peppers. 
Fire up the grill.
Grill the zucchini, onions, and eggplant first until tender, about 15 minutes. 
Grill the veal steaks over medium heat, covered, for 11-15 minutes, depending on their thickness. You can also grill the veggies and steak at the same time if you have space. 
Use tongs to turn the steaks occasionally throughout the cook time, being careful not to squeeze out any juices. 
Once the meat is almost cooked, grill the piquillo peppers for just 1 minute to warm them up. 
When the meat is ready, remove it from heat and season with salt and rosemary. Serve with grilled vegetables. ¡Buen provecho!
Variations and Garnishes for Grilled Veal with Vegetables 
Veal is super versatile when it comes to sides. We grilled up onions, zucchini, eggplant, and piquillo peppers, but choose your own vegetable adventure. You can even try cooking the onion whole by wrapping it up in foil and grilling it until it's absurdly tender and sweet. 
If you don't have a grill at home, try an electric grill or a grill pan. A cast iron skillet also works just fine. 
Piquillo peppers are a small, sweet pepper popular in Spain. They usually come preserved in jars. Simply drain their liquid before grilling. They're already cooked, so you're simply giving them a little char and warming them up. 
Before you start grilling, place a tray underneath the grates to catch any of the juices that fall from the meat and vegetables. Then serve the dish with these tasty juices. 
Try wrapping the veal filets in smoky bacon and grill them altogether in a porky, beef deliciousness.  
Serve with rice, extra veggies, a green salad, potatoes, or rice. And of course, a basket full of good crusty bread.