Ham sandwich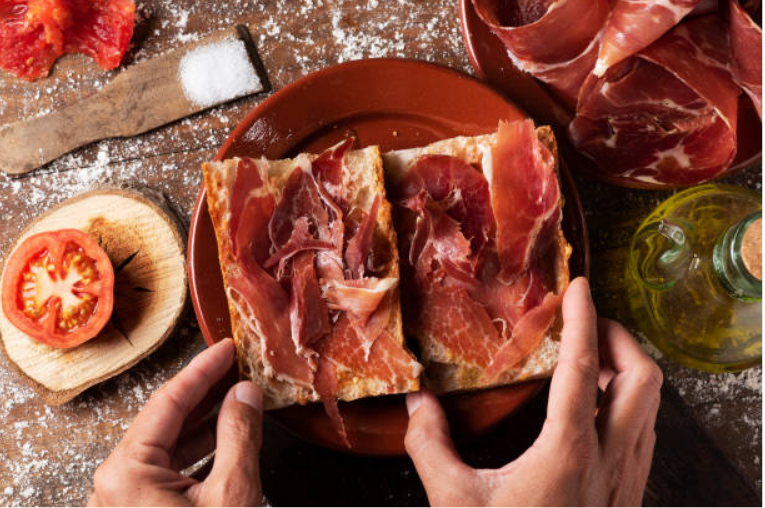 The ham sandwich is a staple in Spanish gastronomy. It is a delicacy that is loved by young and old alike and is perfect for a snack or a picnic day at the park or the beach. A ham sandwich can sort you out when you are in a hurry and, besides, you can prepare it in different ways.
How to make a ham sandwich?
The preparation of the classic ham sandwich is not very scientific. It is a dish that is more than well known by Spaniards and has even crossed borders and can be found in other countries. It is a very easy dish to prepare, which does not require much time and, if you get tired of it, you can reinvent it as much as you want, respecting its two main ingredients: bread and Serrano ham.
The choice of a good, crusty bread, as well as a quality ham, can make a big difference when preparing this delicacy. It is perfect for lunch, snack and even dinner. It's ideal to take with you on a picnic day at the beach or park. Learn how to reinvent it and make the best version of this Spanish delicacy.
Ham sandwich with brie cheese
If you are a fan of cheese, be sure to try this Serrano ham and Brie sandwich. Just cut the bread lengthwise and add a few slices of Serrano ham and Brie cheese. Look for a Serrano ham that is low in salt, so the mixture between the cheese and the ham will not be so salty.
Heat it in a frying pan, griddle, sandwich maker or even in the oven. Once the brie begins to melt, the sandwich is ready, it will take you no more than ten minutes to prepare it!
A very Catalan snack
Another way to eat the Serrano ham sandwich is the Catalan style. It is also a very easy and quick recipe that is rather a mix between Catalonia and Andalusia, as you will have to toast the bread and sprinkle it with a drizzle of extra virgin olive oil; add the slices of Serrano ham and some slices of tomato or natural crushed tomato. A delight!
With piquillo peppers and egg
A more innovative way to prepare the famous Serrano ham sandwich is to include as many ingredients as you can think of in the filling. In this case, delicious piquillo peppers and a fried egg.
The first thing to do is to fry the peppers in a frying pan and when they are ready, add a pinch of salt. When the peppers are ready, fry the egg or grill it. For this sandwich, the Serrano ham should also be fried in the pan. You choose the order in which you want to prepare the ingredients! Heat the bread, also in the frying pan, griddle or sandwich maker, it's time to assemble the sandwich!
Start by placing the ham, then add the peppers and the egg on top. Don't leave the napkins behind! You will get greasy with this delicious sandwich.
Scrambled egg sandwich
Similar to the previous sandwich, but with fried potatoes instead of peppers. Have you ever seen the traditional huevos rotos made into a sandwich? If you don't know what huevos rotos are, you can imagine a dish in which a bed of fried potatoes is served with slices of ham and fried eggs on top. It is accompanied with bread to dip in the egg yolk.
Now take this traditional dish to a sandwich, it will make your mouth water!
A traditional serranito
One of the best ham sandwich recipes is the famous serranito. This traditional sandwich is very popular in Andalusia, particularly in Seville and, instead of being made with the typical baguette bread, it is made with mollete; the mollete is a white, round, flattened bread.
The serranito has ham, of course; loin and green peppers. The first thing you will have to do will be to fry the green peppers, cut them in julienne; in another pan, prepare the pork loin. Remember that if the loin is Iberian, the flavor will be even more exquisite. For the peppers and the loin you will only need a drizzle of oil.
Cut the mollete in half and heat it. Add a drizzle of extra virgin olive oil, crushed tomato, ham, loin and peppers.
Ham and manchego cheese
Our last alternative, simpler and a children favorite, is the ham sandwich with manchego cheese. This recipe is very easy and traditional, but we recommend that you add a little butter to the sandwich for a unique flavor.
To do this, take the butter out of the fridge a little in advance, so it will be soft and easy to spread. Cut the bread in half, spread the butter, add the cheese and ham and place the sandwich in the sandwich maker. A delight!