How to Cook Beef Strip Steak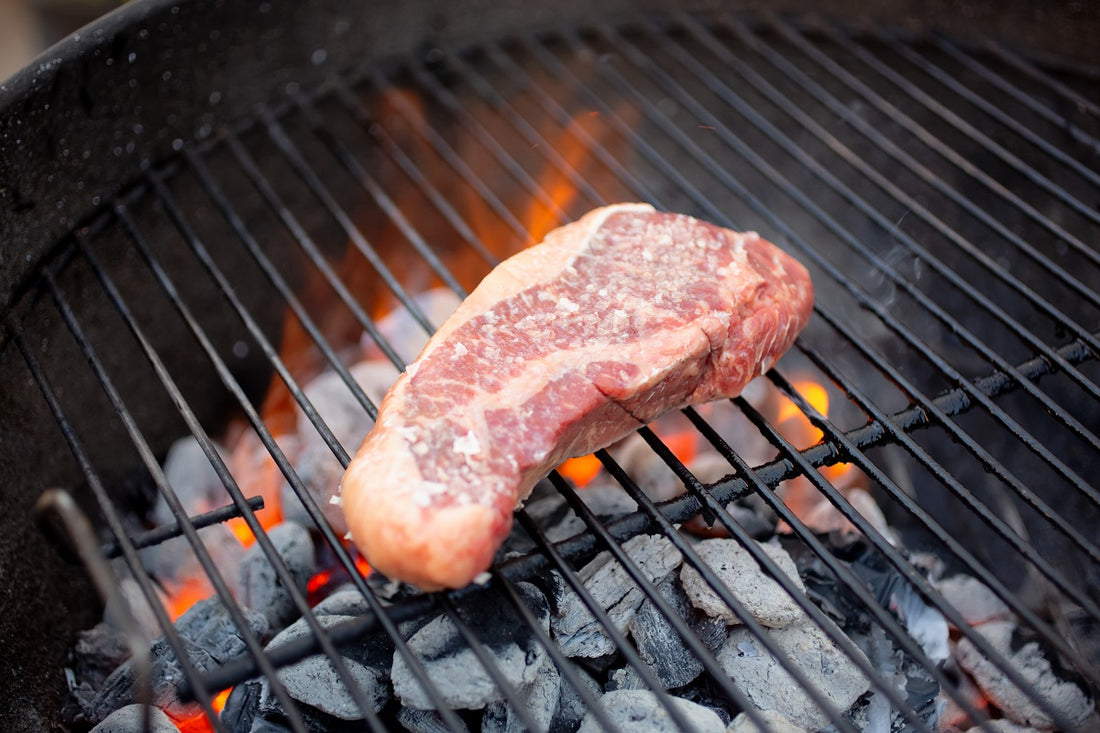 Beef strip is one of the best cuts for making steaks. It's flavorful, tender, juicy and most importantly it comes at a significantly lower price tag than fancier cuts like filet mignon. While any steak can seem a little intimidating to prepare for your average home chef, genuinely it's a fairly easy process.
This guide will show you exactly how to get the most out of your fresh beef strip. 
What is Beef Strip Steak?
Beef strip steak has a lot of names. Whether you know it as New York strip steak, club steak, or the Omaha strip, it's not hard to see why it's such a popular cut. It's often known as the queen of steak cuts, as it's usually fairly affordable compared to other cuts, has a quick cooking time, and most importantly, it's flavorful and incredibly delicious. 
The strip cut comes from the area of the cow directly below the backbone. They're lean with a good quality marbling but not as tender as ribeye.
Other Cooking Methods to Consider
| | |
| --- | --- |
| Oven | While not most people's first choice for cooking steak, the oven is a good, easy method when you're not confident with your pan-searing skills, don't have the time, or are preparing a lot of things to go with it. 8-10 minutes is all you'll need. |
| Grill | The grill is another fantastic method for cooking your steaks. Strip steak beef cooked on the grill will be juicy and tender, with perfectly seared exteriors and juicy inside. 4-5 minutes on each side and you're done. |
| Slow Cooker | This method will be absolutely perfect for making Mongolian beef. It's easy and efficient, and perfect for when you don't have a whole lot of time to dedicate to searing your steak in a skillet or on the grill. |
Tips for Cooking Beef Strip Steak
While the process of cooking your steaks is pretty painless, there are a few things to keep in mind.
The best way to cook them is on the grill or, ideally, searing in a skillet or pan. 

You'll want your steak to be dry and at room temperature. Too much moisture on your steak can steam it in the skillet, which isn't what you're going for.

As this is a smoky dish, you'll need to keep your exhaust fan on high if you're doing this in the kitchen, or preferably sear them in a skillet on the grill in the backyard.

Another important thing to keep in mind is to let your steak rest. Just place the steak cut on a plate and cover it with foil for 5-10 minutes. You can let it rest for longer, but try not to go above 30 minutes.

Finally, make sure your pan is

hot

. The pan or skillet and your oil need to be as hot as you can safely make it, to ensure you get that perfect sear on the outside. A golden crust is what you're after.
Pan-Seared Beef Strip Steak
Step 1 - Set your steak out to rest at room temperature. Pat the steak dry with a paper towel, leaving absolutely no moisture on the surface.
Step 2 - Season your steak appropriately. For example, sprinkle a bit of salt and pepper evenly over all the steaks you're cooking. While they're resting, get your pan ready. 
Step 3 - Add oil to your skillet and swirl to coat. Let it heat up on high.
Step 4 - Carefully add your steaks to the pan, cooking for 3 minutes on each side - or until your desired doneness is reached.
Step 5 - Remove from heat. It's highly important you let your steak rest, covered, on a plate for 5 minutes after cooking. You don't need much longer than that, as you don't want it to get cold before you dig in.
Step 6 - Slice your steaks diagonally across the grain.
Step 7 - The most important part! Serve your steak with a bit of melted butter brushed over the top.
Final Thoughts
So, there you have it! A quick 6 minute searing in the skillet and you've got a juicy, flavorful steak dinner in no time.
Cooking steak isn't as difficult as it might seem, nor does it take as long as you may think. When you take these steps into consideration, properly season, and don't over-handle the steaks during cooking, anybody can make perfect restaurant-quality steaks at home whenever they want!
Don't be too intimidated to try it out yourself.