How to prepare cachopo?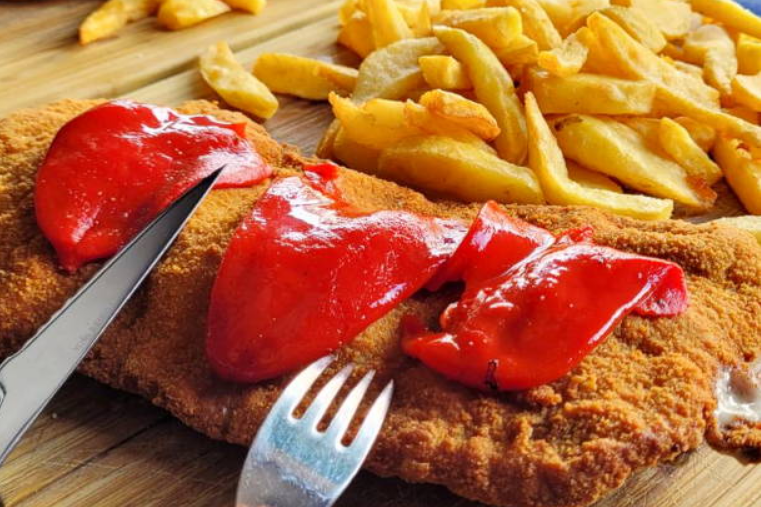 One of the traditional dishes of Spanish food, which comes from Asturias is the cachopo. It is a typical dish, delicious and very easy to prepare. Learn how to prepare this exquisite Asturian recipe!
What is cachopo?
Cachopo is an emblematic dish of the gastronomy of Asturias. It competes with fabada, fabes and frixuelos, other Asturian delicacies. The best cachopo, according to Asturians, should be of high quality, have a large size and a delicious filling. Of course, the more creative you are with the filling, the better.
But what is the cachopo itself? Surely you know San Jacobos or cordon bleu; both are breaded steaks stuffed, usually with ham and cheese. Well, the cachopo is also a kind of San Jacobo, but it has a huge dimension: a single cachopo can serve two people perfectly well. Unlike cordon bleu and San Jacobo, the cachopo is prepared with beef filet.
A very basic recipe consists of preparing the veal filets, breaded and very crispy, and stuffing them with cheese and Serrano ham. The inside of the cachopo is, par excellence, incredibly juicy. If you are a cheese lover, cachopo is what you need, as the cheese melts to perfection and bathes the whole dish.
There are different cachopo recipes, with multiple fillings; there are even some stuffed with seafood, mushrooms, peppers, vegetables, and so on. But basically the cachopo will always be the same: two breaded filets, together.
Asturian cachopo recipe
Ingredients
Four veal filets. Each one should weigh approximately 120 grams.

Four slices of Serrano ham.

Eight slices of cheese. If you are a fan, you can take different cheeses, as long as they melt well.

Coarse salt.

100 grams of wheat flour.

Two large eggs.

200 grams of lined bread.

Extra virgin olive oil or sunflower oil.
Elaboration
Remember that the first thing to do is always to take the meat out of the refrigerator to allow the cut to come to room temperature. This should be done a couple of hours before cooking.

If the veal filets are not very thin, it is advisable to pound them with a kitchen mallet to make them thin. This will allow them to be easy to handle, batter and fry.

Place three different plates with flour, eggs and lined bread. The eggs should be beaten with a fork.

Use two filets that are more or less the same size to form a cachopo. You can buy large filets and cut them in half, but without separating them completely.

Clean the filets beforehand, removing the webs; this way, the filets will not shrink when frying.

Spread the filet on a board and season with salt and pepper.

Place a slice of Serrano ham and a slice of cheese on one filet.

Place another filet on top, pressing the edges very well so that the meat sticks together and the stuffing does not come out.

Once you have all the cachopos ready, it is time to bread and fry them.

First you must dip them in flour, then in egg and finally in lined bread. It is very important to follow these three steps, because the flour helps the egg to adhere, while the egg works as glue for the bread.

You can use toothpicks to help you so that the cachopos do not open.

Heat abundant oil in a frying pan, so that the surface of each cachopo is well covered. The heat for frying the cachopos should be medium-high - be careful not to burn the oil! This would cause the cachopo to be done on the outside and raw on the inside.

Leave for two or three minutes on each side. This is enough time for the meat to be done, the cheese to be melted and the topping to be crispy and golden brown.

Remove the cachopo from the oil and place it on kitchen paper to absorb the excess oil.
Garnishings for Asturian cachopo
Cachopo is a very versatile recipe that can be served with any side dish. Generally it does not need a garnish because it is so big that you will find it difficult to eat a whole cachopo, the best thing to do is to make a cachopo to share!  In this case you can use different garnishes such as the classic french fries or Galician boiled potatoes.
Piquillo peppers are also the perfect complement for a good cachopo. You can eat them as a garnish or even use them as stuffing. And the sauces? Cachopo is usually served with Cabrales cheese sauce, but also with caramelized onion and even with roasted or steamed vegetables.
Once you have mastered the cachopo technique, you can try different fillings, you will find a wide variety of cachopos in the restaurants! With seafood, with mushrooms, with peppers, with vegetables... you can substitute the ham with cecina and with anything else you can think of.
Remember that the most important thing is that the cachopo is very well joined, crunchy and that the cheese melts.