How to prepare flank steak with chimichurri?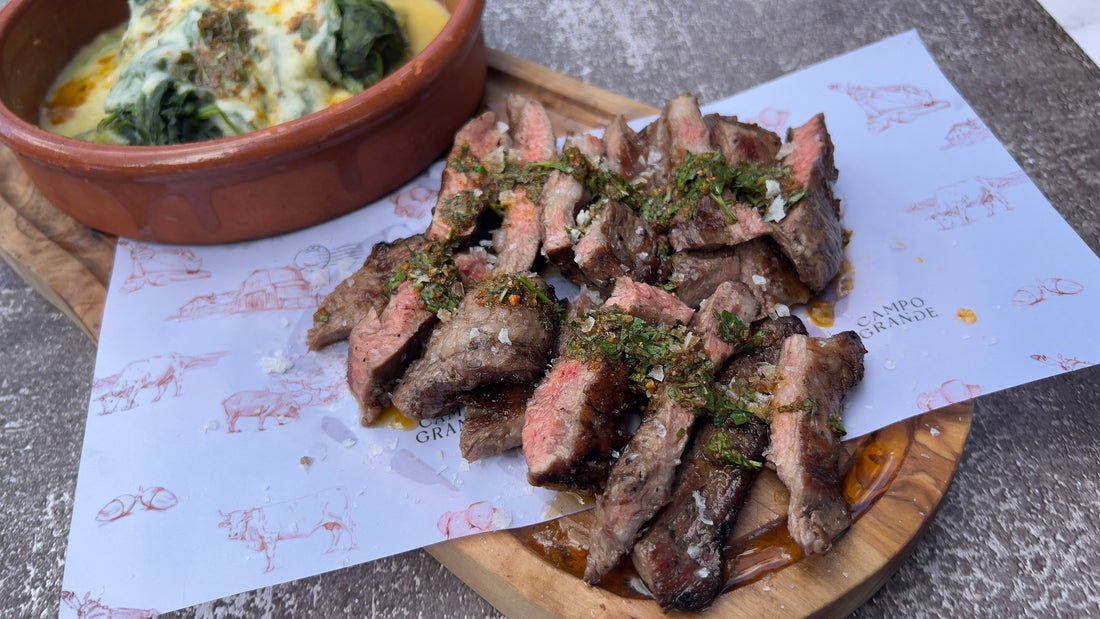 How to prepare flank steak with chimichurri?
Flank steak is a cut of beef that is extracted from the cow's  abdomen. One of the most traditional ways to eat this cut is with chimichurri sauce, a delicacy that comes from Latin America. The texture and flavor is unique!
Flank steak and how to prepare it
A flank steak is characterized by an intense flavor and a tender texture, as long as the meat is properly prepared. As the flank steak is extracted from the abdomen of the beef, the cut is very lean, and  this means that, when it is not cooked properly, the result is a dish with tough meat without much flavor.
For flank steak to be delicious, it is necessary to marinate it for long periods of time. Marinating plays a key role in any flank steak recipe because it serves not only to flavor, but also to tenderize the meat. It is usually advisable to marinate the meat overnight in a refrigerator and then bring it to room temperature for grilling.
The cooking time varies depending on the temperature you use, but it will never be more than 10 minutes in total. Also, if you use a mallet to tenderize the meat, the time will be reduced considerably. Keep in mind that this cut is approximately 30 centimeters long and one centimeter thick. If you hit it with a mallet before cooking, the thickness will decrease and so will the cooking time.
Chimichurri sauce: a delight for the palate
Flank steak with chimichurri is nothing more than flank steak accompanied by a delicious chimichurri sauce. This sauce is characterized for having a very strong flavor and for being the star in many dishes in Argentina, Uruguay and Paraguay. It has a spicy taste and is perfect to accompany different beef cuts and even to marinate some fish.
The chimichurri sauce has no big secret: you just have to mix all the ingredients correctly, let it emulsify and then spread it over the flank steak. One of the tips from expert cooks is to prepare the sauce well in advance of cooking the steaks. They even recommend making it two or three days before grilling the steaks!
This is because chimichurri sauce tastes better after a few days when the ingredients have settled. The sauce should be mixed well and concentrated which is why it should not be  served immediately after its preparation. You should prepare the sauce and store it in an airtight container in the refrigerator. As you do not want the sauce to be cold when you serve it over the flank steak, take it out to reach room temperature when you remove the meat from the refrigerator; that is, two hours before cooking.
Recipe for flank steak with chimichurri sauce
Ingredients
One kilo of flank steak.

A cup of extra virgin olive oil.

250 milliliters of sherry vinegar.

Four cloves of garlic.

One tablespoon of dried oregano.

One tablespoon of paprika.

Fresh parsley.

Freshly ground black pepper.

Coarse salt.
Elaboration
The first thing to do is to tenderize the meat. You can use different methods: cover it in salt for an hour before cooking and rinse it with plenty of cold water; you can also soak it in orange juice, milk, cola or beer. To break the muscle fibers, there's nothing like hitting it with a mallet.
The marinating time to tenderize the meat can take from a couple of hours to overnight.

Take the meat out of the refrigerator two hours before cooking.

To prepare the chimichurri sauce, add the sherry vinegar, olive oil, peeled garlic, paprika, oregano and a pinch of coarse salt to the blender jar. Mix and pour into a bowl.

Finely chop the parsley and add it to the sauce.

Stir and let stand.

Preheat the grill.

Mark the meat by making shallow cuts parallel to the grain of the flank steak.

Season with salt and pepper.

Place the meat over high heat for four to five minutes on each side.

Remove and pour the chimichurri sauce on top.
Garnish for flank steaks with chimichurri sauce
The flank steak is quite large and can be cut into small steaks to serve to the guests. And what can you accompany them with? What is the best side dish? As chimichurri sauce has a very intense flavor and is the queen of this recipe. You can even use the sauce to soak some of the sides.
Grilled or steamed vegetables are a good alternative for this dish. You could also use salads with a base of green leaves and onion. If you want to be a little more traditional, don't hesitate to prepare delicious fries or mashed potatoes. And of course, don't forget to have fresh bread on hand for your guests, as  bread and chimichurri are the perfect combination!