How to Make Croquettes with Jamón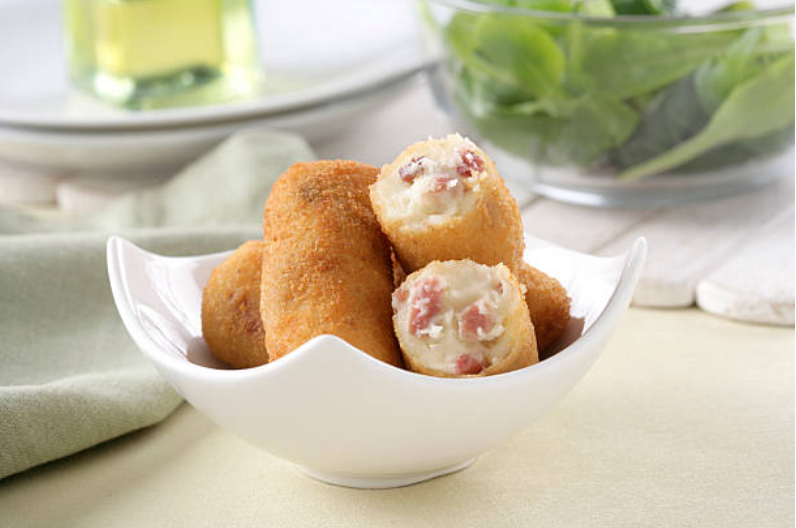 Croquettes, or "croquetas" are one of the traditional dishes of Spanish gastronomy. Made with chicken, pork, and even seafood, they're totally addicting and beloved by all. You'll be hard-pressed to find someone who doesn't love a freshly fried croquette. Here, we're making them with bits of Jamón Ibérico or Ibérico Shoulder Ham, a super common preparation throughout the country. This is a great place to use up those tougher bits of meat from your Ibérico Shoulder ham. 
What are croquettes? 
While croquettes are one of the few dishes you'll find on practically any and every menu in Spain, they were actually invented in France. They are essentially bite-sized balls of dough made from bechamel sauce and a slew of customizable ingredients. They're then rolled in breadcrumbs and fried to golden, crispy perfection.
Well-made croquettes stay crispy on the outside and deliciously creamy in the middle. They're a great vehicle for using up whatever ingredient you have on hand, from veggies to meats to seafood and cheeses. This dish is usually served as a starter, but once you try a croquette you may just want to make it a whole meal. We won't judge you.  
Recipe for Croquettes with Jamón
Serves: 4 
Ingredients for Croquettes with Jamón 
7 oz. onion, finely chopped 

5 oz. Jamón Ibérico or Ibérico Shoulder Ham, finely chopped 

2 Tablespoons extra-virgin olive oil

3 cups milk 

7 oz. flour

4 oz. butter

9 oz. bread crumbs

Salt 

Oil for frying like olive oil or sunflower oil 
Preparation for Croquettes with Jamón 
Heat a large pot over medium heat and add the butter.
Once melted, add the olive oil, onion, and a pinch of salt. 

Once the onion is cooked and translucent, add the jamón. Once the jamón starts to take on some color, pour in the flour stirring constantly as you add it in. 

Lower the heat. Once the flour is integrated into the mixture, slowly add in the milk, stirring constantly. You can use an electric mixture or immersion blender for this step or ensure the ingredients are evenly combined and there are no lumps. 

Season with salt and let the mixture cook until it takes on a thicker texture. Then remove it from heat and let cool until you can comfortably work with the dough. 

Once cooled, take a small amount of dough and use your hands to shape the croquettes into a circular or oval shaped form.

Once all the croquettes are shaped, roll them into the breadcrumbs so they're completely coated. At this point you can actually freeze the croquettes and fry them at a later time. 

Heat a good amount of olive oil in a skillet. Once the oil starts to bubble, add the croquettes and fry in batches until golden brown. 

Once fried, place them on a plate lined with paper towels to help absorb any excess oils. 

Fry until all the croquettes are cooked. 
What to Serve with Jamón Croquettes 
Ham croquettes are delicious all on their own and are usually served as a first course, starter, or simple tapa. Serve them alongside some of you other favorite Spanish dishes like tortilla or fried fish, or even alongside a big green salad. 
You can also serve them with dipping sauces like aioli; it all depends on  your tastes.