Iberian ribs in the oven, an easy way to prepare them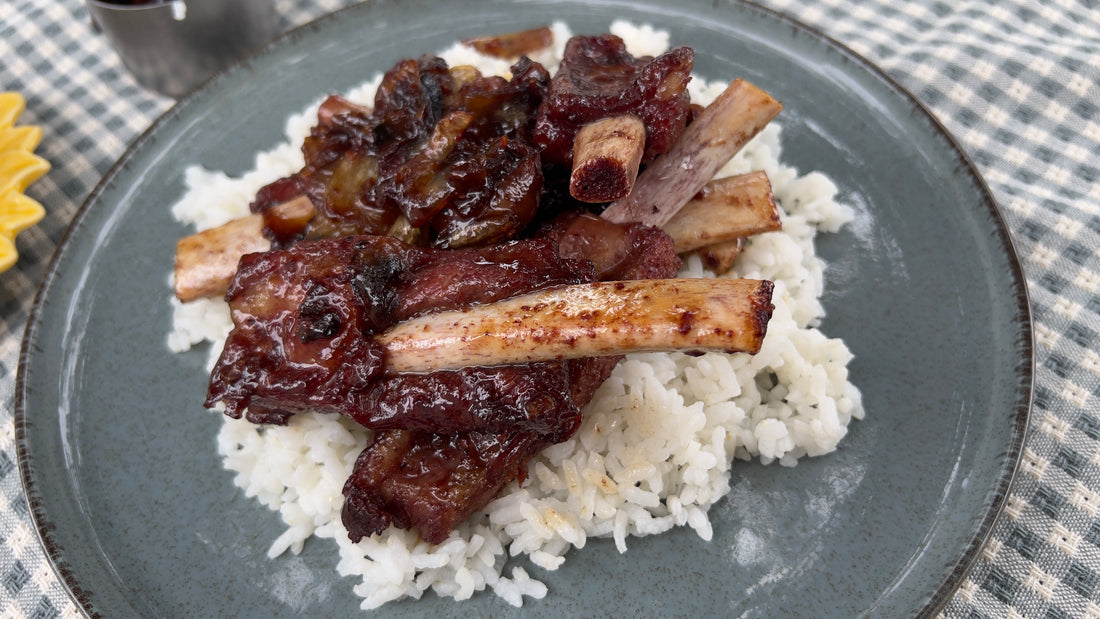 Iberian ribs in the oven, an easy way to prepare them
Iberian ribs do not only have to be grilled or barbecued, they can also be prepared in the oven! If you have always wanted to try out this delicious recipe, but you don't have a grill, don't worry, you can prepare unique Iberian ribs that will delight your guests with an oven grill.
How to prepare Iberian ribs in the oven
Iberian ribs are one of the favorite dishes of all diners. Young and old alike enjoy good ribs grilled or baked in the oven. They might seem very difficult to prepare as if the recipe was from another world, but, in reality, the preparation is quite simple, and! you don't need that many ingredients. 
Iberian ribs can be eaten alone, as they do Galicia, with a good churrasco, or BBQ'd, in the traditional American style. It all depends on your preferences and the time you have available to make them.
Contrary to popular belief, Iberian ribs do not always have to be prepared on the grill or barbecue, they can also be prepared in the oven. Of course, you have to be very careful and check on them from time to time, otherwise, the meat may overcook and you won't get the desired result.
To prepare Iberian ribs in the oven, all you need is the seasoning of your choice and a few minutes, which is perfect if you are not in the mood for a very elaborate dish!
Why Iberian ribs?
Iberian ribs are a part of the pig which has characteristically more fat. This makes the results ideal: a unique texture, unparalleled flavor, and very juicy. But is the fat of  the pork ribs a problem?
The Iberian pig goes through very strict quality controls during its breeding. In addition, it is an animal that grows in the pastures and does a lot of exercise, which allows its musculature to develop and have infiltrated fat; Additionally, its diet just prior to its slaughter is mostly acorn based. 
Because of all these breeding conditions, Iberian meat has great health benefits. In Iberian pork, you will find a good balance between fat and lean parts, except for the loin which is totally lean. In addition, Iberian pork is rich in oleic acid, which is also found in olive oil and avocado. Another benefit of Iberian pork is that it has high levels of protein, low calories, a good supply of vitamins and minerals, as well as natural antioxidants.
Recipe of Iberian ribs baked in the oven
Ingredients
Pork ribs, whole.

Two cloves of garlic.

A spoonful of sweet paprika.

Dry oregano.

Freshly ground black pepper.

Extra virgin olive oil.

100 milliliters of white wine.

Coarse salt.
Elaboration
You can buy the ribs individually or use whole ribs (five ribs). It is best to get the whole ribs. You may clean them if you want to remove excess fat, but it is not advisable if you want it to be very juicy.

Use a mortar and pestle to crush the garlic and make a kind of paste.

Add the black pepper, paprika and oregano to the mortar.

Stir very well so that all the ingredients blend together. You can also use a blender.

Pour the olive oil into the mixture and mix.

With the help of a kitchen brush, lather the ribs with the mixture you have just made, on both sides.

Cover the ribs with plastic wrap and place them in the refrigerator for at least two hours.

All cuts should be left at room temperature. This way, when preparing the meat, it will not be cold inside even after cooking. You should leave the meat out of the refrigerator for at least two hours so that it reaches room temperature. The time varies according to the climate, in the summer, it should be enough to leave it for one hour, while in the winter, two hours are necessary. You will know that the meat has reached the desired temperature because it will show a brighter color.

Preheat the oven to 190ºC. It is important that you select the heat distribution above and below.

Place the ribs in a special oven dish.

Season with salt and pepper.

Bake the meat in the oven for 30 minutes.

After half an hour, add a splash of white wine.

Bake for another 30 minutes.

The cooking time may vary depending on the power of the oven. You will know the meat is ready when the meat separates easily from the bone.
How to accompany Iberian ribs?
Churrasco, in Galicia, is usually accompanied with french fries; these are a good option if you want your guests to enjoy the recipe. If you want a very traditional touch, be sure to include a good chorizo criollo sausage and a piquillo bell pepper, a delight for the most demanding palates!
The Iberian pork ribs can also be served with homemade BBQ sauce, guacamole, salads and even mashed potatoes. It's a real delicacy!