Iberico Pork Cheeks and How to Cook them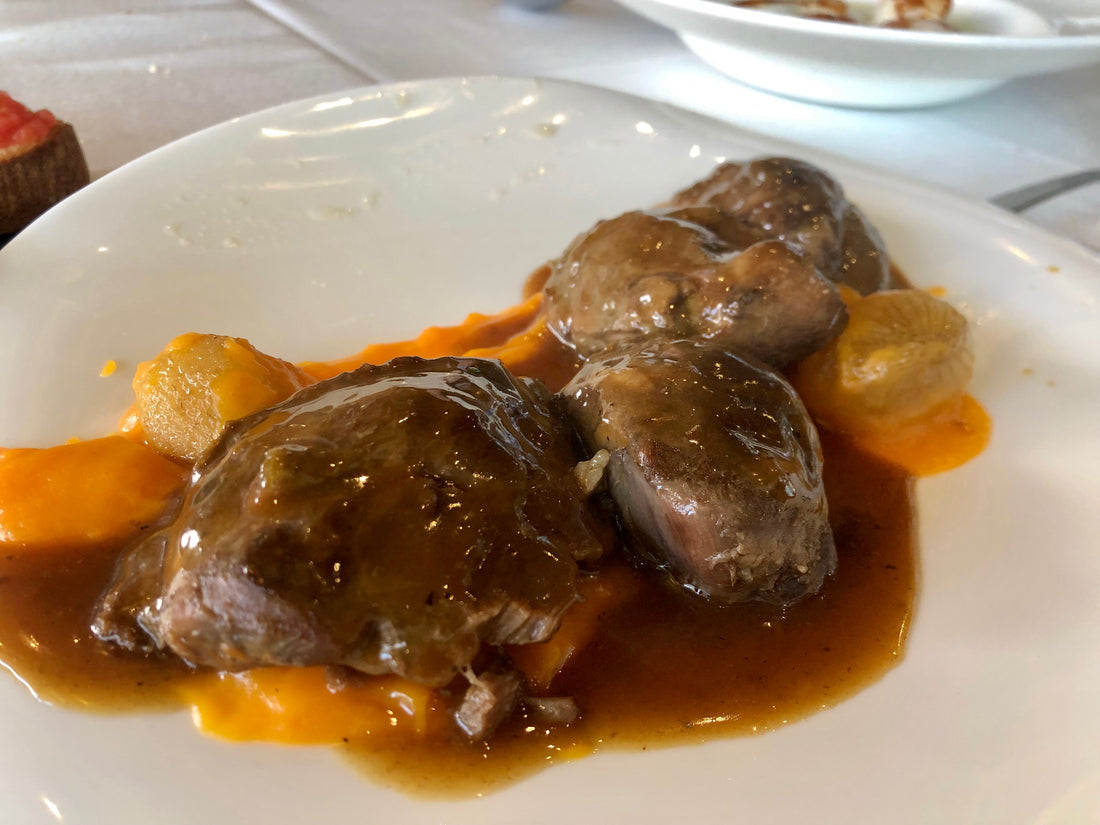 As with all parts of the Iberico pig, the pork cheeks are a succulent delicacy that melts in your mouth and has a delicate nutty flavor due to the high amounts of soft fat. They do best with slow cooking, such as by being braised, or in a stew. 
You might expect pork cheeks to be fatty and not particularly flavorful, but they are actually very meaty, with marbling of fat such as you find with any cut of meat from an Iberico pig. 
Keep reading to learn what to expect with Iberico pork cheeks, and why they may be worth trying out. 
Slow Cooked Iberico Pork Cheeks
To get the most flavor from Iberico pork cheeks, a slow cooked method with a lot of vegetables and wine gives you the best flavor. Around the world, pork cheeks are a soft, tasty delicacy that are much meatier than people expect. 
However, when made with Iberico pork, this delicacy is only enhanced. It is soft, flavorful, and will put other meats to shame. It is fork tender and melts in the mouth, leaving behind a wonderful, nutty taste that will be hard to forget. 
The three recipes below all use Iberico pork cheeks, so you know that you are getting a recipe that fits the flavor of your meat. You can see there are a few flavor profiles, such as garlic and thyme, that work best. 
You can also see that starchier foods like potatoes and carrots work well with the richness of the meat to create a balanced meal. 
Common Iberian Pork Cooking Methods
Braised Pork Cheeks with Port Wine and Honey

On top of your Iberico pork cheeks, you will also need:

Onion

Shallots

Green apple

Carrots

Red pepper

Garlic

Port wine

Fingerling potatoes

Bay leaves

Honey

Thyme

Parsley

Salt

Pepper

Oil

Beef stock

It will take about 4 hours to make, and you can see the rest of the recipe here, if you are interested. 

Stewed Pork Cheeks with Mash and Broccoli

Other ingredients:

Oil

Onion

Flour

Salt

Pepper

Garlic

Cumin

Smoked paprika

Sherry vinegar

Beef or pork stock

Parsley

Butter beans

Broccoli

Almonds

This one only takes about 2 hours, and you can find the recipe here. 

Sherry Braised Pork Cheeks with Roasted Garlic Mashed Potatoes

Besides your pork, you will need:

Oil

Banana shallots

Carrot

Celery

Bay leaves

Thyme

Flour

Beef stock

Amontillado sherry

Salt 

Pepper

Potatoes

Garlic

Butter

Olive oil

Milk 

This is another three to four hour recipe, found here.
Other Ways to Use Iberian Pork Cheeks
While Iberico Pork cheeks are most often slow cooked and served in a stew or as a roast, there are other ways to savor these delicious meats. If you want to try something interesting or different, here are some other options. 
Iberico Pork Cheek, pulled pork, 'burgers'.

If you want a slightly different flavor, try smoking them on a grill before braising.

You can also just slow cook them in the smoker.

Grilled Iberico pork cheeks, served with fava beans and an apple, mint, and sherry Jus.

The list goes on.
As long as you remember the basic flavor profile and that starchy foods pair the best with it, while flavors like red wines, sherries, garlic, onion, and thyme are all excellent to use with your pork cheek, you can make a wide variety of unique food combinations. In time, you will see that Iberico pork cheeks work in just as many meals as other parts of the pig. 
You no longer have to stick with common pork chops and loins. By venturing out, you get a variety of different meal options while still encompassing that delicious Iberico flavor. 
Final Thoughts
Pork cheeks can be a little intimidating-sounding when you first go to use them. They sound like they should be tough, fatty pieces of meat that are easy to mess up without proper planning, and with Iberico pork, you don't want to waste a bit of it. 
However, with time and patience, Iberico pork cheeks can be just as delicious and succulent as any other cut. Some people actually find it their favorite due to the rich flavor, but lower fat content, making it a lean piece of meat. 
Iberico pork cheeks also allow for different flavor profiles than other cuts of meat from an Iberico pig. Most other cuts do best with just a little bit of salt and pepper, or maybe some fresh herbs. But with the cheeks, you can utilize the rich flavor of the pork and enhance it with heavier flavors like beef stock. 
Even braised in a sauce, the delicate flavor of Iberico pork shines through, making it distinct from other types of pork or any other meat you may have tried before.