Lamb in Nut Crust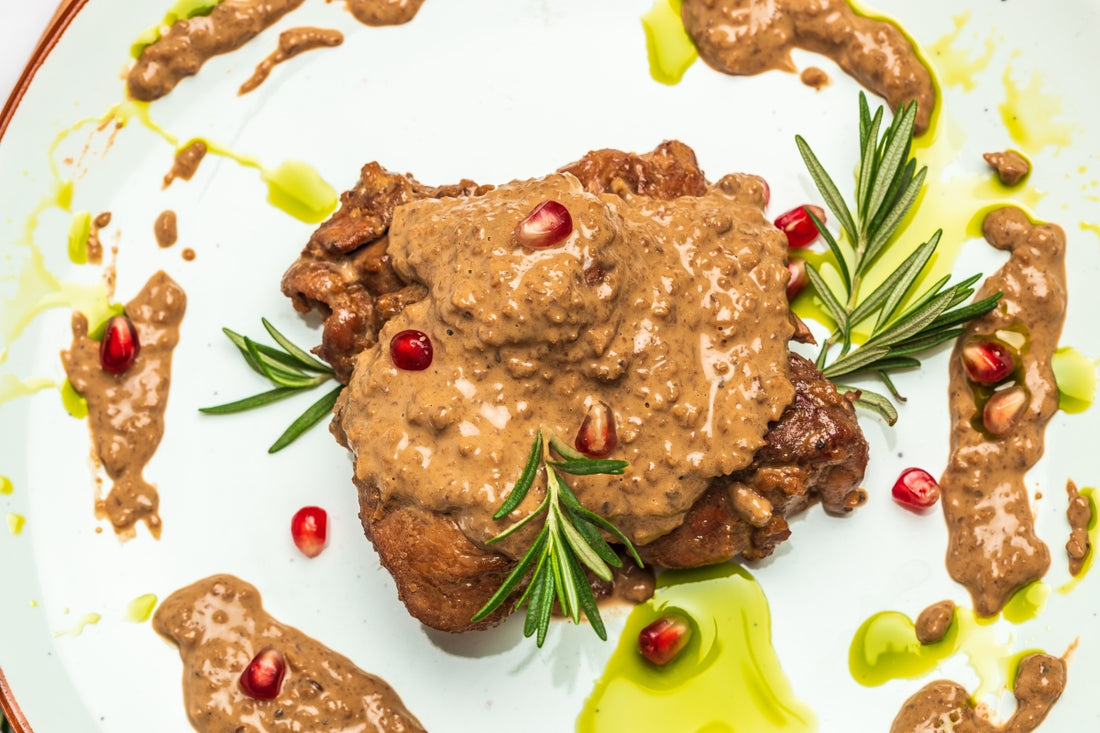 A delicious and nutritious dish that will make you enjoy the best Spanish cuisine is this lamb recipe in a nut crust that we present below. Lamb is a very popular meat in Spain, especially in Castilla y León, Extremadura, and Aragón, where native breeds such as churra, merina or ojinegra are bred. This animal protein has a rich flavor and a tender texture, which makes it ideal for roasting, slow cooking, or crusting, as in this case.
On the other hand, the nut coating gives the lamb a crunchy and aromatic sensation and provides healthy fats, vitamins, and minerals. The most commonly used nuts are almonds, pistachios, walnuts, and hazelnuts, but you can vary according to your preference or what you have on hand. The rind sticks to the lamb with a bit of mustard, creating a spicy flavor that contrasts with the sweetness of these edible seeds.
The origin of the walnut-crusted lamb recipe is unclear, but it is believed to have influences from Arab, Jewish, and Christian cuisine. Lamb is a widely consumed meat in these cultures, especially during religious festivities such as Easter or Ramadan. Combining its ingredients results in a very tasty and balanced dish, reflecting the diversity and richness of Spanish gastronomy.
It is usually prepared on special occasions such as Christmas, New Year, or birthdays because it is a dish that requires time and dedication. However, the result is worth it because you will get tender and juicy meat with a crispy and fragrant crust that will delight all diners.
Ingredients
To make lamb in a nut crust, you need the following ingredients:
2 pieces of lamb tournedos (about 200 g each)

Salt and pepper

2 tablespoons mustard

100 g of nuts (almonds, pistachios, walnuts, hazelnuts, etc.)

2 tablespoons black sesame

300 g butter

20 g flour

200 ml of dark beer

Your favorite side dish (rice, mashed potatoes, vegetables, etc.)
Preparation
The steps for making nut-crusted lamb are as follows:
Preheat the oven to 180°C and sprinkle salt and pepper on both sides of the lamb.

Paint both tournedos with the mustard and set aside.

Chop the nuts with a knife or food processor into small pieces but not flour.

In a dish, mix these seeds with the black sesame seeds and bread the tournedos with this mixture, pressing well so that it sticks to the surface.

Place the tournedos on a lightly buttered baking sheet and bake for about 25 minutes or until the meat is done to your liking.

Meanwhile, prepare the sauce, melt the remaining butter in a saucepan over medium heat and add the flour. Mix well to form a paste and cook for a few minutes, stirring continuously.

Add the dark beer little by little, stirring continuously until you obtain a homogeneous sauce without lumps. Season with salt and pepper to taste and simmer until slightly thickened.

Prepare the chosen garnish according to the respective instructions.

Serve the nut-crusted lamb with the sauce and the side dish.
To accompany your nut-crusted lamb dish, you can choose from several side dishes that suit you well. One option is steamed rice with soy sauce, which gives an oriental flavor to the dish and combines with the dark beer used to make the sauce. Another alternative is mashed potatoes, which add creaminess and sweetness. You can also opt for some sautéed vegetables, such as wild asparagus, zucchini, or carrots, to add color and freshness to the preparation.
Benefits
Dried fruit-crusted lamb is healthy because it provides protein, iron, zinc, vitamin B, and other necessary nutrients. The meat of this animal helps prevent anemia, strengthens the immune system, improves the function of the nervous system, and keeps muscles and bones healthy. On the other hand, nuts are a source of unsaturated fats, antioxidants, fiber, and minerals that help protect the heart, brain, and skin. Dark beer also has antioxidant, diuretic, and digestive properties that help stimulate overall health.
We hope you like this recipe and enjoy it with your family or friends. This delicious and easy-to-make dish will make you look like a good chef. If you want to know more recipes of this style, traditional and tasty, you can see the other options we have for you.