Lamb Stew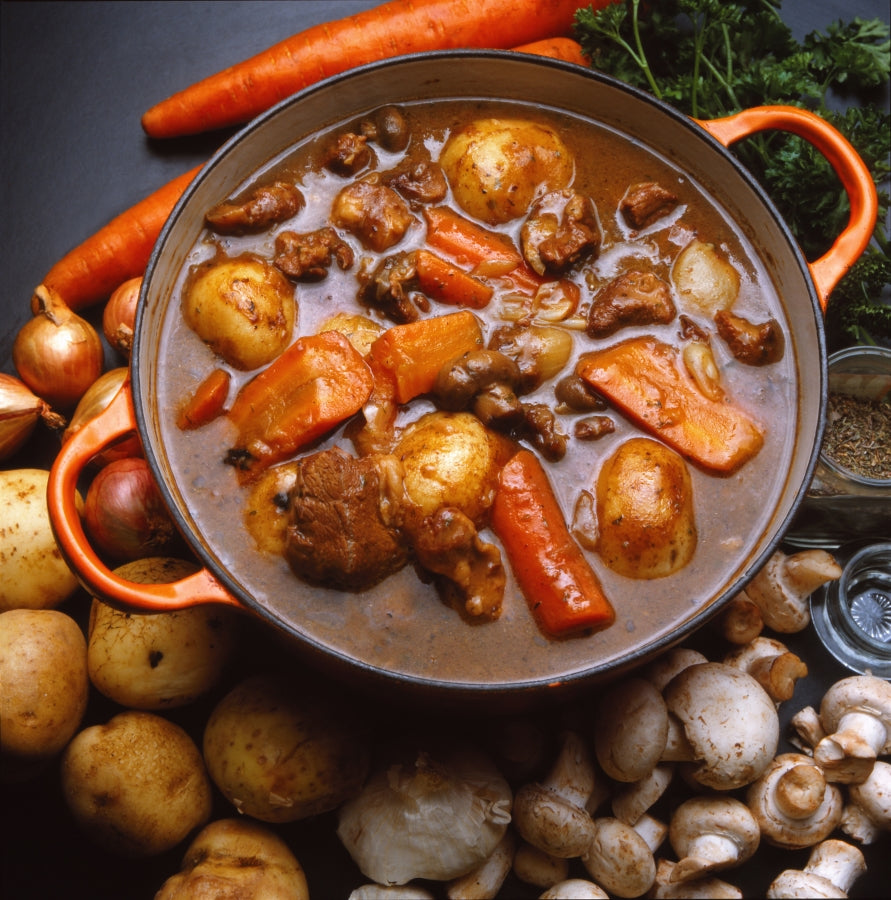 Food is more than just a means to satisfy hunger. It's about enjoying delicious flavors and aromas. It brings us together over a common need and love, and creates memories amongst friends and family. A heaping pot of stew is one of those dishes that conjures up comforting memories of togetherness. And lamb stew is one of our favorites.
This hearty lamb stew, called caldereta in Spain, was considered a humble meal. It comes from the regions of Extremadura and Castilla y León and is now recognized as a traditional dish in the Spanish culinary repertoire, and is loved by all. The name comes from the big cauldrons used to prepare the dish so many years ago. The stew was often cooked in the street outdoors to celebrate different festivities. Folks in the community, especially in small villages, participated in the cooking process and turned into a whole neighborhood activity. While lamb was a common ingredient, people also used beef, veal, bull, and wild boar.  
How to Prepare a Lamb Stew
The most important aspect of executing an excellent lamb stew is quality meat. While this dish has a good amount of ingredients, the lamb is the star. So sourcing good quality lamb can make all the difference. If you can get lamb from the Castilla y León region of Spain, the results will be truly mind-blowing. If not, look for local lamb in your area that's raised humanely and grass fed. 
To get the best flavors, you need a touch of patience. The stew needs to cook for 40 minutes to help tenderize the meat and bring out the flavors. Follow the recipe and you'll get great results. 
Ingredients
2 lb. suckling lamb meat

3 cloves garlic

2 onions, chopped

1 tomato, seeds removed and chopped 

½ red bell pepper, chopped 

3/4 cup meat stock

1/2 cup white wine

Aromatic herbs to taste

Laurel

Parsley

Sweet paprika

Olive oil
Preparation
Cut the lamb meat into chunks. 

Season the lamb with salt and pepper and set aside.

Add a splash of olive oil to a large pot, like a Dutch oven, and heat over medium-high heat. 

Brown the pieces of lamb in batches until a dark golden brown on all sides. Set aside. 

Using the same oil, add the onion and bell pepper to the pot to start the sofrito. 

As soon as the onion becomes transparent, add a bay leaf, the aromatic herbs of your choice, and some parsley. After a minute, add a dash of paprika and stir to combine, 

Add the tomato and stir all the ingredients together. Let everything cook over low heat until the liquid has evaporated.  

Add the lamb pieces back to the pan, along with the wine. Stir and let cook so the alcohol evaporates, about 1 minute. 

Cover the stew with the beef broth and cook for about 40 minutes over low heat. The lamb meat will become softer and tender over time. 
Tips for Eating an Exceptional Lamb Stew
If you have the opportunity and the tools, try cooking this stew over the grill or campfire. This is how they cook caldereta in the villages of Spin. It's a community event, cooked and enjoyed with family and friends. It also incorporates smoky flavors into the stew. 

Serve with potatoes or a simple hunk of good crusty bread for sopping up all the delicious sauces. 

If you want the stew to be a bit heartier, you can add other types of meat and more vegetables. Some people even add nuts to the mixture to give it a unique flavor. Some people keep the vegetable pieces, and others cook and blend them into a sauce. It all depends on your tastes and preferences. 

If you are a seafood fan, you can even swap out the lamb for shrimp, mussels, lobster, fish, or whatever other seafood you fancy. This change in the animal protein will give the dish a different but equally delicious flavor. 

This dish can serve as a main for a weekend lunch or dinner. It's also an excellent option for parties and festivities.

Despite being a relatively simple dish, this lamb stew is nutritious and perfect for filing you up in the wintertime. It's ultra-comforting and warms you to the core.