Galician-Style Fish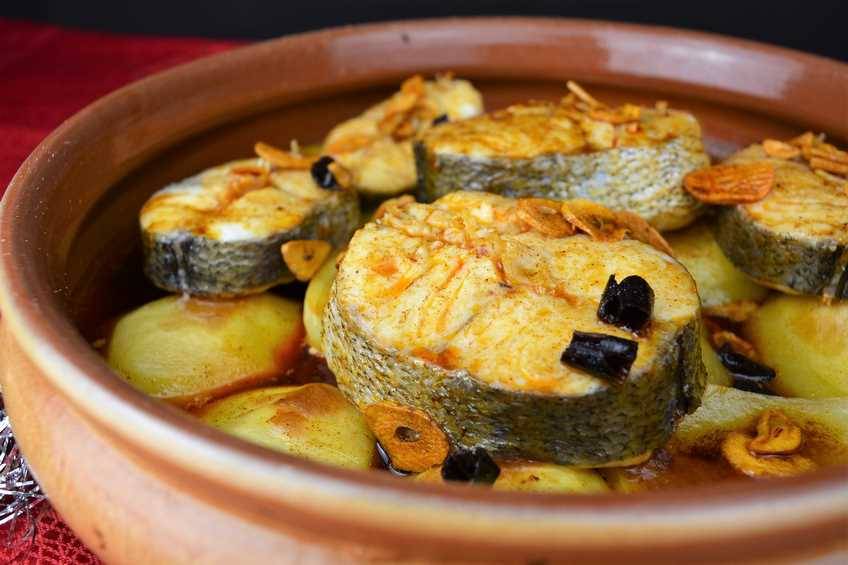 Galicia, located in the northwestern corner of Spain, is known for its spectacular seafood. One of the emblematic dishes of Galician gastronomy is "merluza a la gallega," or Galician-style hake, which is a relatively simple dish that highlights the natural flavors of the native fish. If you don't have hake, you can use another style of very firm white fish like cod. 
Recipe for Galician-Style Fish  
The trick to an authentic and delicious Galician-style merluza recipe is to keep the fish juicy and tender and avoid overcooking. . 
For this recipe you can buy fresh or frozen hake. If you buy a whole fish, make sure the scales are cleaned off and the fish is trimmed and cleaned. Ask your fishmonger to do this for you and make sure that when you are slicing the hake, you cut it into uniform slices. 
The ajada sauce that accompanies the fish adds incredible flavor with potent paprika and loads of toasty garlic. This style of recipe is always accompanied by boiled potatoes, but you're welcome to get creative with your favorite sides. For a more intense and flavor, you can also add some scallops or clams in there.  
Ingredients for Galician-Style Fish
1 whole hake, cut into thick slices 

3 large potatoes, peeled and cut into uneven pieces 

1 white onion, sliced 

2 bay leaves

6 cloves garlic, sliced 

1 teaspoon sweet paprika

1/2 cup extra-virgin olive oil

Coarse salt
Preparation for Galician-Style Fish 
One hour before cooking, sprinkle a handful of coarse salt over the hake slices so that the salt is well distributed around the fish. 

After an hour, wash the hake to remove excess salt and set aside.

Cook the onion and the two bay leaves in a large pan with olive oil. 

When the onion and bay leaves have been boiling for 5 minutes, add the potatoes.

Leave the potatoes to cook for about 15 minutes. The potatoes are ready when they are tender, but should not fall apart.

Add the hake slices to the pan with the potatoes and onion and let cook for 5-7 minutes, depending on the thickness of the hake slices.  

Add a cup of cold water to prevent from overcooking and burning in the pan. 
Remove from heat and let rest for 5 minutes. 
While the hake is resting, prepare what is called the "ajada." 
Head olive oil and garlic in a saucepan over medium heat. 
When the garlic begins to take on color, remove it from the heat and add the paprika, stirring to combine. 
Add a ladleful of the hake stock/liquid to the ajada and let rest for 2 minutes to let the ingredients mix. 
Serve the hake, potatoes, and onions with spoonfuls of the ajada sauce. ¡Buen provecho!  
Is hake a healthy fish? 
Merluza, or hake, is a type of white fish characterized by its lean meat. This makes it ideal if you're looking to keep a low-fat diet. A slice of merluza, depending on its thickness, can weigh little more than 100 grams. And in 100 grams of hake you will find 1.8 grams of fat. 
In addition to the low levels of fat, hake is also recommended for its levels of high  proteins; these proteins contain high levels of amino acids. Hake also contains B vitamins and minerals such as potassium, phosphorus, zinc and iron, among others. 
Hake can be eaten in many styles and recipes. Grilled or baked, with or without potatoes. You can cook it in the oven or on the stove, as we have shown you here.