Lomo Alto Steak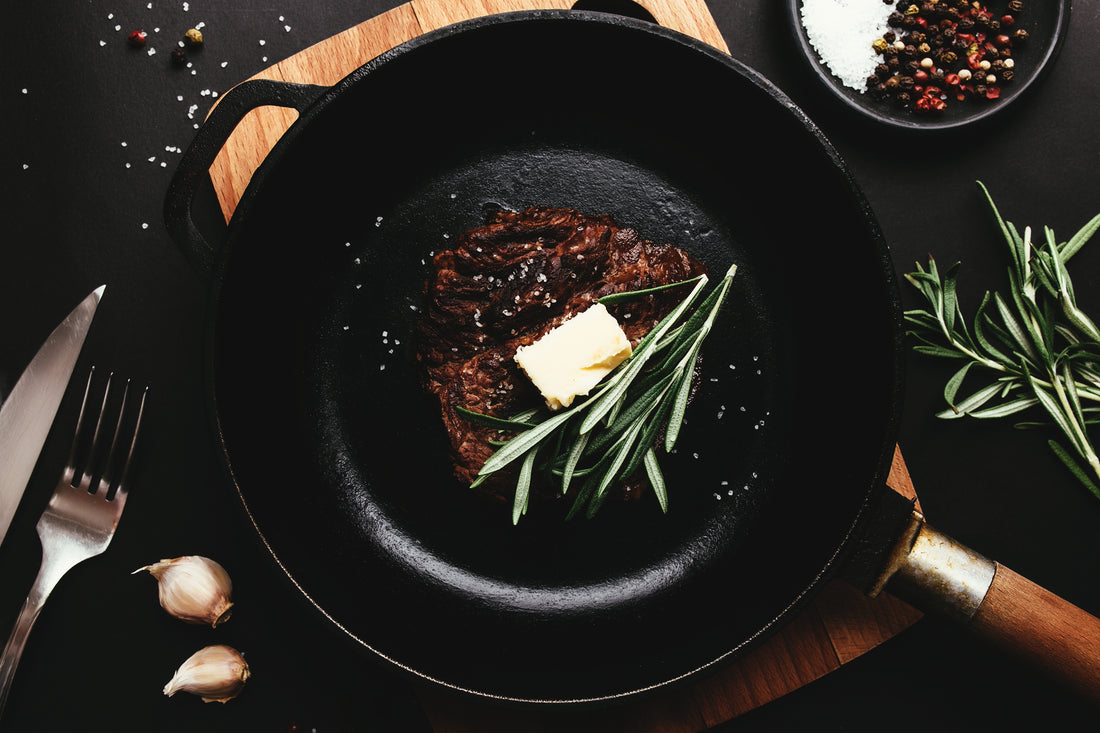 If you're new to steak, you may be discovering many different terms and words you have never heard of before. Lomo Alto is a popular type of steak served in Spain, but in English-speaking countries, it's the equivalent of a sirloin steak. You might also hear it called Chuleton de lomo bajo. No matter how it's listed on the menu, you can expect an amazing sirloin steak on your plate when the order comes out. 
If you're cooking at home, you will be wondering how to cook Lomo Alto and what sauces or side dishes you can serve it with. We are here to help! Sirloin is one of the best meats to serve when you are having a get-together or just a quiet night in with the family. 
How to Cook Lomo Alto Steak 
Lomo Alto Steak is not hard to make, even if you are new to the kitchen. Of course, there are some complicated recipes out there, but you can create a basic sirloin steak with just a few ingredients. 
For an easy-to-make Lomo Alto, all you need is some oil, butter, and garlic. You can also add in a sprig of thyme or rosemary if you are feeling fancy. 
Make sure you let the steaks come to room temperature before starting to cook them. Pat the steaks dry before adding the salt and pepper. Get a heavy-duty frying pan that can fit the steaks side by side for easy cooking. Add in some oil and wait for it to heat up. 
After the oil has started simmering, you can turn the heat down to medium-high before adding in the butter. Once the butter is sizzling and popping, lay in the steaks. You can put garlic on the sides of the pan, as well as other herbs if you are using them. 
Turn the steaks every 30 seconds so they get evenly brown on both sides without burning. If you want your steaks rare, they only need to cook for 3 minutes. Medium steaks will take about 5 minutes and well-done steaks will take about 7 minutes. 
If you prefer to use a thermometer, you can cook your steaks with much better accuracy. Rare steaks need to be at least 122 degrees Fahrenheit and medium steaks will need an internal temperature of 140 degrees Fahrenheit. Well done steaks will need a slightly higher internal temperature of 158 degrees Fahrenheit. 
Once the thermometer shows the right temperature, remove it from the grill immediately. It will cook quickly, so leaving it on the grill even a few seconds longer will cause it to reach a level of doneness you might not want. 
Lomo Alto Steak Recipes 
While the instructions above are a great basic way to cook Lomo Alto steak, you may still be wondering what to pair it with or how to make it more flavorful. If you don't want to buy more ingredients, you can use the simple recipe above. 
When you're ready to start experimenting a little though, here are some simple recipes for your Lomo Alto. 
Mushroom Lomo Alto 
This makes a superb mushroom topping. You need the following ingredients:
8 ounces of portobello mushrooms 

2 tbsp olive oil 

1 chopped shallot 

2 cloves of garlic 

¼ cup piquillo pepper 

Red pepper flakes 

2 tbsp brandy 

2 tsp sherry vinegar 

Salt and pepper 

¼ cup meat juices 

2 tbsp chopped parsle
Make sure the mushrooms are clean and then cut them in half. Heat the oil in the skillet and add the garlic and shallot. When the garlic is golden brown, add the mushrooms. When the mushrooms are brown, add the piquillo pepper and the red pepper flakes. Add the brandy and cook it for 2 more minutes. Stir in the vinegar and add in the salt and pepper. 
Once your steak is cooked and you have it sliced, pour the meat juices over the mushrooms. Serve on top of the steak with the parsley. 
Chimichurri Sauce with Grilled Lomo Alto 
You can grill the steak until your desired doneness and then make this great chimichurri sauce to go along with it. Make sure to gather the following ingredients:
1 tsp salt 

¼ cup boiling water 

5 cloves garlic 

1 cup chopped parsley 

1 cup cilantro leaves 

1 tbsp dried oregano 

Red pepper flakes 

2 tbsp sherry vinegar 

1.3 cup extra virgin olive oil 
Dissolve the salt in the boiling water and allow it to cool. Add in the chopped garlic, parsley, and cilantro into a food processor until it's chopped. Add in the oregano, red pepper flakes, and vinegar, and then blend it with oil and saltwater. 
Final Thoughts 
Lomo Alto is a simple steak that can be grilled with butter and garlic. You can also add in some sauces or side dishes if you want to make the meal more satisfying.