Lomo de Orza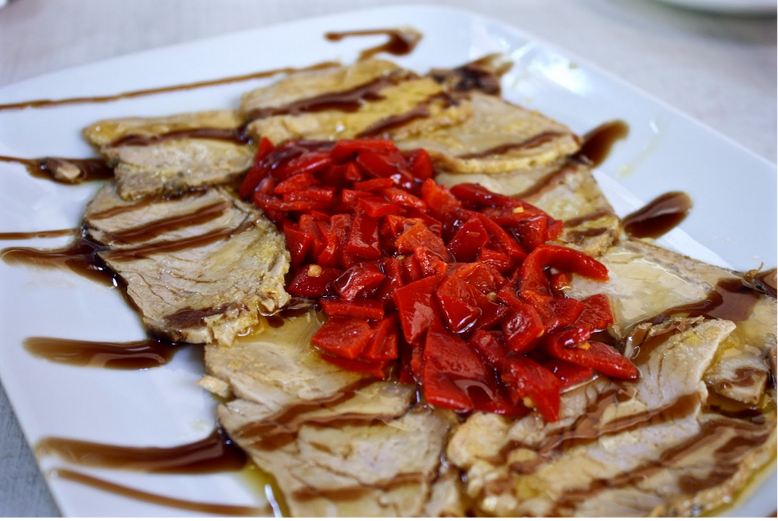 There are many secrets to be discovered in Spanish gastronomy. So many of the dishes eaten today have interesting stories behind them that are worth discovering.
The fact that most of the dishes in the cuisine of Spain has such ancient history and have survived the years with little modification is truly impressive. People with less access to today's technology managed to create delicious recipes that we still enjoy today. 
In the case of lomo de orza, a dish made from Ibérico pork tenderloin, there are many things that may surprise you. It goes without saying that its flavor is incredible, but beyond this, it's also practical and versatile.
This tenderloin can be eaten both hot and cold and, best of all, it can last for quite a long time in the fridge if made correctly. 
Where does the lomo de orza come from?
The lomo de orza is a dish from the Castilia-Mancha region of Spain. Like most food from this area, it's meat-heavy, simple, practical, and incredibly delicious. 
The preparation of this dish began many years ago. At that time, there were no electrical appliances to preserve meat, and when the pig was slaughtered, folks devised ways to keep the meat fresh so they could feed their families throughout the seasons. Any wasted meat meant days without food, so it took a lot of creativity and effort to come up with different dishes that utilized every part of the pig, could be preserved, and also tasted good. 
This is how the lomo de orza was born. It's a pork tenderloin dish that utilizes extra-virgin olive oil as a natural preservative. After cooking the loin in its own fat, the loin was preserved together with the spices in an earthenware dish, called an orza. 
The orza is a vessel that helps to preserve food in dry, cool, and dark places. The pork was stored here after cooking. Its lard solidified and the meat remained edible for a considerable amount time.
How is lomo de orza prepared?
No need to scope out an old school orza for this recipe. Just keep in mind that you will have to wait a couple of days to let the meat marinate before digging in. 
Ingredients
3 1/4 lb. Campo Grande Tenderloin, cut into 1/2 to 1-inch filets 

3 cloves garlic, chopped  

2 bay leaves

1 teaspoon black pepper

1 Tablespoon of sweet paprika

1 cinnamon stick

1 teaspoon cumin

1 Tablespoon oregano

1 head of crushed garlic

½ cup of dry white wine

Extra-virgin olive oil

Salt
Preparation
Mix all the ingredients in a large bowl, along with the tenderloin fillets and a glug of olive oil. Season with salt to taste. Use your hands to mix and massage the spices and liquids into the meat. 
Cover and refrigerate the meat for a couple of days to incorporate the flavors.
After a couple days, remove the met from the fridge and place in a large pot, or Dutch oven. Distribute the filets evenly in the pot so the are nice and packed in there, without any space. 
Add more oil to the pot and cook the pork over low heat for about two hours, or until it soft and cooked through. 
Remove the meat from the pot and place in an airtight container. You can strain the oil and drizzle it in the container or let all the spices and garlic mingle in with the oils and meat. 
This process preserves the meat and you can enjoy it for a much longer time. Just make sure to keep it refrigerated. 
Serve the slices of lomo de orza topped with chopped roasted red peppers and a drizzle of reduced sweet vinegar, like Pedro Ximenez or balsamic. Serve with slices of crusty bread for an appetizer or even a full meal.