Main cuts of Iberian meat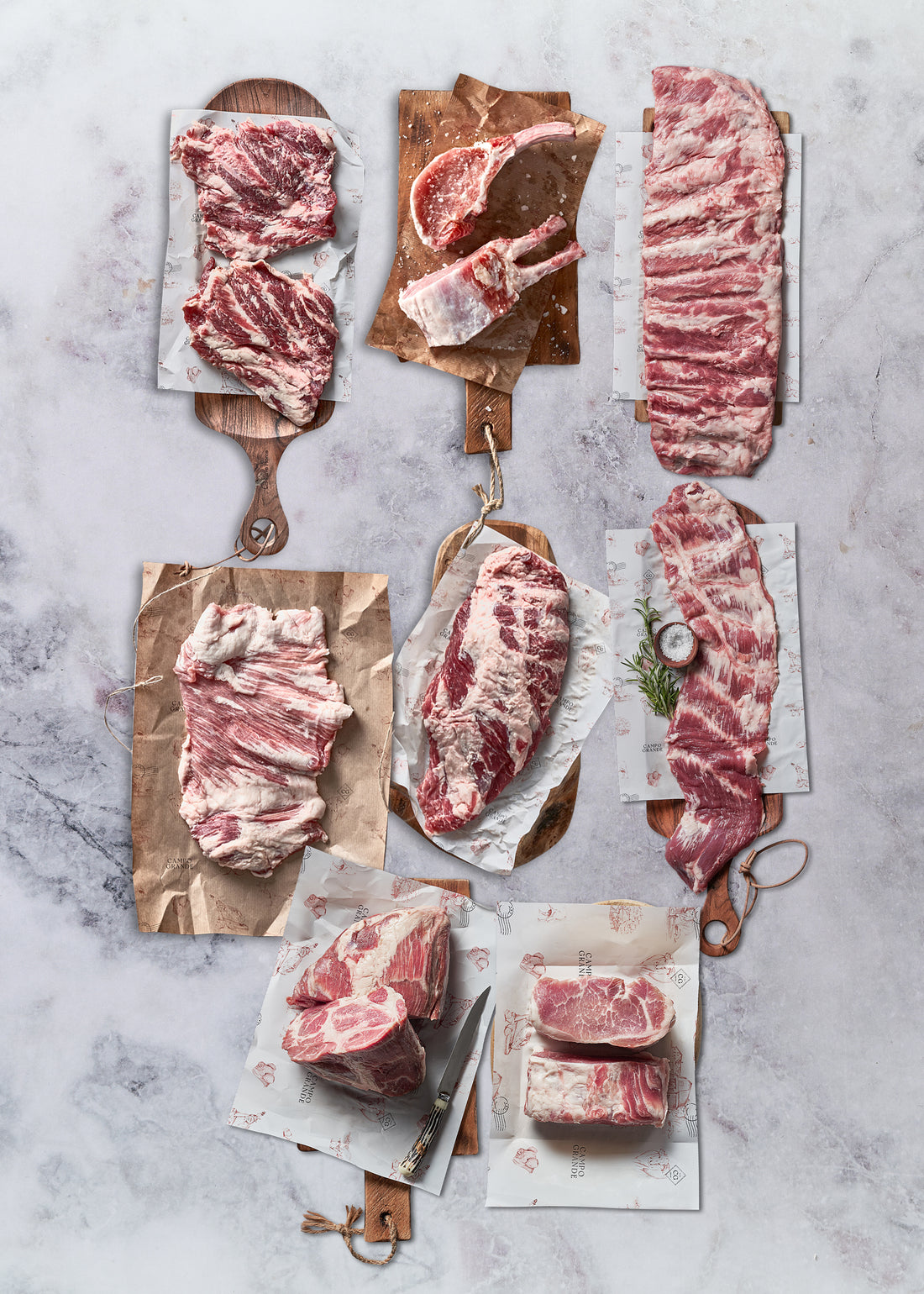 Main cuts of Iberian meat
Iberian meat is pork, but not just any pork. This type of meat is characterized by its intense flavor, reddish color and  great health benefits. This is because, as its name suggests, it comes from the Iberian pig, a breed of pig that only grows in the Spanish meadows and in some parts of Portugal.
Characteristics of Iberian meat
Iberian meat comes from animals raised in the Iberian pastures and is characterized by its reddish color and many nutritional properties. Iberian meat is distinguished from the rest by its unique flavor and its soft and tender texture, it has an incomparable taste!
Iberian pork meat has these particular qualities due to the acorn-based diet the animals receive prior to slaughter; in addition, these animals grow in semi-freedom and do a lot of exercise. Thanks to this, their meat has high concentrations of intramuscular and marbled fat.
This type of meat is perfect for consumption by people who want to take care of their health and follow a balanced diet. The  nutritional benefits of Iberian pork for health are the following:
High vitamin content. Depending on the cut, you will find vitamins B12, B6, niacin, riboflavin, as well as vitamin E.

High mineral content. Iberian meat contains different minerals such as potassium, iron, magnesium, zinc, phosphorus, among many others, which will help you to have vitality and energy every day!

Oleic acid. This is an unsaturated fatty acid and is similar to the one present in olive oil (if consumed raw) and avocado.

Rich in antioxidants.

High levels of protein. It all depends on what portion of the Iberian pork you are consuming, but a good part of the cuts of this meat have high protein levels.

Low in calories. Surprisingly, Iberian pork does not have as many calories as farmed pork. It is perfect for balanced health.
Main cuts of Iberian meat
"Every part of a pig can be eaten"; this is one of the most popular sayings in Spanish gastronomy and it does not seem to be a lie. Expert cooks, butchers and the most delicate palates know that each cut of Iberian pork is unique and must be used in the best possible way.
Pork cheeks
The cheeks are distinguished for being lean meat, as they come from the jowl area of the pig; that is to say, from the jaw. This cut of Iberian pork has good levels of intramuscular fat, it is very juicy. It is also a very versatile cut. The best way to prepare it is in stews or baked. It weighs about 200 grams.
Jowl secret
The dewlap secret is not the same as  the Iberian secret. An Iberian pig has two different secrets. The dewlap, as its name indicates, is extracted from the muscles surrounding the neck and the upper part of the brisket. It is a type of meat with a lot of fat, which makes it very tender and juicy.
The dewlap secret is perfect for stews and broths. 
Presa
One of the most unknown cuts of Iberian meat is the presa. This cut is known to have a very smooth texture and a very intense flavor; in addition, it weighs around 500-600 grams. Because the prey is extracted from the shoulder, it has a high content of infiltrated intramuscular fat.
Iberian prey is perfect to be grilled, or baked, although it can also be eaten in tartar or carpaccio.
Iberian meat feather
The feather is the finest and most elegant piece of Iberian meat, or at least that is what experts in the field believe. It is the most exclusive cut of Iberian ham because only one feather weighing around 100 grams can be extracted from each animal. It is a triangular, elongated cut that is often confused with the Iberian prey.
It is perfect for grilling or broiling, but it can also be eaten raw in tartar or carpaccio.
Iberian loin
The loin is one of the most popular cuts of Iberian pork. It is an elongated cut, somewhat drier than the rest of the cuts, and it is obtained from the area under the ribs and the backbone. It is perfect for baking, especially at Christmas.
Secreto ibérico: the most popular cut
It is also known as Cruceta and is extracted from the area of the loin that is close to the front shoulders. Only two secrets are obtained from each pig, so it is quite coveted by lovers of good gastronomy. It is a very juicy cut that does not require too much elaboration,  grilling is enough.
Pork ribs: queens of the barbecue
Ribs are the best for barbecue with BBQ sauce, but also in churrasco (in Galicia). Ribs can be baked, but the most typical way to prepare them is grilled or barbecued. When the meat comes off the bone easily, the meat is ready.
Sirloin
Like the secreto ibérico, only two tenderloins are extracted from each specimen. It is a cut obtained from the area next to the back loin. Each sirloin weighs around 200 grams, has little fat and is perfect for grilled fillets. It is one of the most demanded cuts.