Meat in mushroom sauce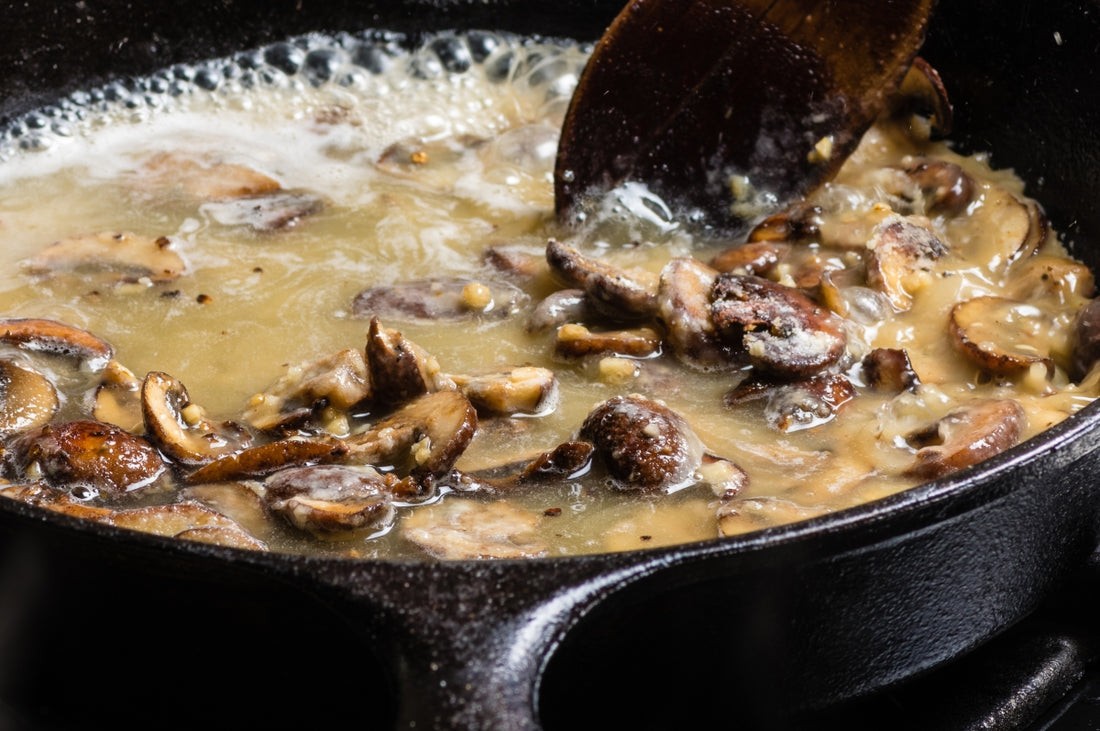 Sometimes it is unnecessary to prepare an elaborate dish to feel that you are eating a gourmet meal. Sometimes all you need is some good meat and some fresh mushrooms to make the preparation so tasty that you will want to repeat it repeatedly to taste all the nuances of taste and aroma it possesses. This is the case with meat in mushroom sauce.
A classic from the recipe book of grandmothers, meat with mushroom sauce is a very easy and quick preparation, perfect for a delicious lunch when you are short of time. However, it is such a versatile dish that, if you make more than enough, you can store it in an airtight container for days, and the flavor will only get more intense. You can get many dishes from one preparation to continue enjoying the recipe or share it with others.
Being a simple recipe and prepared for many years, it is likely that you will find different variations depending on which house you visit. Therefore, feel free to start from this step-by-step that we will give you and then dare to make your changes because the personal touch you give will distinguish your dish from the rest. It may be the recipe that will be passed on to the next generation of your family.
A loaf of bread is all needed to accompany soft meat with a creamy and rich mushroom sauce. Therefore, you should focus on bringing out the protein's flavor and complementing the ingredients' qualities. This is all it takes to make the recipe perfect. Are you ready? Grab your chef's hat and get to work.
How to prepare meat in mushroom sauce?
Look in your pantry because so few ingredients are needed for this dish that you probably already has everything ready at home to start.
Ingredients: (For approximately 4 people)
500 grams of veal

300 grams of various mushrooms (fresh or dehydrated)

2 medium onions

1 glass of white wine

50 ml of milk cream

Water

Salt

Pepper

Extra virgin olive oil
Preparation:
You can skip this first step if you have chosen fresh mushrooms for this preparation. However, if you have dried mushrooms, hydrate them in a bowl with enough water for a few minutes.

Cut the veal into thin steaks while heating some oil in a pan. Let them fry a little to seal and remove. Set aside.

Cut the onion into thin strips and add to the pan. Let it cook over low heat until transparent.

Add the mushrooms to the casserole (drain them if you hydrated them in the first step) and the veal fillets. Stir everything a few times.

Add the glass of white wine and let it cook for a few minutes over high heat to evaporate the alcohol.

Lower the temperature again and add a little water. Add the salt and give everything a few turns.

When the fillets are tender, remove them and set aside.

Add the cream and mix very well. Remember to add salt and pepper. Let the mixture cook for about 5 minutes over low heat.

Transfer all the ingredients from the casserole to a food processor. This way, the sauce will be more homogeneous.

Add the steaks back to the pan with the sauce for a few minutes and turn off. Let it rest for a while and proceed to serve.
Tips:
You can accompany this dish with potatoes or simply with bread. It is advisable to have a garnish with which you can eat every last drop of sauce.
If you wish to make the sauce much thicker, it is recommended to dilute a little cornstarch in water and add it to the preparation. If you overdo it, add more water to make the sauce more liquid. Just be sure to correct the salt and pepper.
Some people add butter or lard, in addition to the extra virgin olive oil, to cook the mushrooms and meat. This is to give more flavor; however, it is best not to do this if you do not enjoy fat.
It is optional to use veal if you do not want it. Choose the type of meat you like best, as the sauce is practical and will be equally a good complement. It is also possible to make only the sauce and save it for any other preparation; some people use it to accompany pasta, for example.
Finally, remember that eating meat with sauce on the same day is okay. If you save it for another day, the meat will absorb more flavor, so don't be afraid to save some for later.