Meatballs in almond sauce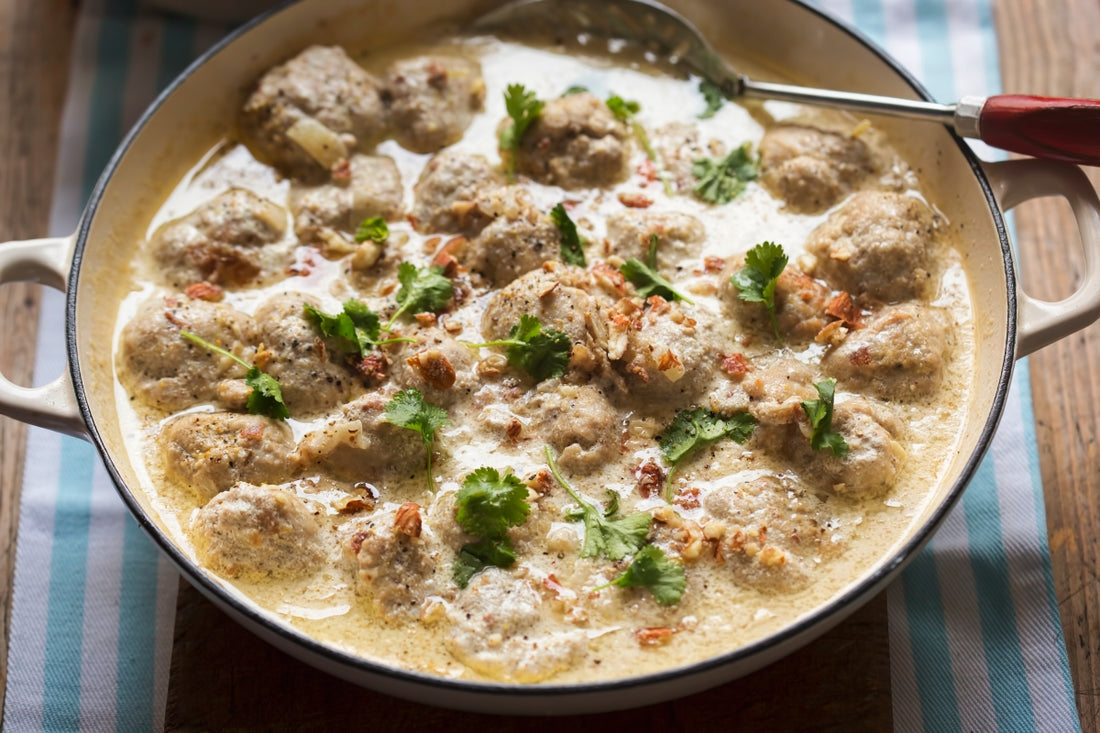 Considering the great number of countries in the world, each one is expected to have a unique and varied gastronomy. However, it is fantastic to see how meatballs have managed to find their place in almost every cuisine, regardless of continent and culture.
This delicious dish has approximately 2000 years of existence and, despite the time, has almost no variations in its preparation. This speaks very well of the recipe's quality, which is why it continues to be prepared quite frequently in millions of homes around the world. It doesn't matter if they are high or low class because everyone loves it.
Although the origin of meatballs dates back to Roman times, the Muslims succeeded in expanding this dish. Thanks to them, meatballs became popular in Spain until they became what they are today.
Why are meatballs so famous?
It may be because of its delicious flavor or its easy preparation. Although many people highlight the practicality of the recipe as one of the essential factors, meatballs can easily be classified as "utilization cuisine."
That is to say, it is a recipe that you can make with different types of meat, whether: beef, chicken, pork, or even fish. With different kinds of seasonings, such as parsley, garlic, and onion. And in different ways: boiled, fried, or stewed.
In this way, going out shopping at the last minute is unnecessary to prepare meatballs since it is possible to prepare them with whatever you have in the kitchen. This versatility may be the significant reason behind the fame of this food.
How to prepare meatballs in almond sauce?
Within Spanish cuisine, one version of meatballs that stands out is the dish of meatballs with almond sauce.
The mild flavor of almonds combines with any meat, so you won't have to limit yourself when making this preparation. However, most people prefer to make the recipe with a combination of beef and pork, as the flavors complement each other very well, and their amount of fat makes them perfect proteins to eat in the form of meatballs.
Ingredients: (Approximately for 4 diners)
Meatballs:
300 grams of minced pork

300 grams of minced veal meat

2 cloves of garlic

1 beaten egg

1 onion

2 slices of sliced bread without crusts

Olive oil

Milk

Salt

Black pepper

Wheat flour
Almond sauce:
2 onions

2 cloves of garlic

100 grams of raw almonds

100 ml of white wine

50 ml brandy

400 ml vegetable stock

Salt

Black pepper

Extra virgin olive oil
Preparation:
To start with the recipe, the first thing to do is to finely chop the garlic and onion while soaking the bread in milk. This last step is crucial, allowing the meatballs to be formed.

Proceed to poach the garlic and onion in a saucepan, consistently over low heat, for about 5 minutes, approximately.

Remove the bread, let it drain, and then mix it with the meats, egg, and poached vegetables. Season the combination with salt and pepper and knead very well until you have balls; this way, all the flavors can integrate, and the meatballs will have a better consistency.

Cook the meatballs on the grill for a short time and remove them. Let them rest in the refrigerator for an hour so that they will be more resistant.

While the meatballs are resting, chop the rest of the garlic and onion into julienne strips. Sauté the vegetables in a frying pan over low heat, and before they brown, add the wine and brandy.

Let the liqueurs reduce to evaporate the alcohol. After this time, add the almonds and the vegetable stock. Let everything cook for about 15 minutes.

When everything is ready, blend the mixture and strain it so there are no lumps. If it is necessary to add more salt, this is the moment. Do not let the sauce cool.

Take the meatballs out of the refrigerator. Heat the olive oil in a frying pan while you flour the meatballs.

When the oil is hot, it is time to fry the meatballs. Do it in batches and remove and drain when they are ready.

Add the meatballs to the sauce and cook for 10 minutes over low heat. After this time, serve.

To garnish, add more toasted almonds on top of the meatballs.
To go with:
Most people accompany this recipe with french fries, an excellent way to complement the meatballs without competing with their flavor.
Following this recipe, you will soon be able to enjoy a tasty lunch. Practical, delicious, and quick to prepare.