Migas Extremeñas con Chorizo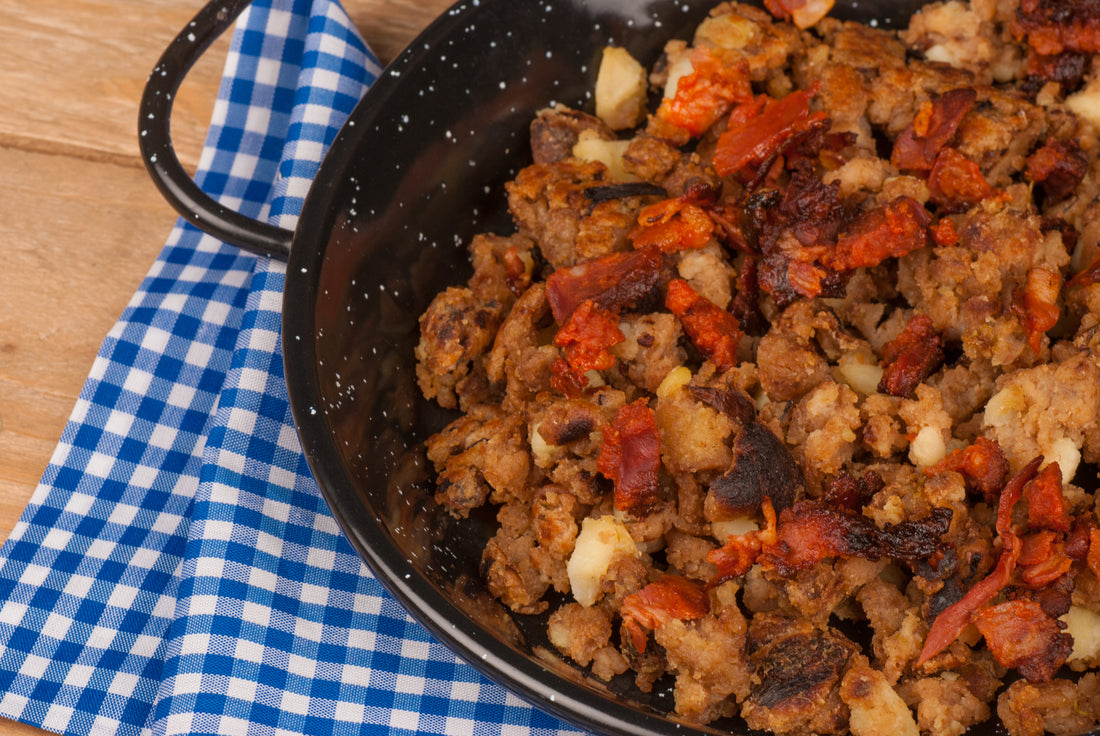 One of the most distinguishing characteristics of Spanish gastronomy is the tradition of using up absolutely every scrap in the kitchen. This no-waste philosophy was practiced by the peasants of the region, especially in harsh winters when there was no fresh food to be found. The use of cured meats in Spanish cuisine, is a prime example of folks finding ways to harness every single edible part of their prized livestock. 
Migas extremeñas with chorizo is a prime example of this custom and necessity. It also just so happens to be incredibly delicious and easy to prepare. Surprisingly, folks around Spain eat migas for breakfast, lunch, and dinner. And once you get a hold of good chorizo, the rest is easy and affordable.
Where do migas extremeñas with chorizo come from?
Migas means crumbs in Spanish. According to people in the region of Extremadura (hence the word "extremeña"), this traditional dish was invented by shepherds. They would go to the mountains to tend their sheep and would often stay overnight. When they returned home and had no bread, they used the stale bread from previous days, along with scraps of cured meat to prepare a humble but filling dish to get them through the day. Some say that the shepherds often sat in groups to eat together directly from the pan.
Another theory dates back to the Roman Empire. The Romans ate a similar dish known Roman legionary porridge, that was comprised of wet bread sautéd in animal fat and meat. 
Others believe that its origin comes from a dish called "tharid" from the Al-Andalus period in Spanish history. This soup is made with bread crumbs and other ingredients, similar to the migas extremeñas consumed today.
Although it is impossible to say exactly where the dish comes from or when it was created, it's a recipe worth trying. At the end of the 19th century, migas went from a recipe with few ingredients to a preparation with far more flavors. People started adding potatoes, eggs, and even fruits on top of the basic recipe, increasing its popularity and consumption throughout the country. Today it is considered a star dish in certain areas of Spain. 
How to Prepare Migas Extremeñas with Chorizo
Make sure you buy a loaf a bread a few days prior so it can dry out and soak up all the flavors and fats while cooking. 
Ingredients
9 oz. stale bread

2 chorizo sausages, sliced 

2 slices bacon, sliced

3 cloves garlic

1 red bell pepper, sliced

Extra-virgin olive oil

Water

Salt
Preparation
Cut the bread into cubes. Soak the bread in a bowl of salted water and then place in a clean kitchen towel. Move the bread around every now and then to help it moisten. 

Add a drizzle of oil to a non-stick frying pan and heat. 

Add chorizo, bacon, and peppers to the pan and sauté. Once the are cooked, remove the ingredients and set aside on a plate lined with paper towels to absorb any excess oil. 
Fry the garlic in the same pan, adding more olive oil if necessary. 
Remove the cubes of bread from the towel and crumble. Add the wet crumbs to the pan. 
Sauté the crumbs, stirring constantly until the bread is loose and golden brown. 
Add the chorizo, bacon, and peppers back into the pan and stir well to combine.
Remove from heat and let rest a few minutes before serving. ¡Buen provecho!
Tips for Perfect Migas Extremeñas with Chorizo
Now that you know the basics, check out a few tips to make your migas even better: 
This recipe has a fairly short ingredient list. Which means buying quality ingredients is even more important. So buy good chorizo and the best bacon you can find to make migas extremeñas shine. 

Bread from a basic sandwich loaf is totally fine for this recipe and. The texture of the crumb will integrate well into the rest of the ingredients. 

If you want a more intense flavor, use chicken or beef broth instead of salted water to soak the bread.

Don't be afraid to add other ingredients, like more peppers, other vegetables, potatoes, herbs like parsley, other cured meats, or a fried egg.  
With these tips and a solid recipe, you've got everything you need to execute this traditional Spanish dish.