Paella with meat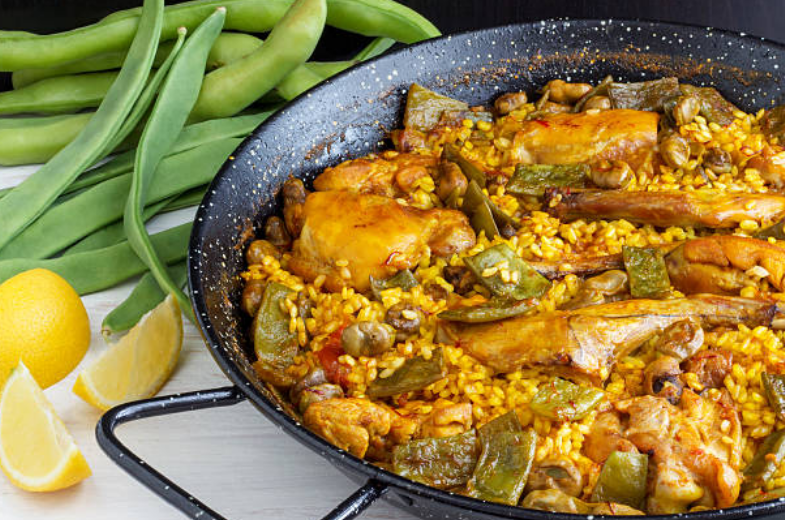 One of the typical dishes of Spanish gastronomy is paella. Spain is world famous thanks to this traditional dish! Paella originates in Valencian rice, but the most common is to find paella with seafood and not with meat. Is it worth learning how to prepare it?
What is meat paella?
Traditionally, paella is prepared with seafood. It is rice prepared in a very peculiar way, and a wide variety of ingredients are added. Seafood paella is the best known, but it is also possible to find meat paella. If you are not a big fan of seafood, dare to prepare this recipe with meat. Your guests will love it!
Paella, like an omelet, is a basic recipe to which a wide variety of ingredients can be added. That is why nowadays it is possible to find three different types of paella, all very delicious: seafood, meat, and vegetable. It is such a Spanish dish. You can't miss it at any celebration! Besides, it is perfect for making on Sundays when you want to delight diners with something extraordinary.
Paella with meat recipe
Ingredients
360 grams of rice. Look for special rice for paella. You will find several brands.

460 grams of pork ribs in pieces.

One liter of meat or chicken broth. You can dissolve a tablet or a ladle in water.

150 grams of green beans.

One large tomato.

Two cloves of garlic.

Paprika, if it is spicy, better.

Saffron.

Extra virgin olive oil.

Coarse salt.
Elaboration
Look for special rice for paella. Nowadays, you can even find brands with a specific designation of origin, which make a big difference when preparing paella!

Take the pork ribs out of the refrigerator two hours before cooking, so they come to room temperature. Chop the ribs yourself home or ask the butcher to do it for you. Depending on your preference, you may or may not clean the ribs to remove excess fat.

Slice the beans and peel and slice the garlic cloves.

Grate the tomato.

You can use ready-made beef broth or make it yourself at home. If you decide to make a homemade beef broth, it is best to make it the night before.

Sauté the vegetables in a frying pan with a drizzle of oil over medium meat. Once the vegetables are soft and slightly browned, it is time to remove them from the meat.

Add the beef or chicken broth to a pot when the vegetables are ready.

Leave the broth on meat, using a medium-low temperature. When the broth is hot, remove it and set aside.

Use a paella pan to prepare this traditional Spanish dish. The paella pan is a particular instrument that will allow you to prepare paella in an effortless but traditional way.

Add extra virgin olive oil to the paella pan and add the meat to the fire when it is hot.

Cook for a few minutes so that the ribs are brown. As we have already advised you, the best thing to do is remove the pork ribs from the refrigerator a couple of hours before cooking; this way, the meat will be at room temperature and brown evenly.

Add the sautéed vegetables to the paella pan.

Remove from the meat to add some sweet or spicy paprika.

When you have added the paprika, it is time to return the paella to the fire and add the rice. Sauté a little before adding the hot meat broth. It would be best if you stirred the mixture well, so it settled on the bottom of the paella pan.

Pour in the hot beef or chicken broth and stir so that the ingredients mix well.

Leave the ingredients on the meat for 15 minutes.

Add the saffron to the mixture and increase the meat during the first five minutes of cooking.

After five minutes, adjust the salt and reduce the meat to half. You must leave the paella to cook for 10 to 15 minutes approximately.

Let it rest for a few minutes before offering it to the guests.
Preparation tips
The secret of a good paella is to choose quality rice. Choose the best rice! Remember that the star of paella is this ingredient, of which there are unique names for preparing paella.
If pork ribs are not your thing, we tell you that the original recipe for beef paella is prepared with chicken and rabbit, an excellent alternative for a delicious recipe! Finally, if you are not going to prepare the paella the same day you buy the meat, we invite you to take the meat out of its plastic container and wrap it in aluminum foil. You will notice a big difference!