Peppers Stuffed with Manchego Cheese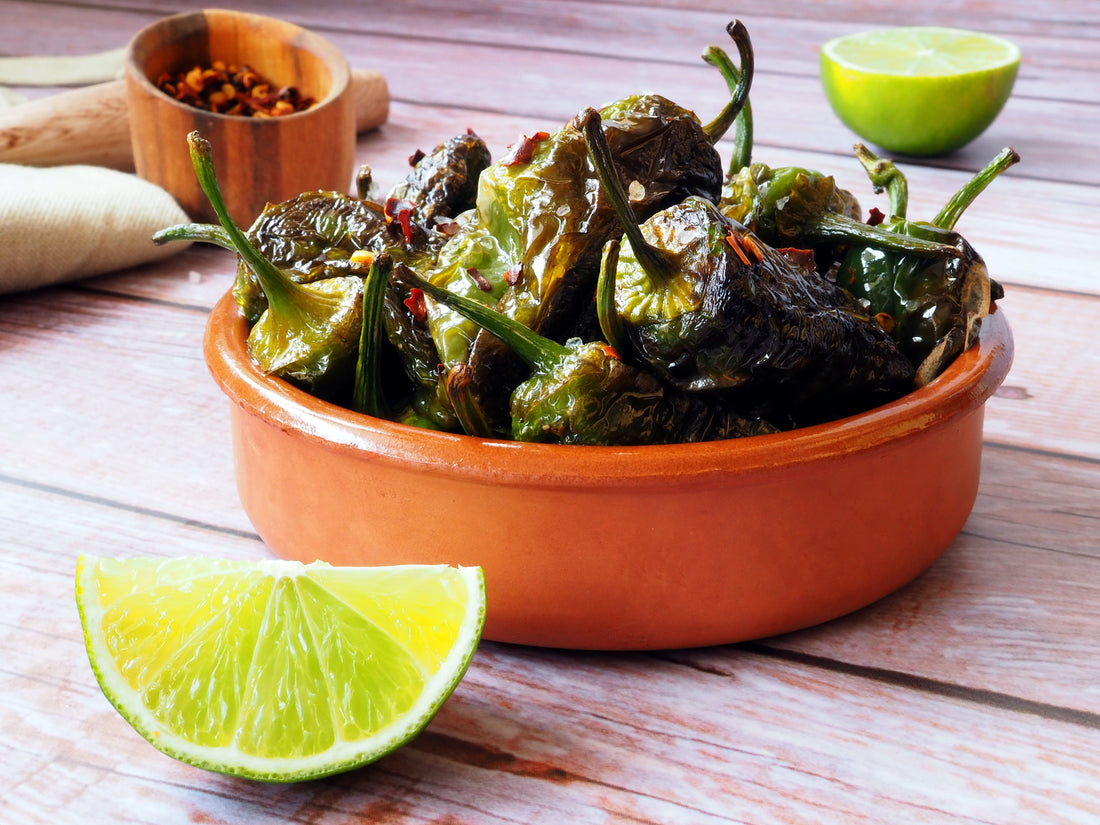 If you like intense flavors, then you will love this recipe for Padrón peppers stuffed with Manchego cheese, a delicious dish that combines some of the best of Spanish gastronomy. Below, we will show you how to prepare this easy and simple recipe, which also provides many health benefits. Read on and learn how to truly surprise your guests with this preparation!
Padrón peppers are small, sweet, green peppers grown in Galicia, especially in the town of Padrón. They are very popular in Spain and are usually fried and served with salt as an appetizer or tapa. However, they can also be filled with different ingredients such as cheese, meat or ham, among others. In this case, we will use Manchego cheese, a sheep's milk cheese with a rich flavor and firm texture. This is one of the best known and most appreciated cheeses in Spain, and has a protected designation of origin, which guarantees its quality and origin.
The origin of this recipe dates back to the 18th century, when, according to versions, the Franciscan friars of the monastery of Herbón, in the province of La Coruña, Galicia, brought the seed of peppers from America and began to cultivate it in their orchards.
Ingredients
To prepare this recipe you need the following ingredients:
24 bell peppers

200 g grated manchego cheese

Extra virgin olive oil

Salt
Preparation
Due to its few ingredients, the preparation consists of very simple steps described below:
The first step is to wash the peppers and dry them with kitchen paper. Then, with a small knife, we make an incision on the side of the stem and remove the seeds, being careful not to break them. Then, fill them with grated manchego cheese and press them carefully to prevent them from overflowing.

The second step is to heat a frying pan with a little olive oil over medium-high heat and fry the peppers on both sides until they are golden brown and the cheese is melted. It is important not to fry them for too long so that they do not burn or become soft. When you take them out, put them on a plate lined with paper towels to remove excess oil and add salt to taste.
And there you have it! In just a few minutes you have delicious Padrón peppers stuffed with manchego cheese, ideal as an appetizer or side dish. You can serve them on individual plates or on skewers, and garnish them with some chopped parsley if you want to give them some color.
This dish is the ideal appetizer to share with friends or family. It can be accompanied by other typical dishes of Spanish cuisine such as tortilla de patatas, a mixture made with beaten eggs, fried potatoes and ingredients to taste such as onion, chorizo or cheese; croquettes, which can be filled with ham, chicken, cheese or vegetables; gazpacho, which is made with tomatoes, green bell pepper, cucumber, garlic, olive oil, vinegar and salt; as well as other accompaniments such as Iberian ham and bread with tomato.
They can also be combined with other tapas, such as pickled anchovies, patatas bravas, meatballs, calamares a la romana or ensaladilla rusa. The important thing is to enjoy this delicious and surprising dish, a fusion of two intense flavors of the Spanish culinary tradition.
Benefits
In addition to their delicious flavor, Padrón peppers with manchego cheese also have many health benefits. Some of them are:
They provide fiber, vitamin C, vitamin E, potassium and magnesium, which help improve digestion, the immune system, skin and bones.

They contain capsaicin, the substance that produces the itch and which in turn has analgesic, anti-inflammatory and stimulant effects.

It is a source of protein, calcium, phosphorus and vitamins A and D, which contribute to muscle development, dental health, vision and metabolism.

Dairy also contains conjugated linoleic acid (CLA), a type of fat that helps prevent obesity, cancer and cardiovascular disease.
As you can see, padron peppers with manchego cheese are perfect for a healthy and delicious appetizer, typical of Spanish gastronomy. These products have multiple health benefits, as they provide fiber, vitamins, minerals, proteins, calcium and beneficial fatty acids. In addition, they are easy to prepare and can be eaten either hot or cold at any time of the day.
We encourage you to try it and share your experience. If you want more ideas of traditional recipes from Spain do not hesitate to stay tuned for our next posts. We hope you enjoyed this preparation and that it has been an inspiration for you. If you like it, share it with your friends and family through your favorite channels and if you have any doubts or suggestions, feel free to express them.