Pericana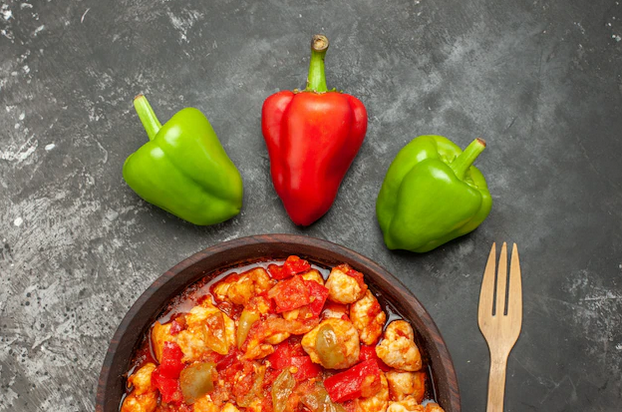 Do you want to learn how to prepare a delicious pericana recipe and discover its benefits? We tell you that pericana is a typical dish of Valencian cuisine, especially from the region of l'Alcoià. It is a cold salad of dried peppers, cod, olive oil, and garlic, often served as an appetizer or with other dishes. Pericana has a strong and aromatic flavor and is easy to make at home.
In addition, it is a very healthy dish as it provides proteins, vitamins, minerals, and essential fatty acids. Do you want to know how pericana is made and what are its health benefits? Then read on and find out!
Ingredients
The pericana recipe is very simple, and you only need a few ingredients, described below:
2 ñoras: Round, dried red peppers give color and flavor to the pericana.

1 dried capellán: this is a bluish-white fish or dried blue whiting that crumbles easily and gives the pericana a salty flavor.

3 choricero peppers are the dried, elongated red peppers that give the pericana its spiciness.

1 clove of garlic: gives it an aromatic sensation and enhances the flavors of other ingredients.

1 raff tomato is a succulent and sweet variety that adds freshness to the pericana.

Extra virgin olive oil: It is the ingredient that combines all the other elements and gives them a buttery texture.
Preparation
These are the steps to follow for its elaboration:
The first thing to do is to keep the dried peppers hydrated, both the ñoras and the choricero peppers. To do this, place them in a bowl of hot water and let them soak for at least 20 minutes and up to two hours until they are soft.

Once hydrated, drain the peppers and cut them into thin strips. Reserve the soaking water for later use.

Desalt the blue whiting by placing it in another container with cold water and changing it every half hour for about three hours. Then, drain the fish and shred it with your hands, removing the bones and skin.

Wash the tomato and grate it with a grater. Set it aside for later.

Peel the garlic and cut into thin slices. Heat a frying pan with olive oil and sauté the garlic over medium-low heat until golden brown. Turn off the heat and keep the oil and garlic mixture.

Mix the peppers with the cod and tomato in a salad bowl or bowl and dress with the oil and sautéed garlic. If it feels dry, you can add a little of the soaking water from the peppers, for more flavor. Season to taste and mix well to combine all the ingredients.
Your homemade pericana is ready. You can serve it cold or warm, according to your preference. You can also keep it in the fridge and use it the next day, as it will absorb more flavor.
Pericana is a dish that usually accompanies other typical Valencian dishes, such as grilled rice, olleta, or gazpacho. Enjoy it as an appetizer or in a light summer salad. Either way, you will love pericana for its flavor and health benefits.
Advantages
Did you know that pericana is a very nutritious and healthy dish? Here are some of its properties:
Fish is a source of proteins of high biological value, which contributes to maintaining muscle and bone mass. In addition, blue whiting is rich in omega-3, an essential fatty acid that helps prevent cardiovascular disease, reduce cholesterol, and improve blood circulation.

Dried peppers are an excellent source of vitamin C, which strengthens the immune system, promotes iron absorption, and has antioxidant effects. They also provide vitamin A, which improves vision, skin health, and mucous membranes. These ingredients also contain fiber, which helps regulate intestinal transit and prevent constipation.

Olive oil is one of the pillars of the Mediterranean diet, considered one of the healthiest in the world. Olive oil is high in oleic acid, another monounsaturated fatty acid that protects the heart and reduces inflammation. Olive oil also contains vitamin E, a powerful antioxidant that helps prevent cellular aging and fights free radicals.

Garlic is a medicinal food used since ancient times to treat various diseases. Garlic has antibiotic, antifungal, antiviral, and antiparasitic effects that help fight infections and stimulate the immune system. Garlic also has antihypertensive, hypoglycemic, anticoagulant, and anticancer properties, among other benefits.
Specifically, pericana is a dish that is not only delicious but also very healthy. If you like traditional food and want to enjoy the best of Spanish cuisine, do not hesitate to try this pericana recipe and surprise your family and friends with a simple, economical, and healthy dish. Enjoy your meal!