Pheasant in sauce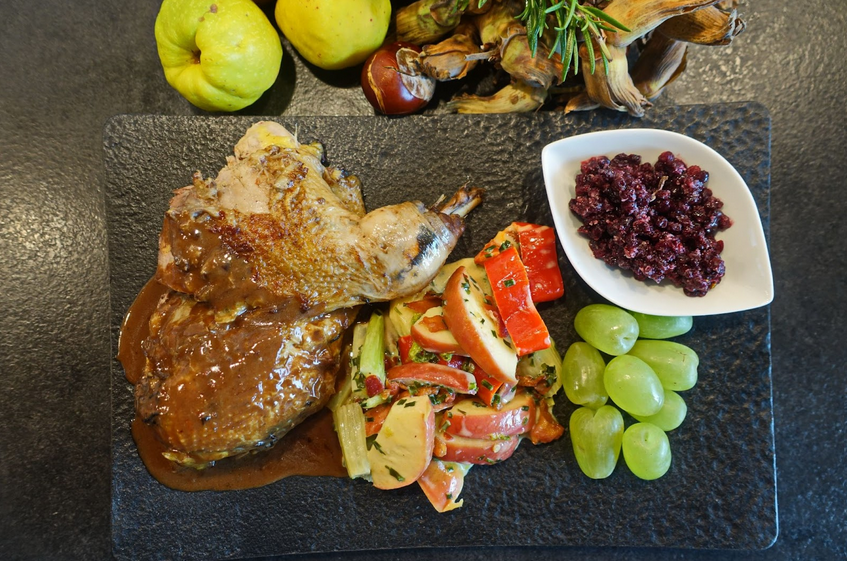 Usually reserved for the Christmas season or large celebrations among family and friends, the pheasant is considered of the highest quality, as it offers tender, juicy meat with a similar texture to turkey. In fact, because of this, the pheasant was considered an animal only found on the tables of royalty and aristocracy. Not everyone could access it because it was costly and challenging to hunt.
Over the years, more time and effort were invested in creating pheasant farms, and as production increased, more people could begin to incorporate this bird into their regular diet.
The pheasant has become the protagonist of various preparations in Spain, such as roasted or grilled pheasant, not only because of its great taste but also because of its health. About 100 grams of pheasant can provide more than 20 grams of pure protein, along with vitamin B and everything necessary to increase the production of red blood cells, making it one of the favorite meats for athletes.
Fortunately, and as you can see, there are many ways to obtain all the qualities of a pheasant. One of the most outstanding is pheasant in sauce; here, you can learn how to prepare it. With this dish, you will enjoy a great taste, aroma, and a healthy source of nutrients. What are you waiting for to prepare it?
How to prepare pheasant in sauce?
Look for the best pheasants you can find and get ready to prepare a traditional recipe that has been part of Spanish gastronomy for centuries. A meal of kings at your table, designed in a few simple steps.
Ingredients:
2 pheasants

2 onions

2 cloves of garlic

¼ kilo of grapes

¼ of white wine

1 leek

200 grams of cream

Butter

Thyme

Pepper

Parsley

Salt

Water

Laurel

Extra virgin olive oil
Preparation:
In order to begin, it is necessary to have the pheasants completely clean. Therefore, you must verify that none of them have feathers and that they do not have any type of dirt.

Cut the pheasants into quarters very carefully and add salt to taste. After this, add a generous splash of olive oil to a deep frying pan.

While waiting for the olive oil to heat up, you can peel and cut the onions into not-so-big and not-so-small wedges. Set aside.

When the oil has reached the right temperature, add the pheasant pieces. Let them brown on each side and when they have a nice color, remove them and set them aside.

Add the onions to the same pan, along with the white part of the leek and the chopped garlic. Let it cook over high heat for a few minutes.

When you notice that the onions and garlic are golden brown, it is time to add the grapes to the pan. Do not peel them. Allow the mixture to sauté correctly.

Transfer the browned pheasant pieces to a pan over low heat and add the onion and grapes.

After a few minutes, add the white wine, bay leaf, parsley, and thyme. Add salt and pepper to taste.

When you have cooked enough minutes for the alcohol to evaporate, add water and cook the pheasants until the meat is very soft. Remove the pieces and set aside.

Using a meat grinder or mortar, grind all the sauce ingredients until you obtain a consistent liquid.

Add the meat back to the casserole, but this time add the cream. Add the sauce and taste it if you need to add more salt or pepper.

Cook until the sauce reduces and has the desired thickness. Turn off the heat and let the preparation rest.

To serve, you can garnish with more grapes and some butter. Alternatively, you can also add toasted nuts such as almonds.

That's it! You can now enjoy an exquisite delicacy made to satisfy the most demanding palates.
Tips:
In addition to white wine, you can use red wine made from muscatel grapes or, if you wish, a little brandy. All these liqueurs go well with pheasant, as they allow it to exalt all the nuances of its flavor and aroma.
This dish has been designed to be eaten alone. Therefore, it is not recommended to accompany it with strong garnishes. If you want a compliment, a little bread may be enough.
Some people choose to add wheat flour to the pheasant pieces before frying. For some, this makes it more delicious, but others prefer to keep the original texture of the bird.
Finally, experts consider the meat of a female pheasant to be tastier and more tender than a male's. Especially if it is a game bird and not a farmed bird. Therefore, if you have the opportunity to have access to one of these specimens, do not hesitate to try this recipe.