Pickled quails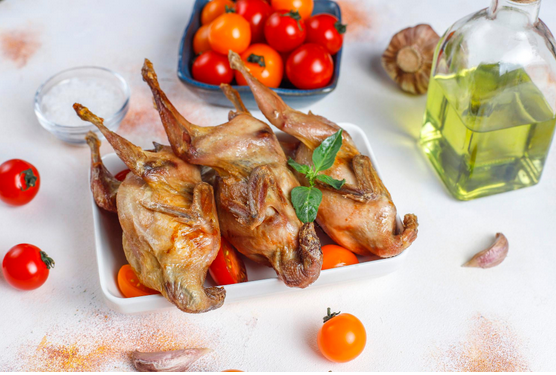 Pickled quail is a very aromatic dish commonly served cold, although it can be eaten as soon as it is prepared.
The hunting season for this tiny bird takes place in the autumn months, but its meat can be eaten at any time of the year if it is prepared in pickled sauce. This is because it is a marinade that allows the food to be preserved in good condition for days or even months.
The benefits of marinade
Escabeche is an ancient method of preservation in which the chosen foods are incorporated into a mixture prepared with vinegar, oil, salt, and spices. This culinary technique gives meat, fish, and vegetables a peculiar acid taste.
The effectiveness of the marinade is mainly due to the acidity of the vinegar, which prevents the food from deteriorating. If, in addition, paprika is added to the marinade, bacteria will be kept at bay because this spice is a potent antifungal.
As for the properties of its ingredients, vinegar is rich in iron and potassium, which promote calcium absorption and reduce the risk of diabetes. It also intervenes in fat-burning and acts as an antiseptic and fungicide.
Olive oil is the other great protagonist of Escabeche. It stands out for being rich in monounsaturated fatty acids (such as oleic acid and omega 3), antioxidants, and vitamins A, D, E, and K. For all these reasons, it is considered a heart-healthy food.
Finally, there are spices. Garlic, thyme, paprika, and bay leaf are usually used in this marinade, all with numerous healthy properties for our body, such as antifungals.
Garlic, in particular, is loaded with vitamins and minerals that make it a food with antibiotic and anti-inflammatory properties, which strengthens the immune system and can reduce both cholesterol and blood pressure.
Thyme is known for its expectorant action, but its medicinal properties also include digestive properties, as it relieves the symptoms of poor digestion, such as bloating, gas, and stomach pains. It shares this with laurel, which also helps to fight free radicals associated with premature aging and the onset of diseases, strengthens our defenses, relaxes muscles, and reduces anxiety.
Benefits of eating quail
Quail is a lean meat that provides hardly any calories but quality protein. It has more protein and less fat than chicken and turkey. It is also rich in iron (a mineral that ensures the production of red blood cells and prevents anemia), calcium, and phosphorus (both necessary for healthy and strong teeth and bones).
How to prepare pickled quails
Nowadays, buying quail in the supermarket is fine. You will find them on the game meat shelf.
They are usually sold plucked and without viscera, although it is always advisable to check them before cooking in case, there are any remains. Buying them this way avoids complications and saves us a lot of time. Let us now see how to prepare them.
Ingredients for 6 people:
6 cleaned quails

125 ml extra virgin olive oil

125 ml white wine

200 ml vinegar

125 g carrots

125 g onion

3 cloves of garlic

1 sprig of fresh thyme

1 sprig of parsley

2 bay leaves

10 black peppercorns

Salt
Preparation of pickled quails: 
Coarsely chop the onion. Peel the carrots and cut them into slices.

Heat the oil in a casserole and fry the quails. When they are golden brown, remove them and set them aside.

Add the onion, peeled carrots, thyme, bay leaf, parsley, and whole garlic cloves in half of the oil. Also, add the peppercorns and the quails.

Sauté all the ingredients over medium heat for approximately 15 minutes.

After that time, add the white wine, vinegar, and enough water to cover the quails.

Simmer is covered over low heat for one hour or until the quails are tender.
Conservation tips
You can keep the pickled quail in an airtight container in the refrigerator for several days. Just make sure that the marinade covers the food well.
You can also freeze them to consume them on different occasions over the following months.
Another method would be to keep them canned. To do this, place the meat and vegetables in a glass jar. Add the broth until it almost reaches the edge, clean it and put the lid on. They will keep perfect for a whole year.