Pickled rabbit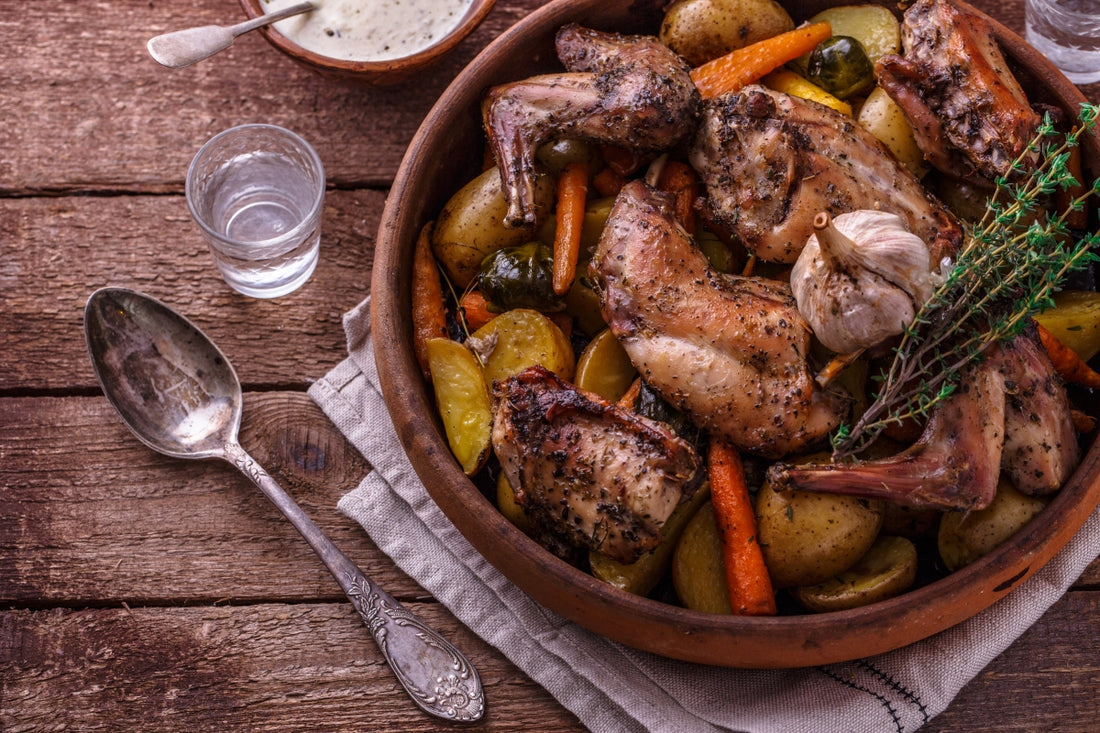 Rabbit in a pickled sauce is one of those recipes of a lifetime. It is delicious and can be kept in the refrigerator for several days without losing flavor.
Rabbit is a white, lean, tasty, and very digestive meat. It is rich in protein, low in calories, and low in fat. That is why it is considered a very healthy food suitable for all diets. However, in this recipe, a large amount of oil is used, so the calories increase, so it is not advisable to abuse it.
Health benefits of rabbit meat
Rabbit meat proteins are of high biological value since they contain all the essential amino acids our organisms need. In addition, its uric acid and purine content is lower than other meats, making it a suitable food for people prone to suffer from gout or accumulate uric acid in the blood.
On the other hand, it is meat low in fat, cholesterol, and sodium but rich in B vitamins and antioxidants. It also provides specific amounts of minerals such as iron, zinc, and magnesium.
How to prepare pickled rabbit
The marinade is an ancient culinary technique deeply rooted in the Mediterranean, used to preserve food. It introduced meat, fish, and vegetables in vinegar and oil. This is why many people think that it is an excessively acidic dish.
The advantage of this technique was that the acidity of the vinegar prevented the growth of bacteria in the food. At the same time, the oil acted as a protective layer, preventing oxidation and the appearance of microorganisms.
Nowadays, there are many ways of preparing escabeche, according to the taste of each cook. But the essential ingredients remain the same: vinegar, garlic, and pepper. Although some recipes also include vegetables such as onions and carrots.
The following recipe does not require prior maceration but is another quick and easy way to prepare pickled rabbits.
Ingredients
1 rabbit, chopped

1 head of garlic

2 onions

2 carrots

2 leeks

2 bay leaves

3 cloves

1 bunch of fresh thyme (or 1 teaspoon if it is dry)

Salt

Pepper

75 ml brandy

125 ml of white wine

75 ml of sherry vinegar

500 ml chicken stock

100 ml extra virgin olive oil
Elaboration 
Peel and julienne the onions, carrots, and leeks.

Season the rabbit with salt and pepper to taste. Put the oil in a large casserole, and when it is hot, fry the meat pieces until golden brown. Set aside.

In the same soup, remove a little oil and poach the head of garlic, the vegetables, and the bay leaves. Leave them for about 25 minutes over low heat until the garlic browns a little.

Add the spices and stir. Add the brandy and the white wine. Let the alcohol reduce for a few minutes.

Now add the vinegar and the stock. When it starts to boil, add the aromatic herbs and the rabbit. Let it simmer uncovered for 10 minutes. Then cover and wait another 30-45 minutes. Taste for salt.

Make sure the rabbit does not get dry. You can add a little water if necessary.

After this time, prick the rabbit pieces to check that it is tender and, if so, remove them from the heat.

It can be served immediately, but the stew is much tastier if left to rest for at least 24 hours.

Another option is to wait for the rabbit to cool, put it in an airtight glass container, and store it in the refrigerator. This way, you can enjoy this delicious dish for days.
Tips for preparing pickled rabbit 
When the ingredients are of high quality, they guarantee the success of any recipe. In the case of the rabbit, choose young specimens, 3 to 5 months old, whose meat looks muscular.

To prepare the marinade, try different types of vinegar and aromatic herbs. This way, you can play with the flavors and the degree of acidity.

Another option is to reduce the amount of vinegar and replace it with white wine.

Instead of water, you can add chicken or vegetable stock.

If you make this recipe in a pressure cooker, be careful with the cooking times. It is preferable to cook it for 10 minutes and finish the stew with the oven uncovered than to overcook it and have it all fall apart.
What to accompany pickled rabbit with
You can accompany this dish with a selection of grilled vegetables (if you still need to add them to the recipe), a salad, baked potatoes, french fries, boiled rice, or homemade soup.