Pisto Manchego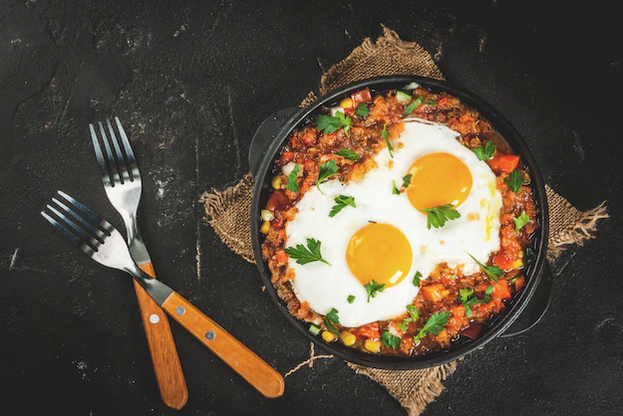 Do you like Spanish cuisine? Do you want to learn how to prepare one of the most iconic and delicious dishes of this gastronomy? Then keep reading, because below you will learn how to prepare the pisto manchego recipe and all its health benefits.
This iconic dish that originated in the region of La Mancha, in the country's center, is a vegetable stew that can be used as a main dish or served with other preparations. The name ratatouille comes from the Latin pistus, which means pounded or pounded, as it was formerly prepared with eggplants, oil, and garlic.
This recipe is straightforward to make, and you only need a few ingredients that you already have in your kitchen, such as tomatoes and peppers, which are slowly cooked in olive oil until a thick and tasty sauce is obtained.
In addition, this dish is very nutritious and healthy as it provides vitamins, minerals, fiber, and antioxidants, which help prevent and combat various diseases, improve blood circulation, digestion, and cardiovascular health, and promote the development and repair of body tissues. We tell you, then, how to make it step by step and how this recipe fully benefits your body.
Ingredients
The ingredients for 4 people include:
4 ripe tomatoes

2 green peppers

2 zucchini

1 onion

4 eggs (optional)

Extra virgin olive oil

Salt and pepper for seasoning
Preparation
To prepare this dish, follow the steps below:
Wash and cut the tomatoes, peppers, zucchini, and onions into small pieces.

Heat a little olive oil in a large saucepan over medium heat until translucent, about 10 minutes.

Add the peppers and zucchini and continue cooking, stirring occasionally, until the vegetables are tender, about 20 minutes more.

Stir in the tomatoes, add salt and pepper to taste, and simmer until the tomatoes are tender and the ratatouille is thickened, about 30 minutes more. If it feels dry, you can add a little more water or vegetable stock.

If you wish, you can serve the ratatouille with fried eggs on top, giving it a tastier touch and adding more protein. You can also do it with bread, rice, potatoes, or whatever you like.

Enjoy your homemade and healthy pisto manchego.
The pisto manchego has several characteristics, making it a unique and versatile dish. For example, it can be served either hot or cold, as a main dish or as a side dish, and it can be accompanied by different ingredients according to each person's taste, with fried eggs being the most common additions. However, Serrano ham, sausages, rice, or bread are also usually contemplated. As a garnish, this preparation usually accompanies meat and fish, which favors an incredible combination of flavors.
In addition, each geographical area and each family has its variant of ratatouille, adding or removing vegetables such as onion, zucchini, or eggplant, among others. Some add crushed garlic with cumin, which gives it a characteristic flavor, or fried pork loin in small pieces, which makes it a more complete dish.
Advantages: 
The pisto manchego is a simple and healthy dish that takes advantage of the products of the garden and offers many benefits for the organism. Among them, we highlight the following:
It is rich in vitamins A, C, and E, which help protect your skin, eyesight, and immune system.

It is a good source of minerals such as potassium, magnesium, and iron, which help regulate blood pressure, heart rate, and red blood cell production.

It is high in fiber, which improves your intestinal transit and helps you control cholesterol and blood sugar levels.

It is low in calories and fat, making it ideal for weight loss or maintenance diets.

It is an antioxidant, preventing cellular aging and oxidative damage caused by free radicals.

It creates a feeling of satiety, so you can eat less and avoid snacking between meals.

It is versatile because you can combine it with other foods or change the vegetables according to the season or preference.
As you will notice, pisto manchego is a delicious and healthy dish that should be present on your table. Of course, the best time of the year to enjoy this recipe is during the summer since the ingredients used to make it are at their optimum ripeness.
It is a preparation that represents the essence of La Mancha cuisine: simple and humble but tasty. It is a way to enjoy the flavors of the land and to share a homemade and familiar meal. Cheer up, try it, and share your preparation with those closest to you. Bon appetit!