Pork Loin in Apricot and Sherry Sauce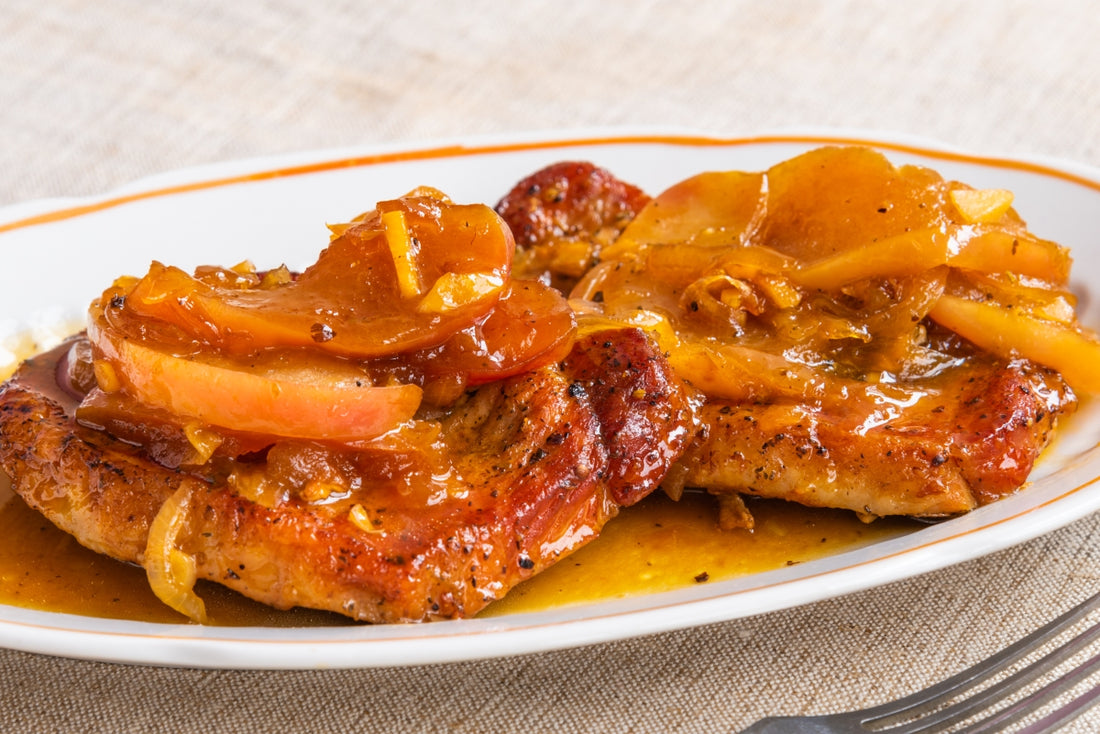 If you love pork and want to surprise your family or guests with a delicious, easy, and unique dish, we propose a fascinating recipe for pork loin with apricot and sherry sauce that will leave everyone speechless. This recipe of Spanish origin is inspired by the Andalusian culinary tradition, where shredded meat is prepared with ham and spices. It is a combination of flavors that will please the most demanding palates since the sweetness of the apricots contrasts perfectly with the aromatic and dry flavor of the sherry.
As if that were not enough, pork loin is a lean, tender, and succulent meat that provides quality protein, B vitamins, and minerals such as iron, zinc, and selenium. In turn, apricots are fruits rich in antioxidants, potassium, fiber, and vitamin A, which are beneficial for skin health, hair, vision, and the immune system. So, do you dare to try this recipe? We explain how to prepare it step by step.
Ingredients
The ingredients needed for 4 servings are as follows:
600 g of pork loin in one piece

100 g of dried apricots or dried apricots

150 ml of liquid cream

100 ml of white wine

200 ml beef broth

50 ml of cognac

Salt and black pepper to taste

Extra virgin olive oil

Chopped parsley for garnish
Preparation
To prepare this dish, you must complete the following steps:
Put the dried apricots in a bowl of hot water and let them soak for 30 minutes to hydrate.

Season the pork loin with salt and pepper and place it in a frying pan with a little oil over high heat until browned on all sides. 

Place the tenderloin in a baking dish and cook at 180°C for 15 minutes or until cooked to your liking. You can prick it with a knife to check the doneness.

Meanwhile, prepare the sauce. Drain the apricots and reserve the soaking liquid. Add the white wine and use a spoon to scrape up the remaining juices in the same pan where the tenderloin was seared. Reduce slightly over medium-high heat.

Add the apricots, the meat stock, the liquid cream, and the cognac. Mix very well and simmer for about 5 minutes over low heat, stirring occasionally.

Blend the sauce until a smooth and homogeneous texture is obtained. If it is too thick, you can add a bit of apricot-soaking water. Taste the sauce and adjust salt and pepper if necessary.

Remove the tenderloin from the oven and cut it into thin slices. Serve the tenderloin with the apricot and sherry sauce, and sprinkle some chopped parsley.
This recipe is perfect for a special lunch or dinner because it is easy to make and tastes delicious. In addition, it can be accompanied by a variety of side dishes, such as baked potatoes, mashed potatoes, a green salad, or even white rice. These side dishes add flavor and contrast to the meat and sauce while providing carbohydrates, fiber, and vitamins.
Benefits
This is a different and unique way to consume pork, a healthy protein that brings us many nutritional benefits. Apricots are also a very nutritious fruit that helps us prevent diseases and care for our health. Some details of these benefits are:
Pork loin is a lean meat that provides high-quality protein, vitamin B, and minerals such as iron, zinc, and selenium. These nutrients help stimulate the immune system, metabolism, and red blood cell formation.

Apricots are fruits rich in antioxidants, potassium, fiber, and vitamin A. These nutrients benefit skin, hair, eyesight, and immune system health. In addition, apricots also have laxative and diuretic effects, helping to prevent constipation and fluid retention.

Sherry is a wine that contains polyphenols, antioxidant compounds that help protect cells from oxidative damage. Moderate sherry consumption can help prevent cardiovascular disease, improve blood circulation, and reduce cholesterol.
Pork loin in apricot and sherry sauce is a recipe that combines Spanish culinary tradition with a touch of innovation and originality. It is a dish that surprises me with its flavor, aroma, and presentation and is very easy to prepare at home. In addition, this preparation offers many nutritional benefits since it contains lean meats, antioxidant fruits, and generous alcohol. This is ideal for a special lunch or dinner accompanied by simple and delicious garnishes.
If you love pork and want to try something different, we encourage you to follow the steps of this recipe and enjoy this delicious dish, you won't regret it!