Pork stuffed with apple and raisins.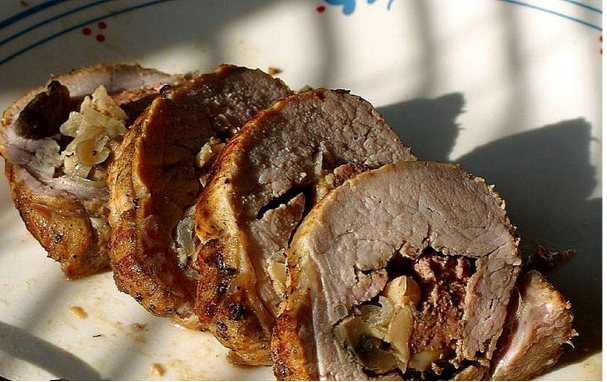 A Spanish dish that has crossed borders and can be found in many Latin American countries is stuffed pork with apples and raisins, a perfect dish for special celebrations! Best of all, it's effortless to make and doesn't need a lot of elaboration to be ready.
How to make stuffed pork?
Before getting down to work with this delicious recipe, let's tell you that you can choose two different types of meat to make the pork stuffing. It all depends on your preferences, your time, and the result you want to select.
For starters, you can use pork tenderloin but also sirloin. What is the main difference between these two cuts for this recipe? The sirloin is much more petite than the tenderloin, but its meat is much more tender and juicy, unlike the tenderloin, which, although larger, is lean meat and, therefore, less juicy.
Choosing between one or the other will depend on the number of diners you have at the table, but we must tell you that your choice will be a success. Of course, try to choose Iberian pork because you will find a high nutritional value and excellent properties for the organism, and a more juicy and tender texture. The diners will love it!
On the other hand, whatever your choice, remember to take the meat out of the refrigerator to leave it at room temperature and prevent it from being cold inside after cooking.
Pork stuffed with apples and raisins recipe
Ingredients
A kilo of sirloin or loin of Iberian pork.

A quarter kilo of Golden or yellow apple.

A quarter kilo of raisins.

A small glass of red wine or cognac.

Extra virgin olive oil.

Freshly ground black pepper and coarse salt.

Provencal herbs or aromatic herbs of your choice.

Smoked bacon in cubes (optional).

Three hard-boiled eggs (optional).

Walnuts (optional).
Elaboration
Once the meat is at room temperature, it is time to slice it open to form a small slab that you can handle.

Prepare the mixture for the pork stuffing. To do this, peel and cut the apples into small cubes and the raisins; depending on their size, you can cut them in half or place them whole.

Place in a bowl and add the aromatic herbs of your choice, a pinch of freshly ground black pepper, and salt.

Stir well and spread across the meat's length and breadth. Remember that you want to roll the beef around itself, so keep the mixture of ingredients centered.

We have suggested additional ingredients that go very well with the raisins and apples, such as walnuts, hard-boiled egg, and bacon, but you can also substitute them with cheese, for example, or olives. Whichever ingredients you choose, chop them into small pieces and place them with the apples and raisins. Remember that quantities may vary: the more elements you incorporate, the less you will need.

When you have stuffed the pork and rolled it over, use particular twine to tie it. This way, the ingredients will stay inside during cooking.

With the help of a kitchen brush, paint the loin or tenderloin (already rolled up) on the outside with a bit of extra virgin olive oil. You can prepare a mixture of oil with a pinch of salt, freshly ground black pepper, and aromatic herbs for this task.

Finally, inject, with the help of a syringe, the cognac or wine inside the meat (if sirloin) and sprinkle the rest on the outside. If you choose sirloin, it will be enough to spray the liquid on the outside.

Be careful, as you will have to reserve a little cognac, wine, and a mixture of oil and spices to add during cooking.

Preheat the oven to 180-200º C.

Place the pork in a particular ovenproof container. We recommend using a container and not a tray, as it will be much easier to handle and take advantage of the cooking juices.
Cooking time varies considerably between loin and sirloin. For the tenderloin, you will need 75 minutes, while for the sirloin, you only need 40 minutes. On the other hand, halfway through cooking, it will be necessary to open the oven and turn the meat over very carefully; to do this, use special kitchen tongs or tongs; never prick the heart with a fork!
When it comes to tenderloin, you will have to rectify the liquids. If you see that the meat is getting dry, add more cognac or wine (but do not overdo it) or the mixture of extra virgin olive oil with spices; for the sirloin, omit this step, as it is a pretty juicy meat, although if you want to add more juiciness, we invite you to correct the liquids.
The meat is ready to be removed from the oven when the recommended time has elapsed! Carefully remove the bridle thread and cut it into slices to serve your guests. Serve with delicious mashed potatoes or a fresh salad.