Pork Tenderloin with Apple and Cinnamon Sauce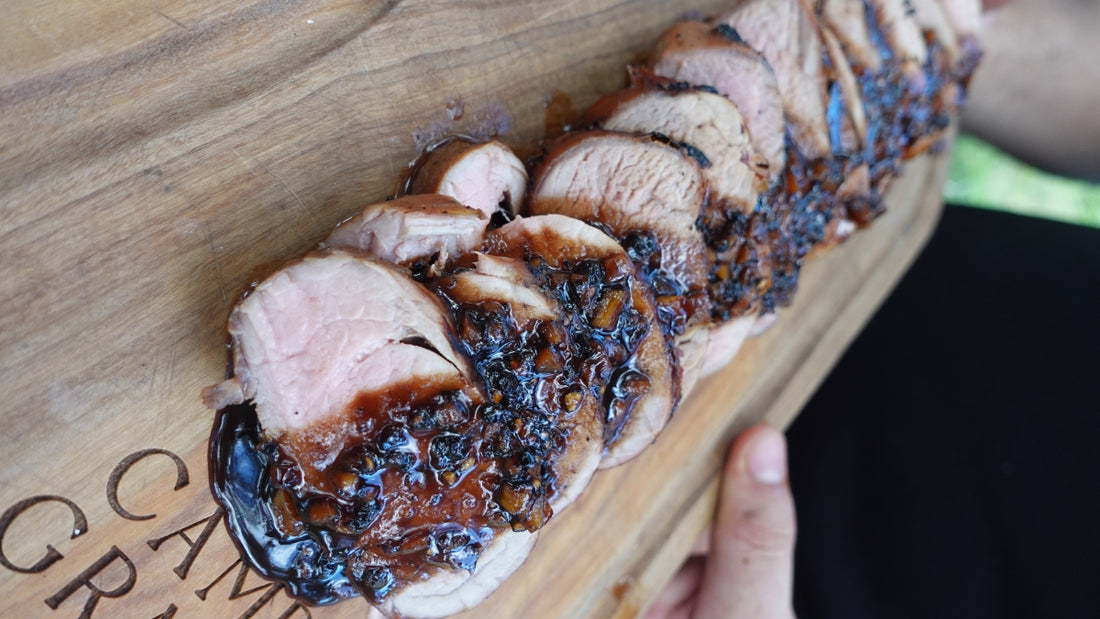 Pork tenderloin is a very popular dish in Spanish cuisine because it is a lean, tender, and delicious meat that can be prepared in many different ways: grilled, baked, broiled, stuffed, or in sauce. In the latter case, applesauce is one of the most popular accompaniments to pork tenderloin, providing a sweet contrast that enhances the flavor.
The apple is a fruit native to Central Asia but has been cultivated in Spain for centuries, especially in the country's north. Conversely, Cinnamon is a spice from Southeast Asia obtained from the bark of the cinnamon tree. Its uses date back to ancient times for its medicinal properties, aroma, and flavor. The combination of apples and cinnamon is popular for baking, but it can also be used to make a sweet sauce for meats such as pork or chicken, as shown below.
In the following lines, you will enjoy an exceptional recipe for pork tenderloin with apple and cinnamon sauce. This delicious and easy-to-prepare dish combines the tender and succulent meat of the tenderloin with the sweet and spicy flavors of the fruit and the spice. This is an ideal recipe to surprise your guests on a special occasion, and thanks to its versatility, it can be accompanied by different side dishes such as potatoes, rice, vegetables, or salad.
That said, we explain how to make this delicious recipe step by step, its particularities, and its health benefits.
Ingredients
The ingredients needed for 4 people are as follows:
2 pork tenderloins (about 800 g in total)

2 red apples (Fuji or Gala type)

1 onion

2 cloves garlic

250 ml of beef broth

100 ml of white wine

2 tablespoons of honey

1 teaspoon cinnamon powder

Salt, pepper and olive oil
Preparation
The preparation of this dish consists of the following steps to be carried out:
Preheat the oven to 180°C and grease a baking dish with oil.

Season the fillets with salt and pepper and place them in a frying pan with a little oil over high heat until seared. Place them in the baking dish.

Peel and chop the onion and garlic into small pieces. In the same pan where you fried the tenderloins, heat the onion and garlic over medium-low heat, stirring occasionally, until soft and translucent.

Add the white wine and let it evaporate for a few minutes. Then, add the beef broth, honey, and cinnamon. Mix very well and boil for a few more minutes until the sauce thickens. Adjust salt and pepper if necessary.

Wash and core the apples. Cut them into thin slices; do not peel them. Place the apple pieces around the fillets in the baking dish.

Pour the sauce over the tenderloins and apples, covering evenly with the entire contents. Place the dish in the oven and bake for about 25 minutes or until the steaks are cooked to your liking. You can drizzle them with the same cooking sauce while cooking to prevent them from drying out.

Slice the steak and serve with sauce and applesauce. Enjoy this dish still warm with the garnishes of your choice.
Benefits 
Pork tenderloin with apple and cinnamon sauce is a dish that offers many health benefits as long as it is consumed in moderation and as part of a balanced diet. Some of these benefits are the following:
Pork is a lean meat that provides proteins of high biological value, iron, zinc, and vitamins of the B group, especially B1, which contributes to the functioning of the nervous system and muscles.

Apples are rich in fiber, antioxidants, vitamins and minerals. They have depurative, digestive, and anti-inflammatory properties and help regulate cholesterol and blood sugar levels.

Cinnamon, in turn, is a spice that has good health effects, such as improving circulation, increasing metabolism, fighting infections, relieving pain, and reducing stress.

Honey is a natural sweetener with antibacterial, antiseptic, healing, and expectorant effects. In addition, it also provides energy and strengthens the immune system.
In summary, pork tenderloin in apple and cinnamon sauce is a delicious dish, easy to prepare, and perfectly combines sweet and savory flavors. It is ideal to surprise your guests on a special occasion or to enjoy a family dinner. In addition, it is a healthy recipe since pork tenderloin is a lean meat, and the apple and cinnamon sauce provides vitamins, antioxidants, and fiber. If you dare to try this recipe, you won't regret it; enjoy!